1975-6
#1        ALL IN THE FAMILY
#3        LAVERNE AND SHIRLEY
(1976-83). Laverne De Fazio and Shirley Feeney are single working girls in 1950s Milwaukee and later in 1960s Los Angeles. Cindy Williams (Shirley) actually walked off the show in 1976, complaining that Penny Marshall (Laverne) was getting all the best lines. She returned two days later. Writer and creator Garry Marshall claimed that both stars did not handle fame well and were constantly abusing crew members and bickering about their lines in the show. Happy Days was filmed on the set next door and two of its stars, Ron Howard and Erin Moran, recalled often overhearing vicious fights issuing from the Laverne and Shirley set.
#4        MAUDE
#6        PHYLLIS
(1975-7). Yet another spin-off, this time from The Mary Tyler Moore Show. Phyllis Lindstrom (played by Cloris Leachman) was Mary's landlady in the mother series. Highly promising comedienne Barbara Colby played Julie Erskine in the first three episodes and seemed set for a successful career. All that was snuffed out in a single moment on July 24, 1975 when she and her boyfriend were shot to death in a Los Angeles parking garage by two men, an apparently senseless killing. Their killers were never brought to justice and Barbara's life was cut short at the age of 36.
#7        SANFORD AND SON
#8        RHODA
#11      HAPPY DAYS
#12      ONE DAY AT A TIME
(1975-84). A mother and two teenage daughters start a new life in Indianapolis. One of the daughters (Julie) was played by Mackenzie Phillips, the much-abused daughter of John and Michelle Phillips of The Mamas & the Papas pop group. During the 1979-80 season she was battling substance abuse and behaving erratically, so erratically in fact that she was sent off to rehab for six weeks. In the final season she returned, collapsed on the set, and refused to surrender a urine test. She was quietly written out of the series. In all fairness to the girl, the substance (and sexual abuse) had been the fault of her horrendous father. Her tell all autobiography High on Arrival detailed his monstrous conduct.
#14      THE WALTONS
#17      GOOD HEAVENS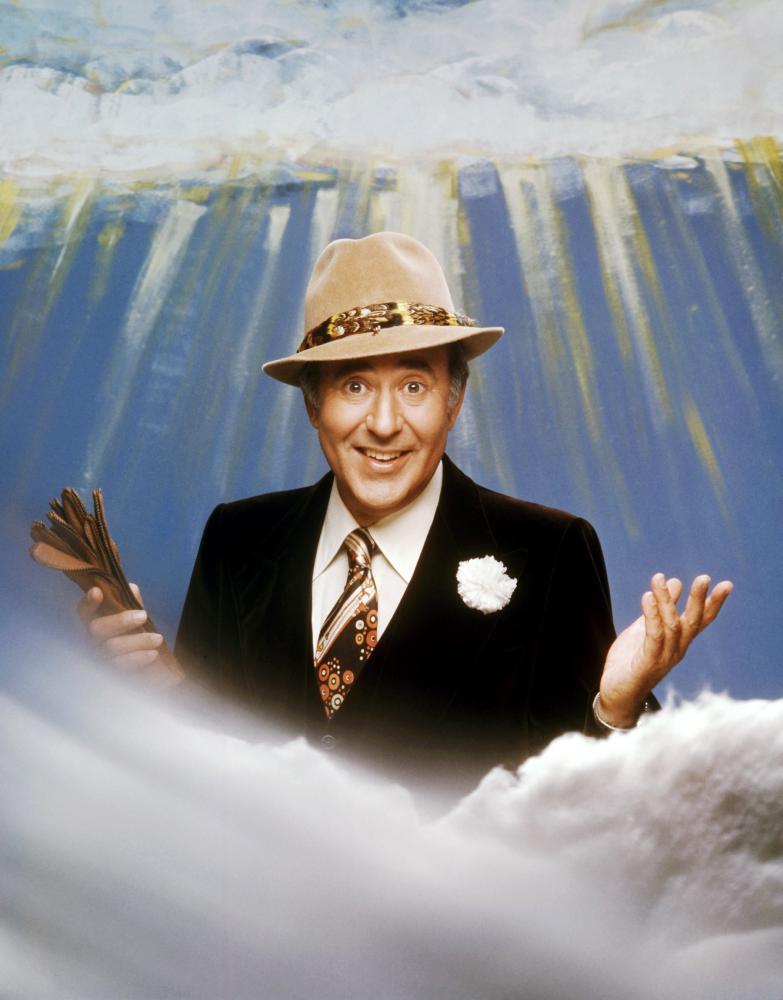 (1975-6). Carl Reiner is Mr. Angel, an emissary from Heaven who pops down to Earth to grant wishes to those who have performed good deeds. There were no supporting players, just Carl and guest stars each week. Even though it hit #17 in its solitary year, the premise was limited and viewers seemed to tire of it quickly. Just 13 episodes were filmed before it was no more.
#18      WELCOME BACK, KOTTER
(1975-9). Gabe Kotter (Gabe Kaplan) teaches high school to a bunch of unruly students, among whom are John Travolta as Vinnie Barbarino, Robert Hegyes as Juan Epstein, Lawrence Hilton –Jacobs as Freddie Washington and Ron Palillo as Arnold Horshack. By the way, these four 'high school students' were portrayed by actors aged – 24, 27, 25 and 29 respectively. Marcia Strassman played Kotter's wife Julie. She and Kaplan did not get along. Palillo was on her side, the others (with the exception of a neutral Travolta) supported Kaplan. There was a lot of friction on the set. Hegyes and Palillo died in 2012, Strassman in 2014.
Marcia Strassman and Gabe Kaplin
#19      THE MARY TYLER MOORE SHOW
#21      THE JEFFERSONS
#24      GOOD TIMES
#25      CHICO AND THE MAN
#26      THE BOB NEWHART SHOW
1976-7
#1        HAPPY DAYS
#2        LAVERNE AND SHIRLEY
#9        ONE DAY AT A TIME
#11      THREE'S COMPANY
(1977-84). This was one of the most troubled sets in television history. In the 1980-1 season one of its three stars, blonde Suzanne Somers, demanded a pay rise from $30,000 an episode to $150,000 an episode! Plus she insisted on having 10% ownership of the series. The producers refused, cut her part to about one minute per episode and were forced to shoot her scenes away from the show's other two stars John Ritter and Joyce DeWitt who both refused to even talk to her. At the end of the season she was dropped and Priscilla Barnes took her place. Miss Barnes claimed that her time on Three's Company was the worst in her entire professional career due to the back-stage atmosphere. And that was after Somers had departed. DeWitt and Somers did not speak to each other for over 30 years before reconciling in 2012.
Priscilla Barnes
#12      ALL IN THE FAMILY
#13      WELCOME BACK, KOTTER
#15      THE WALTONS
#17      BARNEY MILLER
Jack Soo (left), Hal Linden (front)
(1975-82). Barney Miller was a superbly scripted series about interaction between members of a New York City detective squad. Although predominantly comedy, it also had moments of real drama. In 1979 one of its stars, the much-loved Japanese-American actor Jack Soo, died from cancer at the age of 61. A special episode was aired featuring flashbacks involving his character, the smart-aleck Detective Yemana. The multi-talented Hal Linden played Barney. He played clarinet and saxophone and also toured as a solo singing act of surprising quality.
#23      EIGHT IS ENOUGH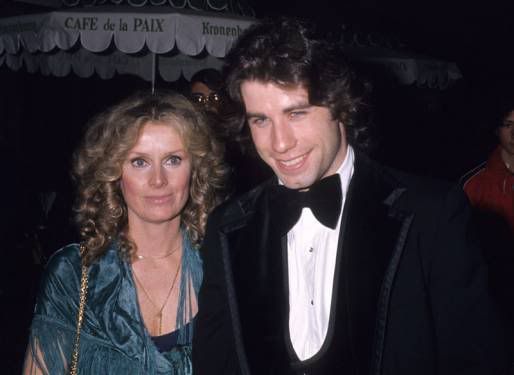 Diana Hyland & John Travolta
(1977-81). Diana Hyland won the role of Dick Van Patten's wife in this series and appeared in the first four episodes before being diagnosed with breast cancer. Her death at 41 was especially felt by her 24 year-old lover at the time, the up and coming John Travolta, about to make a name for himself in Welcome Back, Kotter. He accepted Diana's posthumous award at the following year's Emmys. Mark Hamill (Luke Skywalker in the first Star Wars film) was signed to play Van Patten's son David Bradford. He completed the pilot but then was seriously injured in a car crash and could not continue in the role. He has since stated several times that he only suffered a broken nose in the crash. Did he exaggerate his injuries at the time in order to free himself from his long-term TV commitment to pursue his movie career unhindered, following the monumental success of Star Wars? Only he knows for sure.
#24      THE JEFFERSONS
#25      WHAT'S HAPPENING!!
Haywood Nelson
(1976-9). Roger, Rerun and Dwayne are three African-American youths growing up in Los Angeles. The series follows their mischievous antics and their endeavours to get rich quick via various schemes. Although they were playing high school juniors in season one, only Haywood Nelson was the right age. He was 16. Fred Berry, on the other hand, was 25 and Ernest Thomas 27! Berry and Thomas walked off the show in its second season, demanding more money and better dressing rooms. Their demands were met – this time. Unfortunately, (especially for young Haywood), at the end of season three they tried the same ploy again, this time convincing the youngest of the trio to join them. The producers decided not to bow to their demands a second time and canned the show, even though it was still ranking in the top 30. Good-looking young Haywood had become something of a sex symbol for young African-American girls, so the closure of the series really damaged his budding career. In later interviews he boasted of having relationships with no fewer than three female members of the cast – Debbie Morgan, Danielle Spencer and Shirley Hemphill – during the run of the show.
#26      GOOD TIMES
#27      SANFORD AND SON
#29      THE TONY RANDALL SHOW
(1976-8). Tony Randall plays a Philadelphia judge in this series that ran for just 44 episodes over two seasons. Like so many series, The Tony Randall Show became a casualty of personality clashes, if not on the set then behind the scenes. The creators Tom Patchett and Jay Tarses did not get along with Randall. Worse still, they did not like each other either, and neither man would take calls from the President of ABC Fred Silverman. Mr. Silverman was not one to lumber himself with personality issues, regardless of whose fault they may have been, so he cancelled the series after one season. CBS picked it up for season two; then they dumped it as well.
#30      ALICE
(1976-85). Linda Lavin is mostly forgotten today, but she carried this very popular series for nearly a decade. She played Alice Hyatt, a widow who gets work at a 'greasy spoon' called Mel's Diner in Phoenix, Arizona. Each week she and her co-stars encounter mostly blue-collar customers, interspersed with the occasional Hollywood celebrity dropping in (playing themselves more often than not). Everything on the set was not plain sailing, however, for two of the co-stars, Diane Ladd and Polly Holiday, could not get along with Linda and left the show. The theme song was sung by Linda, incidentally.
Note: Part 7 will be posted on Sunday June 6