1979-80
#2        THREE'S COMPANY
#4        ALICE
#7        FLO
(1980-1). Polly Holliday's popularity as a waitress in Alice for four seasons was acknowledged in 1980 when she was given her own show portraying the same character; relocated to a bar in Cowtown, Texas. The series climbed to #7 on the ratings in its first season. As seems to happen a lot in the television industry, however, the company switched its time-slot in season two and its numbers dropped off drastically. Clearly, the old adage 'why fix it if it ain't broke?' means little to TV producers and company executives. After just two seasons the show was cancelled.
#8        THE JEFFERSONS
#9        THE DUKES OF HAZARD
#10      ONE DAY AT A TIME
#11      ARCHIE BUNKER'S PLACE
(1979-83). In 1979 the highly successful All in the Family was reformatted as Archie Bunker's Place. This simply meant that Carroll O'Connor got to spout his bigotry and anti-establishment guff in his own bar, instead of at home. For the record, this was a continuation of All in the Family, not a spin-off. Even though Jean Stapleton's character Edith Bunker was phased out after five episodes the series managed to survive four seasons without her; surprising in itself.
#12      EIGHT IS ENOUGH
#13      TAXI
#14      HOUSE CALLS
(1979-82). Lynn Redgrave plays Kensington General Hospital's new administrative assistant Ann Anderson, all the way from England, who becomes romantically involved with Dr Charley Michaels played by former M.A.S.H. star Wayne Rogers. The series may have gone longer than its three seasons, but Redgrave's departure after season two sounded its death-knell. Evidently, she feuded with Universal Television because she was not permitted to breast feed her newborn baby in between takes on the set! She sued, but lost the litigation thirteen years later.
#17      HAPPY DAYS
#21      BARNEY MILLER
#22      WKRP IN CINCINNATI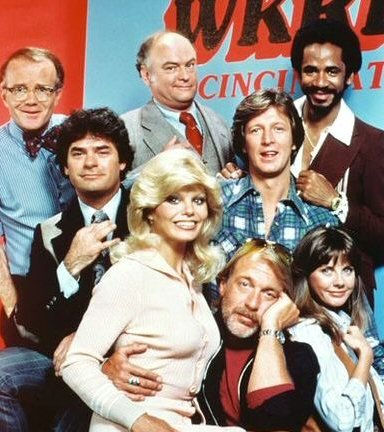 (1978-82). A failing Cincinnati radio station takes on a new 'rock music' format to survive. The rights to rock songs are cheaper for a video-taped show than for a filmed one, so the series was always video-taped. (We learn something every day). Even so, only three Beatles songs were ever used on the show because their tunes were the dearest to license. Rolling Stones songs were the second most expensive. The series became famous for playing songs by up and coming bands at the time, among them U2; Blondie; the Cars; the Knack and Devo.  Although stock footage of Cincinnati, Ohio was shown, the series was actually shot on sets in Los Angeles.
#23      BENSON
(1979-86). Yet another spin-off. This time Benson DuBois (played by Robert Guillaume) leaves the Soap gang and goes out west as a butler to a widowed state governor. Over the course of the series his wit and intelligence see him work his way into the position of Lieutenant-Governor. I really disliked this series because I could not abide Mr. Guillaume's portrayal of Benson; too arrogant and smug by half. Interestingly, the then unknown Jerry Seinfeld was cast in two episodes before being unceremoniously dumped without explanation. He vowed never again to do a sitcom unless he had greater control over his destiny.
#24      THE LOVE BOAT
#25      SOAP
#26      DIFF'RENT STROKES
#27      MORK AND MINDY
#28      FANTASY ISLAND
#29      TENSPEED AND BROWN SHOE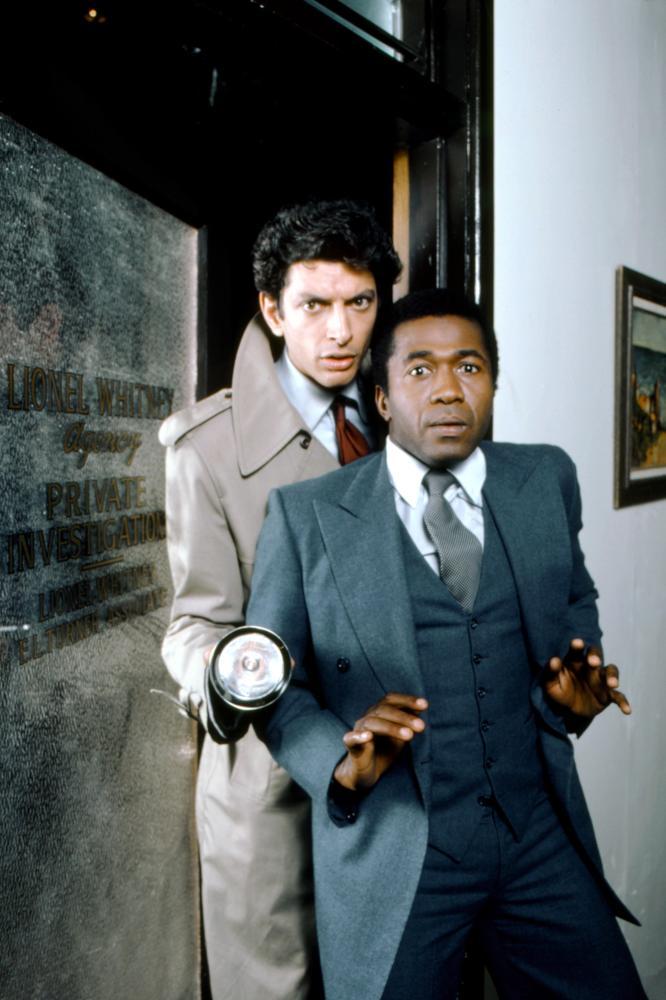 (1979-80. This oddly titled series only lasted a single season (14 episodes). For what it is worth, President Bill Clinton told one of its stars (Jeff Goldblum) that it was his favourite series and that he was truly disappointed when it was cancelled. Jeff played an accountant – a 'brown shoe' – in a private detective agency. Ben Vereen was 'Tenspeed Turner', a con-man and master of disguise. Goldblum, of course, would go on to a fine film career, but Vereen has become an entertainer of almost legendary status – a singer, actor and orator of world renown –  for over forty years.
1980-1
#2        THE DUKES OF HAZZARD
#4        M.A.S.H.
#5        THE LOVE BOAT
#6        THE JEFFERSONS
#7        ALICE
#8        HOUSE CALLS
#9        THREE'S COMPANY
#10      LITTLE HOUSE ON THE PRAIRIE
#11      ONE DAY AT A TIME
#13      ARCHIE BUNKER'S PLACE
#15      HAPPY DAYS
#16      TOO CLOSE FOR COMFORT
(1980-3). Two grown sisters, Jackie and Sarah Rush, share a duplex with their parents in this sitcom that succeeded for six seasons and 129 episodes. Deborah van Valkenburgh plays Jackie. Fans of the 1979 gang flick The Warriors will recall her playing Michael Beck's love interest in what is now considered to be a cult classic. (Well, the soundtrack is great, but the film itself has dated agonizingly, in my opinion). Lydia Cornell plays her sister Sara. Her movie career never amounted to much, but she has since developed into a fine writer, director and comedienne. As an author she has, perhaps, inherited some of her great-great-great grandmother's ability, for she is directly descended from Harriet Beecher Stowe, the author of Uncle Tom's Cabin, the novel that many historians claim sparked the American Civil War.
Deborah in The Warriors (1979)
I have never seen this series, but if its success cannot be attributed in a great part to Ted Knight who plays the father I would be most surprised. For years he played 'heavies' on-screen until someone decided to tap into his comedic genius by casting him in The Mary Tyler Moore Show. He personally 'stole' Caddyshack (1980) as he butted heads with another hilarious player Rodney Dangerfield.
Ted Knight in Caddyshack (1980)
#17      FANTASY ISLAND
#18      TRAPPER JOHN, M. D.
#19      DIFF'RENT STROKES
#21      LAVERNE AND SHIRLEY
#26      THE FACTS OF LIFE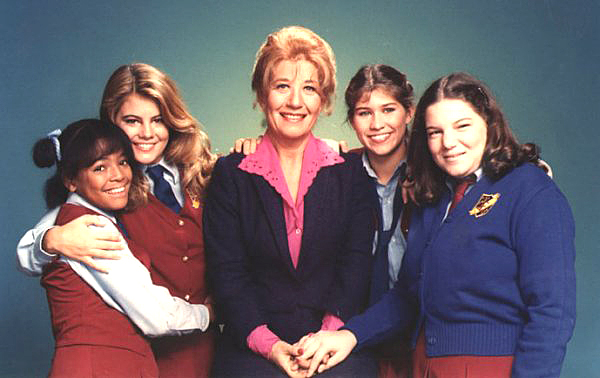 (1979-88). This was another series I never saw, but its longevity (9 seasons) speaks volumes for its quality and popularity. The premise – a group of girls at a boarding school under the watchful eye of a house-mother – suggests considerable scope for humour which the series apparently delivered on a regular basis. African-American Kim Fields was only nine years old when she began playing Tootie, who was supposed to be twelve, so she spent the first season scooting about on roller skates in an attempt to make her appear taller and older. Although the role was not written for a black actress, hers was the best audition so she landed the part regardless.
Kim Fields – then and now
George Clooney appeared in 17 episodes between 1985 and 1987, and Molly Ringwald starred in 15 before being 'axed', much to her chagrin. Of course, she moved on to much bigger things anyway. In early episodes the young actresses had to have their chests taped down to maintain their 'adolescent' appearance, very much a case of the facts of life not being permitted in 'the facts of life'. Charlotte Rae played the house-mother Edna Garrett. In a speech at the TV Land Awards, she rather piously praised the girls 'for turning out straight', unaware that Geri Jewell who played Geri Tyler in the series was a lesbian in real life.
#30      THE WALTONS
NOTE: The 1980s still aired sitcoms that had already proven to be successful, but new series were few and far between for some time. In fact, there were no new shows of that type in 1981-2 that made it into the top 30, the first time this had happened.