1967-8
#1        THE ANDY GRIFFITH SHOW
#2        THE LUCY SHOW
#3        GOMER PYLE U.S.M.C.
#5        FAMILY AFFAIR
#11      BEWITCHED
#12      THE BEVERLY HILLBILLIES
#16      GREEN ACRES
#19      GENTLE BEN
(1967-9). A series about the adventures of a family living in the Everglades. Dad, played by Dennis Weaver of Gunsmoke fame, is a game warden, and his son Mark (played by Ronnie Howard's little brother Clint) has a tame bear as a pet! I could ask what kind of game warden would let his son pal around with a bear, but I won't. Young Clint ended up having a prolific career thanks to his brother. Most Ronnie Howard films feature Clint in some minor role or another.
#24      MY THREE SONS
#29      LASSIE
1968-9
#2        GOMER PYLE U.S.M.C.
#4        MAYBERRY R.F.D.
(1968-71). This was a spin-off from The Andy Griffith Show, hence its location in Mayberry, North Carolina. Sam Jones is a local farmer (played by the former Captain Wilton Parmenter of F Troop, Ken Berry), who hires Sheriff Andy's housekeeper (Aunt Bee) after Andy marries. The RFD stands for 'Rural Free Delivery'. In what later became known as 'The Rural Purge of 1971', this show was axed by the new head of CBS Fred Silverman. Despite high ratings, he got rid of several series because he believed they only appealed to suburban and rural viewers. These included Green Acres, The Beverly Hillbillies, Hee Haw, Petticoat Junction and The Jim Nabors Hour. He was wrong, but he scrubbed them anyway.
#5        FAMILY AFFAIR
#7        JULIA
(1968-71). Julia was a ground-breaking series, being the first American show to star an African-American in a professional, non-stereotypical role. Diahann Carroll plays nurse to Dr Morton Chegley (Lloyd Nolan). Unfortunately, many black Americans felt the show did not realistically portray their lives in America, so Carroll was placed under constant pressure until she ultimately asked to be released from her contract.
#9        HERE'S LUCY
(1968-74). Lucille Ball sold Desilu Studios in 1968 and to maintain ownership of her series she closed down The Lucy Show and started up Here's Lucy. It had a slightly different plot and new character names, but it was really just Lucille Ball being Lucille Ball – yet again. But the public loved her, so who am I to judge?
#10      THE BEVERLY HILLBILLIES
#12      BEWITCHED
#14      MY THREE SONS
#19      GREEN ACRES
#26      I DREAM OF JEANNIE
#30      THE DORIS DAY SHOW

(1968-73). Doris Day starred in this sitcom for five seasons and then called it quits herself, even though the series was rating well and was about to be renewed for a sixth season. She called a media conference to announce that she felt there was nothing new for her to do in the show. It had run out of novel ideas. She then retired from acting altogether and has not appeared on the screen since.
1969-70
#4        MAYBERRY R.F.D.
#5        FAMILY AFFAIR
#6        HERE'S LUCY
#10      THE DORIS DAY SHOW
#11      THE BILL COSBY SHOW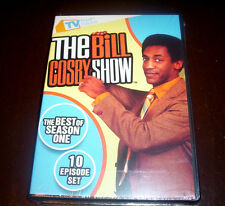 (1969-71). Not to be confused with 1984's The Cosby Show, this series only ran for two seasons and starred Cosby as a physical education teacher at a Los Angeles high school. This was the first time that an African-American had starred in his or her own eponymous comedy series. There had been many such shows for white Americans – The Red Skelton Show, The Mary Tyler Moore Show, The Doris Day Show etc.
#13      MY THREE SONS
#18      THE BEVERLY HILLBILLIES
#24      BEWITCHED
#28      JULIA
1970-1
#3        HERE'S LUCY
#15      MAYBERRY R.F.D.
#19      MY THREE SONS
#20      THE DORIS DAY SHOW
#21      THE SMITH FAMILY
(1971-2). Henry Fonda starred in two television series. The first (back in 1959) was the short-lived The Deputy, and the second was the equally short-lived The Smith Family. It was a predominantly light-hearted family sitcom with a difference; about a family whose patriarch (Fonda) was also a police detective, so it combined the usual homespun family philosophy with some police action in every episode. Ron Howard was especially good as Hank's oldest son Bob.
#22      THE MARY TYLER MOORE SHOW
(1970-7). The producers were concerned that viewers might confuse Mary's character with her role as Laura Petrie in the earlier series The Dick Van Dyke Show, so she had to wear a wig for the first season. They also changed her from a divorcee to a lady rebounding from a broken engagement, again concerned that viewers might put two and two together and mistakenly think she had divorced Van Dyke's character Rob Petrie from his series! Besides, in 1970 television the subject of divorce was somewhat taboo anyway.
#25      THE PARTRIDGE FAMILY
(1970-4). Olivia Newton John already had the part of Laura Partridge until her manager talked her out of it. Susan Dey took her place. Shirley Jones, the star of the show, wrote in her autobiography that Susan was the only 'regular' who refused to attend any cast reunions. Apparently, she had a huge crush on David Cassidy for the entire four years of the series. Originally, only Shirley was supposed to sing, but David's demo tapes were so impressive that he also sang on the show and soon attracted a massive fan base mostly of teenaged girls. The other members of the family were given the opportunity to sing and play instruments as well, but they were simply not good enough. The 1970 hit song 'I Think I love You' sold 4 million copies for The Partridge Family, although only Shirley and David sang on. They were  backed up by session singers.
The Cowsills
The successful real life musical family The Cowsills were supposed to play The Partridge Family, but they walked out when told that Shirley, not Barbara Cowsill, would be portraying their mother. Executives were of the opinion that the Cowsill family members were a little too old for what they had in mind anyway. Speaking of ages, Shirley Jones is just 16 years older than David Cassidy who is her real-life stepson.
1971-2
#1        ALL IN THE FAMILY
(1971-9). All in the Family was a blatant copy of the successful British series Till Death us do Part (1965). Producer Norman Lear purchased the rights to Till Death us do Part and remodelled it for American audiences. Oddly enough, the star of the American series Carroll O'Connor, the man who would portray Archie Bunker, read an article on the Brit show and commented to his wife that such a series focused on an out and out bigot could never hope to succeed in America. It may surprise readers to learn that the role of Mike Stivic was offered to none other than the pre-Star Wars Harrison Ford! He wanted no part of a series about a bigot like Archie Bunker. Lear's first choice to play Archie was Mickey Rooney.
Quite a few episodes highlighted Edith Bunker's woeful singing voice. Jean Stapleton played her and was, ironically, a successful, trained, professional singer who had featured in musical theatre and productions all her acting life. Indeed, she was asked to audition for Edith after Lear saw her in the Broadway musical Damn Yankees. Her natural speaking voice, too, was nothing at all like the one she used for Edith. Carroll O'Connor, by the way, was liberal, highly educated and well-spoken; the complete opposite of Archie. Incredibly, this enormously successful series spawned eight spin-off series, all of them long-running.
#6        SANFORD & SON
Steptoe & Son
(1972-7). The same man who 'created' All in the Family out of the British hit Till Death us do Part in 1971 did it again in 1972. Norman Lear took the successful Steptoe & Son, a show about a cantankerous old junk-dealer and his son, and transferred it to a Los Angeles setting for Sanford & Son. Evidently, thinking up original concepts was not Mr. Lear's forte. Fred Sanford was played by African-American star Redd Foxx. A running gag in the show saw Fred clutch his chest and feign a heart attack whenever his son Lamont (Demond Wilson) threatened to walk out on him. Nobody, of course, believed the attacks were genuine. Sadly, during filming of the series The Royal Family in 1991, no-one took Foxx's complaints about having chest pains seriously either, until it was too late to save the actor's life.
#8        FUNNY FACE
Sandy Duncan
(1971-2). Sandy Duncan was riding a wave of success, appearing in the 1970 Broadway revival of The Boyfriend and picking up an Emmy for it. Disney and Paramount quickly rushed her into a couple of movies and CBS starred her in this sitcom. It lasted just one season (13 episodes), the critics calling it an 'insipid version of The Mary Tyler Moore Show', but praising Sandy as a genuine rising talent all the same. Although she managed to overcome a tumour that developed behind her eye towards the end of that season, the operation rendered her blind in her left eye. CBS dropped Funny Face despite its high rating, but revamped the format, changed some of the cast, and re-named it The Sandy Duncan Show for the 1972-3 season. It fared poorly and that show, too, lasted just one season and 13 episodes.
#10      THE MARY TYLER MOORE SHOW
#11      HERE'S LUCY
#16      THE PARTRIDGE FAMILY
#18      THE NEW DICK VAN DYKE SHOW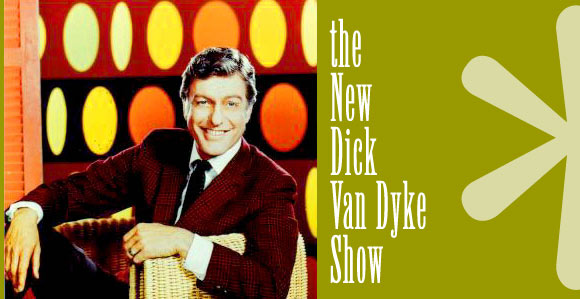 (1971-4). Created by Carl Reiner, this rather run-of-the-mill sitcom encountered problems during its three-year run, especially when Reiner wrote an episode in which Dick's teenage daughter walks in on her parents having sex! CBS declined to air it (this was, after all, the early seventies), so Reiner refused to work again for the company once his three-year contract expired. Van Dyke and he were good friends, so when it came time to sign on for another three years (without Reiner) Dick pulled the plug and went home to Arizona. The offending episode, incidentally, aired in syndicated re-runs.
#23      THE DORIS DAY SHOW
Note: Part 5 will be posted on June 1.