If World war Two had not intervened and caused the cancellation of the 1940 and 1944 Olympics, Esther Williams would have, in all probability, represented the USA as a swimmer in both meets. In 1940 she was just 18 years old and already the holder of three National Swimming Championships, having won the 100 metre freestyle and set a record in the 100 metre breaststroke. Bitterly disappointed, she was working as a salesgirl when producer Billy Rose signed her for Aquacade, his swimming and diving show located in San Francisco. Her co-star would be none other than Johnny Weissmuller, the former Olympic swimming champion, now even more famous as the movie industry's Tarzan. As Esther would write in her autobiography, however, Johnny was also hopelessly infatuated with his own body. He had a nasty habit of showing 'my magnificent equipment' to his leading ladies whenever he managed to get them alone. Actress Maureen O'Sullivan (Mia Farrow's future mother) played Jane opposite Weissmuller's Tarzan, and was forever trying to escape his clutches on the sets of their movies. When Esther asked her what she did when Johnny offered to expose himself to her, she replied, 'I let him show me.' Esther was not so obliging. 'I'm swimming backstroke and he's swimming crawl', she complained. 'And he's coming at me.' He was forever dropping his swimsuit backstage in front of her. Before long she left the show.
Swimming with Weissmuller at the Aquacade
Johnny and Maureen O'Sullivan as Tarzan & Jane
Esther's tell-all book titled The Million Dollar Mermaid caused a furore when it was published in 1999, especially among the friends and acquaintances of her former fiancée Jeff Chandler, after she wrote about his private penchant for dressing in women's clothing. The couple had met and fallen in love on the set of Raw Wind in Eden in 1956. One evening Jeff decided his fiancee should know he was a cross-dresser, and had been since childhood. 'Here was my lover', she wrote, 'a strong, manly figure by anyone's estimate – who had just been standing before me in high heels and a dress. This was no joke. He enjoyed that kind of thing. He was a cross-dresser.' Chandler died in 1961 and was, therefore, unable to contest her accusations, but his friends soon rallied on his behalf. Jane Russell, in particular, was incensed. She and Chandler met and became friends when she played opposite him in the 1955 melodrama Foxfire. 'I've never heard of such a thing', she retorted. 'Cross-dressing is the last thing I would expect of Jeff. He was a sweet guy, definitely all man'.
Esther and fiancee Jeff Chandler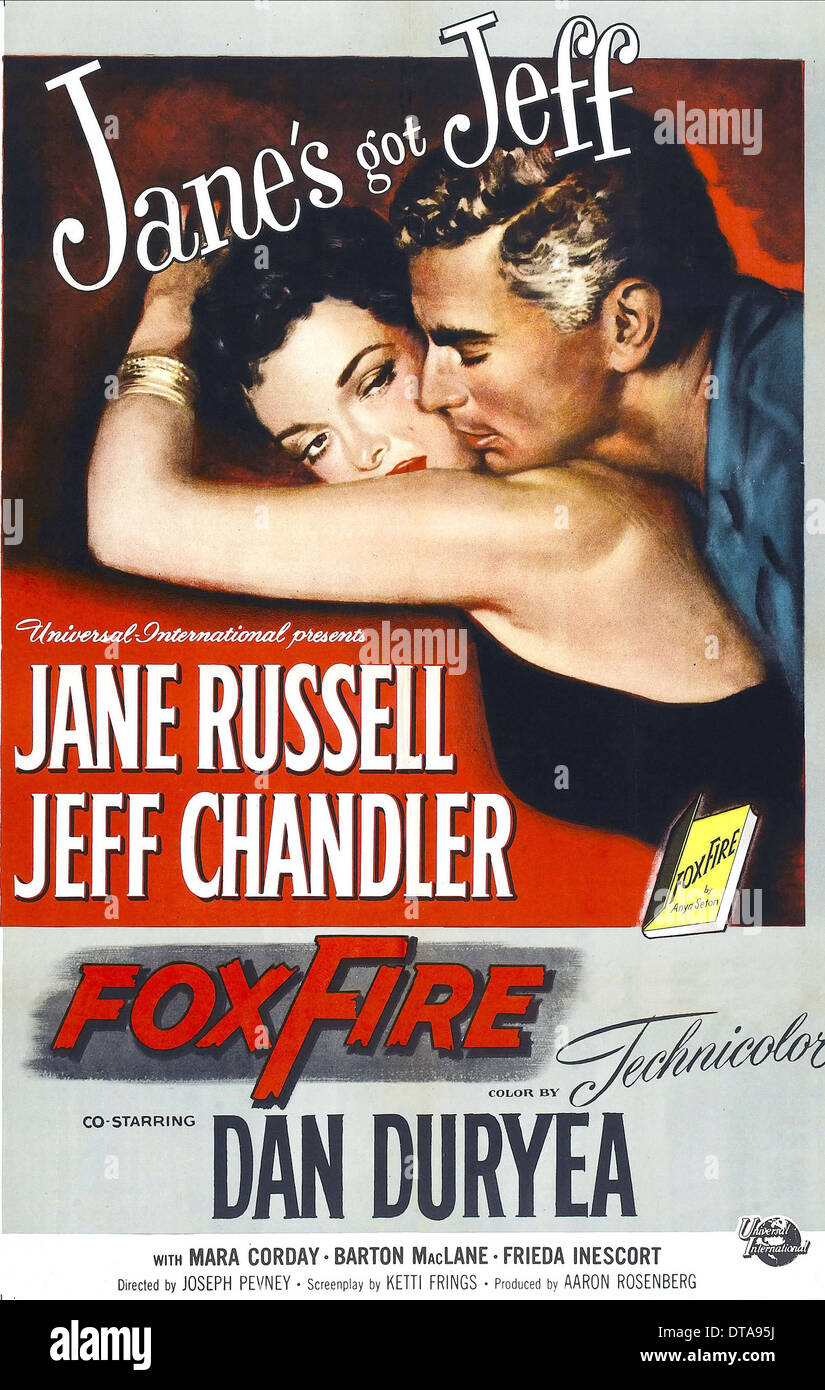 Marsha Hunt's reaction (she co-starred with Chandler in The Plunderers in 1960) was one of astonishment and disbelief. 'It made my jaw drop', she said. 'I never heard a word or whisper that intimated that about Jeff.' Another acquaintance, actor Fess Parker, also disbelieved Esther's version of things. 'I was shocked and surprised to read something like that', the affable Texan commented. 'I can tell you that there was no conversation, joking or otherwise, about that kind of thing on the set.' He and Jeff made the 1959 western The Jayhawkers together. I all sincerity, the chances of Chandler chatting or joking about such a personal issue would have been infinitely small at best. Russell also dismissed Esther's accusation on the grounds that (back in 1960) 'If there was anything going on [with cross-dressing] she would have told me then. She didn't.' Esther scoffed at that. 'Why in the world would I tell Jane Russell about a personal problem as intimate as that?' Esther and Jeff called off their engagement after he surprised her one evening decked out in a frock and high heels. 'Jeff', she said, 'you're too old for polka dots.' And that was that.
Esther's autobiography pulls no punches whatsoever when it comes to her personal life, which makes one wonder why she would go to the trouble of telling lies about others. Her brother Stanton was nine years her senior and landed a couple of parts in two 1920 silent pictures, so Esther's parents moved the family to Hollywood to enhance his career. Sadly, the boy died from a ruptured colon at 16, so the family took in an orphaned boy named Buddy McClure when Esther was 14. He raped her repeatedly for two years until he was found out. To Esther's dismay her parents sympathized with him, so Esther herself threw him out of the house!
Esther's screen debut as Mickey Rooney's girl
When MGM came knocking at her door it was 19 year-old Esther who usually called the shots, even when dealing with studio head LB Mayer who was known to throw tantrums in his office if he had trouble getting his way. 'The tantrums were really spectacular', she remembered. 'I always wondered what he'd put in his mouth so he could foam at the mouth, like an Alka Seltzer or something. He would throw himself on the floor. How are you going to be frightened of a fella that throws himself on the floor and kicks his feet in the air?' Even so, Mayer was forever chasing her for sex – unsuccessfully.
Still, it was Mayer who put her into her first feature, one of the Andy Hardy series starring Mickey Rooney. She played Andy's love interest in Andy Hardy's Double Life (1942), and audiences liked what they saw. So did Mickey, who pursued her relentlessly (as he did with just about every pretty girl he saw), but missed out. Esther was not the promiscuous type. Nevertheless, plenty of others did their damndest to bed her, among them Howard Hughes and Lucille Ball's husband, notorious womanizer Desi Arnaz. Victor mature, however, was luckier than most. He and Esther met when they made Million Dollar Mermaid together in 1952 when her marriage to Ben Gage was encountering heavy weather. She was highly vulnerable at the time. 'That first night we made love over and over and into exhaustion', she wrote of their first encounter in her dressing room. The one man I never had to teach anything to', she added. 'Not even how to swim.' Their affair ended (as so many Hollywood affairs did) when filming ended and everyone moved on to other projects.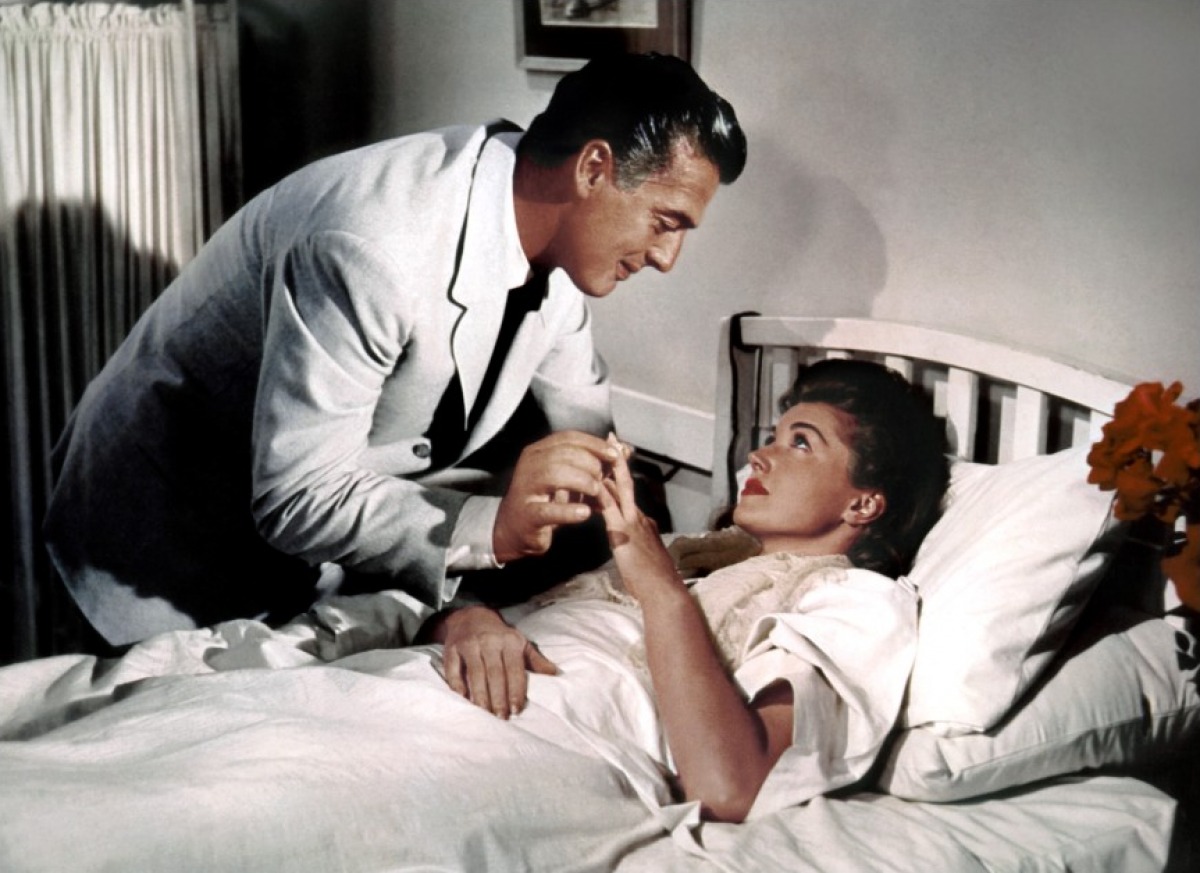 Mature and Esther in Million Dollar Mermaid
Some sources have claimed (now that Esther herself has passed on) that parts of her biography are pure fiction; that she admitted as much to them when she was alive. It was all done to enhance sales, her detractors say. But the lady ran a highly successful swimwear business. Money was never a problem. Neither was fame. She had plenty of both. Her claims, they say, that her future husband Fernando Lamas would drive her around wearing nothing below his waist, were nothing but ploys to boost sales. When she described Weissmuller's genitalia (she saw it often enough); using phrases such as 'extraordinary male attributes', 'beautifully equipped' and 'remarkable genitalia', the same critic suggested she was 'writing for a gay fan base I didn't know Williams had.' Well, that makes two of us. For what it is worth, I found her book fascinating. I also felt it had the ring of truth about it despite what Jane Russell and others had to say.
Husband #3 of four – Fernando Lamas
I just finished watching one of her movies on Foxtel, a bit of fluff called This Time For Keeps, that was made in 1947, the year I was born. The picture itself was lousy, but Esther exuded star quality by the bucket load. The camera and Technicolor truly loved her. So did I.
Wow!