Ever since Billboard has been used to assess the popularity of single recordings there have been a few actors who have unexpectedly surprised us by recording songs that went all the way to the top of the charts. There were two in 1957, one in 1958, one in 1962, one in 1964, another in 1970 and a seventh in 1976. Of course, there have been a great many singers who have gone on to become big movie stars, but for some reason actors who suddenly hit it big in the music industry are few and far between.
I considered including Gene Autry and his enormous hit song 'Rudolph the Red-nosed Reindeer', but Gene had been making hit records for over a decade before he became a cowboy star, so he was scarcely an actor turned singer; more the other way around. John Travolta hit # 1 with 'You're the One That I Want' from the musical Grease, but he sang the song in a duet with Olivia Newton-John, a professional singer, so he did not quite fit the criteria. Jennifer Lopez also had a number of top hits, but in company with various rappers. Will Smith was rapping before he became a movie star, so he too was eliminated. Below are the seven actors that surprised us with an unlikely chart-topper.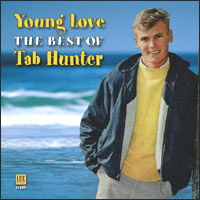 1957
                   'Young Love'
Tab Hunter (1931- )
During the mid-fifties there were few Hollywood stars as popular as handsome Tab Hunter, especially with teenagers. Battle Cry in 1955 was a big production that put him on the map, and several other 'heart-throb' performances saw him earn his own series on TV by 1960 (The Tab Hunter Show). However, it was a single he recorded in 1957 that gave him the most exposure. It was called 'Young Love' and, although Tab's vocals were pretty poor, it captured the imagination of young record buyers and raced to number one on the charts in much of the western world. One other single ('Ninety-Nine Ways') made it to # 11 that same year, but Tab was never a vocalist (and he knew it). Around that time near disaster struck when he was arrested at an all-male pyjama party. He was at the height of his fame and it almost derailed his career until his studio stepped in and did a deal with the police and the tabloids.
The term 'gay' was not around then, but any questions even hinting at his sexuality threw him into a panic. 'I was in total denial', he wrote many years later. He and Anthony Perkins had a lengthy relationship, and briefer liaisons with Roddy McDowall, Marlon Brando, Van Johnson, Danny Kaye and Rudolph Nureyev were rumoured to have taken place. In his autobiography he admitted that the studio deliberately fed the public bogus stories of his so-called romances with Debbie Reynolds and Natalie Wood, all designed to allay suspicions of Tab's homosexuality. 'They were strictly the fodder of studio publicity departments.' Today, he is at ease with his sexuality at last as he enters his 85th year.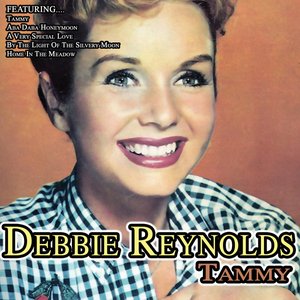 1957
                        'Tammy'
Debbie Reynolds (1932- )
I mulled over whether or not to include Debbie in this group. After all, she had performed in musicals prior to recording 'Tammy' in 1957, and there were a few duets she recorded. She and Carleton Carpenter did 'Aba Daba Honeymoon' in the 1950 musical Two Weeks with Love, and she also featured with Gene Kelly and Donald O'Connor on the soundtrack album of Singin' in the Rain (1952), but she was still an actress first and foremost until 'Tammy' came along. And it really was a monster hit, not just reaching #1, but finishing the year as the biggest-selling single for all of 1957! It is quite ironic that this multi-talented performer will probably be remembered for two things not related to her musical and acting accomplishments. Her husband Eddy Fisher ditched her for the most famous woman in the world, Elizabeth Taylor, and Debbie gave birth to Carrie Fisher, Princess Leia in the monumentally famous Star Wars blockbusters of the seventies.
1958
              'The Purple People Eater'
 (L) in High Noon (1952)
Sheb Wooley (1921 – 2003)
A former rodeo rider, Sheb Wooley appeared in dozens of westerns through the fifties, sixties and seventies, some on TV and the rest in movies, without managing to become a star. The closest he came to the big time was playing the killer's brother in High Noon (1952) and landing a permanent role in the TV series Rawhide in 1959. It is generally accepted in the industry that it is Wooley who provided the voice for the 'Wilhelm Scream', one of the movie industry's most famous sound effects. Ironically, this largely unsuccessful actor became a most unlikely household name in 1958 when he recorded a number one hit called 'The Purple People Eater'. It was a smash hit right around the world and it made him a fortune. In 1963 he had another top 10 single called 'Hootenanny Hoot' which, surprisingly, did not chart in the USA. Leukaemia claimed him in 2003.
1962
                       'Johnny Angel'
Shelley Fabares (1944 – )
Shelley, the niece of actress Nanette Fabares, scored a #1 hit in America with 'Johnny Angel' in 1962. In Britain it only got to #41 on the charts, but the combined sales took it to a gold record. It was her only Top 10 hit. Shelley was a regular on The Donna Reed Show on US TV, and starred opposite Elvis Presley in three films, Girl Happy (1965), Spinout (1966) and Clambake (1967). No other actress did that. Elvis dated her in 1964.
In the sixties she was the typical 'girl next door'; very pretty and exuding wholesomeness. Her lifelong friend was actress Annette Funicello. In fact, Shelley was at her bedside when Annette passed away from multiple sclerosis in 2013. Shelley's first husband was record and movie producer Lou Adler. They divorced in 1980 and four years later she married Mike Farrell, the actor who portrayed Captain B.J. Hunnicutt on the TV series M.A.S.H. for eight seasons from 1975-83. In 2000, Shelley underwent a liver transplant that saved her life following a bout of hepatitis.
                                1964
                              'Ringo'
          As Ben Cartwright in Bonanza
Lorne Greene (1915 – 87)
From 1947 to his death in 1987 Canadian actor Lorne Greene accumulated 78 screen credits in television and movies, but is chiefly remembered for his role as Ben Cartwright in the hit TV series Bonanza which ran for 430 episodes from 1959 until 1973. In the early years of World War Two he was an announcer with the Canadian Broadcasting System and was nicknamed 'The Voice of Doom', not just for his booming, deep tones, but because, through no fault of his own, he was always imparting bad news to his radio audience. That rich, baritone voice was never put to greater effect than when he used it to record the 'spoken' # 1 hit song 'Ringo' in 1964.
                              1970
                    'Wand'rin' Star'
Lee Marvin as Ben Rumson in
           Paint Your Wagon
Lee Marvin (1924 – 87)
One of the most unlikely actors to come up with a number one hit would have to be the gravel-voiced tough guy Lee Marvin, yet that is what happened when he starred in the 1969 Alan Jay Lerner musical Paint Your Wagon. For reasons known only to the recording company it was decided to release a single with Marvin's Wand'rin' Star on the A-side and Clint Eastwood's I Talk to the Trees on the flip-side. Incredibly, the Marvin tune went gold and straight to the top of the charts. Funnily enough, the only tune in the entire picture that was sung by a trained singer, Harve Presnell's They Call the Wind Maria, was not released on a single. Unfortunately, the movie itself was a flop in the USA, signalling the demise of the big-budget musical for some time.
                            1976
             'Don't Give Up On Us'
                  As Hutch (1975)
David Soul (1943 – )
David Soul rose to prominence playing Hutch in the popular TV series Starsky & Hutch in 1975. In 1962 he sang on The Merv Griffin Show clad in a mask and billed as 'The Covered Man', but it was his portrayal of a corrupt motorcycle cop in Clint Eastwood's Magnum Force (1973) that brought him to the attention of the TV executives in search of new faces to cast in Starsky & Hutch. The series ran for four seasons. Between 1977 and 1982 Soul released several albums and scored a # 1 hit with 'Don't Give Up On Us' in 1976. Another single, 'Silver Lady' reached the top of the UK charts a year later, but failed to fire in America for some reason.