From 1939 until 1984 Victor Mature appeared in 55 movies and one TV series, The Voyage to the Bottom of the Sea (1966). He wasn't very good in many of them, and no-one was more aware of that than him. My Darling Clementine (1946) and Kiss of Death (1947) were clearly his best work, but too often he was asked to decorate sand and sandals melodramas and biblical films in which he did little more than flex his muscles and wiggle his eyebrows. As he declared many times, he was far more interested in playing golf than acting anyway. In 1984 he retired from the screen and devoted the final fifteen years of his life to hitting the links. In fact, he was turned down by the posh Los Angeles Country Club when he applied to become a member, the reason being that the board did not grant membership to actors. His famous (but inaccurate) response: 'I'm not an actor – and I've got 64 films to prove it', fell upon deaf ears however.
With Carole Landis in One Million B.C. (1940)
Victor arrived in Hollywood in 1930, aged just 17 and with eleven cents in his pocket. He signed up with the Pasadena Playhouse to learn acting. It took him until November 1936 before he made his debut in a play called Paths of Glory, the first of 60 plays he would appear in until the movies beckoned in 1939. Hal Roach gave him a tiny role (just 5 minutes screen time) in The Housekeeper's Daughter that year, and the studio was astonished when it received 20,000 fan letters enquiring about this new, virile actor Victor Mature. Roach quickly signed him to a contract and propelled him into the classic One Million B.C. (1940), opposite another newcomer, Carole Landis. The movie and the acting were pretty bad, but the special effects were ahead of their time and picked up two Oscar nominations.
At the Mocambo Night Club in 1942 with
girlfriend Rita Hayworth.
Female fans adored him. They considered his face to be near perfection and his physique 'heavenly'. He soon acquired a nickname he detested, but one that would stick for the remainder of his screen career – 'Beautiful Hunk of Man'. He quickly developed a reputation as a ladies man too. Carole Landis and Betty Grable were two of his early lovers, and when he and Rita Hayworth made My Gal Sal in 1942 he added her scalp to his belt as well. Known also as 'The Man No Woman Can Resist', he enjoyed much-publicized romances with Liz Taylor, Veronica Lake, Gene Tierney and Esther Williams. By all accounts he was a really nice man with a great sense of humour. He always said he would not let fame make him forget the friends he had when he was a 'nobody', and he kept that promise until the day he died. If a director picked on an extra or stuntman, Victor stood up for the belittled victim and made life on the set difficult for the director until he agreed to show more respect to the cast. All of the cast.
At war with the US Coast Guard
During the Second World War he served in the Coast Guard for 30 months after being rejected by the US Navy because he was colour-blind. Aboard the USCGC Storis he did Greenland Patrol work for 14 months and was promoted to boatswain's mate. Later in the war he served aboard a transport transferring troops to the Pacific. Although he never saw any action Vic felt a genuine affinity with returning servicemen, so much so that he chose to live in his dressing room on the lot for ten months after hostilities had ceased. 'I thought it was rather crummy of me to rent myself a place when veterans with families were sitting on the curbs', he said. 'The dressing room was okay. It had a bath. I ate all my meals out.'
With Hedy Lamarr in Samson and Delilah
Vic wrestling that pesky lion-skin
Victor played Samson in the 1949 biblical epic Samson and Delilah after Cary Grant (of all people) wisely turned down the role! It was the first of four biblical films he made, the others being The Robe (1953), Demetrius and the Gladiators (1954) and The Egyptian, also in 1954. His legendary timidity drove director Cecil B. DeMille to distraction during the shooting of Samson and Delilah, Victor insisting that all scenes involving any strenuous activity be performed by his stunt double. When DeMille hired a toothless old circus lion for him to wrestle in one scene, Viv insisted his double do the wrestling. Shots of Vic rolling around with a lion skin were later interspersed here and there. It became common knowledge that he was afraid of just about everything, and he readily admitted as much. 'I wouldn't walk up a wet step', he confided to friends. DeMille's biographer Charles Higham wrote about CB using his megaphone to publicly humiliate Mature after the actor fled the set in terror when a wind machine suddenly kicked up some particularly violent gusts. 'I have met a few men in my time', he bellowed to cast and crew. 'Some have been afraid of heights, some have been afraid of water, some have been afraid of fire, some have been afraid of closed spaces. Some have even been afraid of open spaces – or themselves. But in all my thirty-five years of picture-making, Mr. Mature, I have not met a man who was 100 percent yellow!'  In spite of everything the movie grossed more than any other in 1949, doubling the take for the second-placed Battleground. Audiences, particularly women, really liked the heroic Victor Mature on the screen – and off it.
Dating Gene Tierney
Michael Wilding once walked in on his wife Elizabeth Taylor having sex with the ever rampant Victor. A timid man himself, Wilding quietly turned and walked away. Stewart Granger, however, was made of sterner stuff. He was incensed that Wilding (his best friend) was being cuckolded, so he confronted Victor and demanded he apologize 'on his knees' to Wilding or suffer the consequences. The mortally afraid Victor did so at once. Even 'close calls' like this did not deter randy Vic from his conquests. Not by a long shot. Apart from a few lengthy relationships with the likes of Debra Paget, Elaine Stewart, Karen Sharpe, Karen Steele, Bogie's ex-wife Mayo Methot, Virginia Field, Anne Shirley, June Haver, Mildred Shay and the aforementioned Misses Grable, Tierney, Lake, Landis, Taylor and Williams, the seemingly insatiable Victor also found time for a few hundred 'one-night stands'. Lana Turner was one, Alice Faye, Phyllis Brooks, Bella Darvi, Cleatus Caldwell, Lili St. Cyr and Mari Blanchard were others. Of course, these were only the famous or well-known ones. He also found time to marry five women as well. In 1999, at the age of 86, he succumbed to leukaemia. The miracle seems to be that he did not perish from exhaustion long before that. Here are eight of his more famous lovers:
Veronica Lake                                  Debra Paget
   Carole Landis                       Esther Williams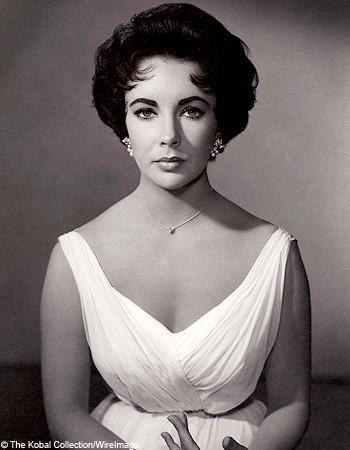 Elizabeth Taylor                           Betty Grable
   Gene Tierney                  Elizabeth Taylor
In retrospect Victor Mature probably sold himself short as an actor. There is no doubt he was an extremely self-effacing man, especially when it came to his acting career, but he did make some good movies. I have his Kiss of Death in my collection and he is surprisingly effective in it. His portrayal of Doc Holliday in the over-rated western My Darling Clementine is terrific, and probably deserving of an Oscar nomination, but it was not forthcoming. In fact, the only award he ever won was a lousy star on the Walk of Fame in 1960 – and just about everybody and his dog has one of those.
As Doc Holliday in My Darling Clementine (1946)
Most men I know could never understand what women saw in him. His droopy eyelids, swarthy complexion and permanent half-sneer put most of us right off him. In those halcyon days of rampant political incorrectness sleazy-looking Vic was labelled a 'Greasy Greek', even though he was of Italian extraction anyway. (Well, no-one has ever claimed that racist statements were overly reliant on factual content.) Groucho Marx pretty much summed up our feelings regarding Vic's dopey 'Beautiful Hunk of Man' label when DeMille asked him at the premiere of Samson and Delilah what he thought of his movie. 'Well, there's just one problem, CB', he replied. 'No picture can hold my interest where the leading man's tits are bigger than the leading lady's.' DeMille was offended but, typically, Mature loved the comment and thought it was hilarious. It is hard not to like a man who could laugh at himself so readily.