Louise Brooks once described Buster Keaton as the most beautiful man she ever saw. Be that as it may, he was certainly a comic genius. While other funny men relied on slow-cranking cameras and speeded-up images to get their laughs, he mostly worked at normal speed, much of his humour coming from scenes in which he hardly moved at all. And he never threw a single custard pie in any of his pictures. The truth was he did not need to.
Louise Brooks
While shooting the silent classic Sherlock Jr in 1924 he was knocked unconscious when a gush from a water tank blew him off the top of a train. Besides knocking him out, the impact gave Buster agonising headaches that persisted for more than a decade. An x-ray in 1935 revealed that the accident all those years ago had actually broken his neck! In 1921 he married Natalie, one of the three Talmadge sisters. All three were stunners in their time and featured players in the silent era, but they were also a ridiculously close-knit family. Soon after the wedding the other two sisters, Norma and Constance, and their mother, all moved in with the newlyweds! Matters were made worse because Norma and Constance positively hated Buster. So did Peg, their abominable mother. Norma would go on to marry big-wig Joseph Schenck, but would sleep with just about every one of her leading men (and plenty of others besides). She confided the reason for her promiscuity to friends, telling them that Joe's liking for 'rough sex' was simply not her cup of tea at all. The third sister, Constance, warded off Irving Thalberg's advances for ages until he finally gave up on her and married Norma Shearer instead.
Natalie and Buster's Wedding Day
In spite of the drawbacks that accompanied being married to a Talmadge, poor Buster was completely crazy about his wife. In an effort to make her happy he built a magnificent house that cost a fortune, and then sprung it on her as a surprise. The ungrateful Natalie told him she hated it and refused to move in. Buster, the gentlest of men, was deeply hurt. Within a year she had designed her own home which she had built just a few blocks away. Of course, she made her husband pay for it, and it cost Buster a mint – about $4 million! Yet things were about to get worse for him. His miserable wife's equally miserable sisters convinced Natalie never to have sex again after childbirth, so the marriage became entirely 'sex-less' from then onwards. No wonder Buster took to drink. The marriage finally collapsed in 1932. Even then Natalie had still not finished with tormenting him. She succeeded in legally changing their children's surname to Talmadge.
The Talmadge Sisters
Keaton was plagued by alcoholism for much of his life, although it is fair to say that his spoilt brat wife certainly contributed to its escalation, especially during their divorce and custody battles. In 1935 he was hospitalised in a drunken stupor. On regaining consciousness he went berserk and had to be strait-jacketed. The wonderfully talented Buster Keaton struggled on for another thirty or so years, his enormous talent never really called upon again. He passed away in 1966 and was buried with two items that probably identified him as well as any – a rosary and a deck of cards. Charlie Chaplin is generally considered to be the King of the Silent Comedians, but there are an awful lot of fans who prefer Keaton. And I am one of them.
Ty Power at his peak
When Tyrone Power collapsed on the set of Solomon and Sheba in 1959 in the middle of a duelling sequence with his co-star and good friend George Sanders, the cast and crew initially thought it was his bursitis playing up again. By the time it was realised that the ailing actor had suffered a heart attack it was already too late. He died in an ambulance en route to a hospital in Madrid. Over half the movie had been completed when Yul Brynner was brought in to replace him. All Ty's scenes were re-done, but he can still be recognised in several long shots. His death at 44 did not come as a complete surprise to those who knew him and his family medical history. As a child he was frail and sickly, plus his father, Ty Sr, had actually died in the arms of 17 year-old Ty when he succumbed to a heart attack on the set of a movie in 1931 at the age of 62.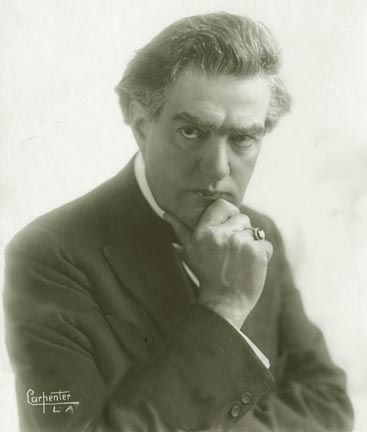 Tyrone Power Sr
Yul Brynner as Solomon
Stunning Linda Darnell
A recent publication disputes a previous assumption that Linda Darnell was smoking a cigarette while sitting up late watching one of her old films on a friend's TV when she inadvertently caused the fire that killed her. Biographer Ronald L. Davis claims there has never been any evidence to support the belief that she caused the blaze that took her life. He says she died trying to get to a part of the house where she thought her friend's child might be trapped by the flames, unaware the child had already escaped the inferno. Linda had been sleeping upstairs when the fire broke out. She apparently tried to escape through a downstairs door but the conflagration had taken hold. The poor woman suffered burns to over 90% of her body and died the next day. She was just 41.
Elvis and Juliet in G I Blues
Although brought up in Africa, Juliet Prowse was actually born in Bombay, India. Dancing from the age of four, she grew too tall to be a ballerina, so she went onto the European club circuit instead. In 1960, the same year she made G I Blues with Elvis Presley, she was rehearsing steps (with several other dancers) for her role in Can Can when Soviet Premier Kruschev denounced the dance as immoral after he was invited to watch rehearsals. By chance, her picture accompanied the newspaper headlines of the premier's comments and Juliet suddenly found fame. Her 39" legs may also have had something to do with it.  She openly spoke of her brief but steamy affair with her co-star in G I Blues. 'Elvis and I had an affair…We had a sexual attraction like two healthy young people, but he was already a victim of his fans. We always met in his room and never went out'. She also said her much-publicized engagement to singer Frank Sinatra ended because, 'I was as much flattered as I was in love. He was a complex person, and after a few drinks he could be very difficult'.
Juliet & Frank Sinatra
In 1981 she was performing at the Las Vegas Hilton when a fire broke out as she was singing the old standard 'Fever'. Eight people perished in the blaze! She is almost certainly the only mainline actress to be mauled twice by a wild animal (the same one, in fact), while engaged in her profession. In September 1987 a leopard mauled her as she rehearsed for a TV special called Circus of the Stars. The same animal tore off part of her left ear as she was preparing to go on Johnny Carson's Tonight show to promote the show a few months later. In 1996, just two weeks short of her sixtieth birthday, she died from pancreatic cancer after struggling with the disease for two years.
Eva Bartok
Eva Bartok was born in Hungary in 1927 and spent several years in a German concentration camp during World War II. Then, while still a minor, she married a Nazi officer in 1941 ostensibly to save her life, (her father was Jewish). She later described the union as 'a series of brutal rapes worse than death'. Meanwhile, her father disappeared, a victim of the Holocaust. At war's end the marriage was annulled and she later tied the knot with actor Curt Jurgens. In the 1980s she publicly claimed that her daughter Deana, born in 1957 when she was still married to Jurgens, was in fact sired by Frank Sinatra during their 1956 affair. Not surprisingly, given that DNA testing was still in the future, Frank and the Sinatra family simply ignored her claims. After a brief burst of fame, including the female lead in The Crimson Pirate opposite Burt Lancaster, her career faded away and she died in England in 1998, penniless and forgotten.
Miroslava Sternova
The Czech actress known simply as Miroslava would die in the same year she played the lead opposite Joel McCrea in his 1955 western Stranger on Horseback. She was born Miroslava Sternova in Czechoslovakia in 1925, but grew up in Mexico. Miroslava was adopted by a Jewish family who were later interned by the Nazis in a concentration camp. Tragedy seemed to dog the girl's life. In 1942 she first attempted suicide following the death in action of the US soldier she was intending to marry. Three years later she married a struggling actor, but divorced him almost immediately when she discovered he was homosexual. She had affairs with actors Steve Cochran and Arturo de Cordova, but it was her failed affair with bullfighter Luis Dominguin that drove her to take her own life with poison in March 1955. She was only 30.