Back when the studio system was in vogue, back in the 'Golden Years of Hollywood, each of the 'Big Five' had its 'fixers', men whose job it was to keep scandal and bad publicity at bay; to do whatever it took to ensure that the paying public remained 'bright-eyed and bushy-tailed' about the movie industry and its stars. MGM had two such men who were even more adept at this than most. Their names were Eddie Mannix and Howard Strickling.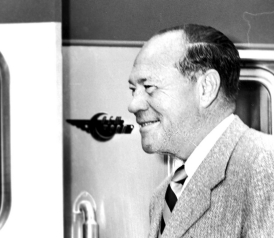 Eddie Mannix
Marcus Loew
Mannix started out as a New Jersey bricklayer (with gangster acquaintances), before working as a bouncer in New York City. He met Marcus Loew, a pioneer of the movie industry who formed Leow's Theatres and later Metro Goldwyn Mayer, and the two men formed an unlikely friendship. Before long Eddie was an assistant at Loew's Inc. An important merger saw him sent out to Hollywood by the New York head office to keep an eye on LB Mayer and MGM's money. He soon became a loyal and trusted employee of both Mayer and Irving Thalberg, the studio's Californian bosses. Once established in Hollywood Eddie joined forces with Howard Strickling and the two men became known as MGM's 'fixers'. And fix things they did.
Howard Strickling
Howard Strickling became Director of Publicity at MGM and Mayer trusted him completely, mostly because Strickling always agreed with everything his boss said. Other employees described the man as 'the biggest 'brown-nose' they had ever met. He was also a relentless self-promoter, but first and foremost a 'yes' man of the first magnitude, a man ready and willing to do or say whatever his employers asked of him.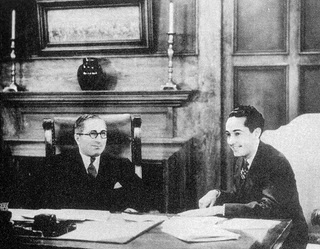 LB Mayer and Irving Thalberg
Strickling and Mannix worked together to 'fix' problems at MGM even though they were very different characters. Mannix had scores of affairs. Strickling, who was married to the same woman for 50 years, had few (if any). Mannix was rough and foul-mouthed. Strickling was just the opposite. Mannix detested movie stars, although his casting office run by his assistant Benny Thau was, in effect, little more than a brothel in which both men personally serviced numerous nubile young hopefuls. Biographer Charles Higham wrote that 'Thau's casting couch was the busiest in Hollywood.' In time he would make Greer Garson his mistress and would regularly avail himself of the 'services' of Nancy Davis before she became Nancy Reagan. Strickling, on the other hand, the ideal family man, genuinely tried hard to look out for the actors' interests, as long as those interests did not harm MGM that is.
Benny Thau
Greer Garson
Nancy Davis
The fixers did just about anything to protect MGM and its riches. Often, that meant hiring spies, drivers, waiters, janitors and the like, to report back to them on a weekly basis. They also bribed judges, police, medical staff, photographers, writers, even DA's, if necessary. They read every telegram in and out of Culver City's Western Union offices. Mannix would take them home and read each one in bed. The two men even 'fixed' crime scenes when required to. And they performed all these functions for nigh on 40 years!
Eddie began an affair with actress Mary Nolan in 1927, and over the next few years she aborted at least three of his children. He and wife Bernice had been together since 1916. An extremely violent man, he once broke her back during an argument. He regularly beat her up, the poor woman undergoing fifteen abdominal surgeries to mend her damaged body, but they remained husband and wife until 1937 because of their Catholicism. Late that year Bernice finally filed for divorce. On November 18, 1937 she died in a car accident outside Palm Springs, California, and the divorce petition, conveniently for Eddie, died with her.
Mary Nolan
Back in 1935 he had met and fallen for Ziegfeld dancer Toni Lanier, a stunning woman known as 'Legs', who possessed looks, figure and personality by the truckload. Like most men who met her, Mannix was bowled over. She was a hard drinker, swore like a sailor, and had no interest in glamour or Hollywood. In short, she was Mannix in a dress and they hit it off. Her eventual romance with TV's Superman, George Reeves, would ultimately lead to George's death. (That story is covered in both Hollywood Warts 'N' All and in Movies Based on True Stories.) What exactly transpired that night is open to considerable conjecture, the only certainty being that George wound up in the morgue on a slab.
Toni Mannix (nee Lanier) & George Reeves
There are a number of Hollywood sources who categorically state that Mannix and Strickling were the guys who set up the brothel in the Hollywood Hills known as 'Mae's'. They placed a woman named Billie Bennett in charge of it. She looked like and talked like Mae West, hence the name of the establishment. In the terrific drama L.A. Confidential (1997) a house of ill-repute featuring girls cut to look like movie stars forms part of the plot. It is supposedly based on the legendary 'Mae's'.
Billie Bennett
Writer/director Garson Kanin devoted a chapter of his great book Hollywood: A Memoir to 'Mae's'. According to him, clients could, (for a sizeable fee), spend the night (or a few hours) with hookers made up and dressed to look like movie stars of the magnitude of Barbara Stanwyck, Alice Faye, Joan Crawford, Myrna Loy, Claudette Colbert, Janet Gaynor, Carole Lombard, Irene Dunne, Luise Rainer, Ginger Rogers, Paulette Goddard, Vivien Leigh, Marlene Dietrich and others. For some reason only Greta Garbo and Katharine Hepburn were not represented and never would be. With hundreds of young hopefuls arriving on trains every week, there was no shortage of pretty girls in need of employment, even as prostitutes, in a place that still afforded them an opportunity to 'meet' industry people who might just give them that 'break' they so desperately yearned for.
Garson Kanin
When asked what services the girls were willing to offer, Mae informed Kanin that each girl did 'everything'. But this was not your ordinary brothel. Each girl had to be completely familiar with her real-life counterpart's life and career. Part of their job was to keep abreast of the news about their alter-ego. If the real Lombard broke her wrist, then her 'double' at Mae's must bandage her wrist for however long it took for the real one to heal. If a star was reported to be on location shooting a movie her 'double' had to be unavailable until her return. One imagines poor Carole Lombard's double must have found herself suddenly unemployed in 1942 when her life suddenly ended in that plane crash.
Kanin was actually directing Lombard in a movie in 1937 and admitted being utterly captivated by her. Indeed, just about everyone was. She was married to Gable at the time of course. After spending the night with Mae's Lombard, Kanin recounted what had transpired (in detail) to the real Carole on the set next day. She typically laughed long and loud. 'Wait till I tell Clark! Jesus, no, I better not', she quickly added. 'He'll go there!' There will always be those who will say that Mae's establishment never actually existed. Having read Mr. Kanin's excellent memoir, however, I am more than inclined to believe it did. He comes across as intelligent and sincere, not the kind of man who would be prone to expounding tales of fantasy. Mae's was just another of Tinsel Town's many open secrets. As for details about the many 'cover-ups' conducted by the MGM fixers, I shall write more on them soon.