Mississippi-born Dana Andrews had 12 brothers and sisters, one of whom was movie actor Steve Forrest. Their father was a Baptist minister. In the 1940s and 50s Dana was a popular leading man for Sam Goldwyn and 20th Century Fox. A trained opera singer, he was put into the 1945 version of Rodgers & Hammerstein's State Fair, but no-one was aware he could sing, so his songs were all dubbed. He said later that he was reluctant to mention his vocal talents because he did not wish to take the work off the singer doing the dubbing. He felt the guy probably needed the money.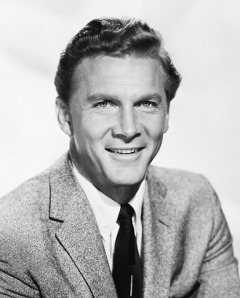 Steve Forrest
In the 40s he made a lot of pictures, the best of them being The Westerner (1940), The Ox-Bow Incident (1943), Laura (1944) and The Best Years Of Our Lives (1946). The quality of his movies dropped off after that, partly because he descended into alcoholism as he aged. Nevertheless, from 1963 until 1965 he was elected President of the Screen Actors Guild, but retired from the screen later in the same decade. He is generally regarded as the first movie star to do a public service announcement about alcoholism, something he agreed to do in 1972. He also openly spoke out against the degradation of actors, in particular young actresses forced to do nude scenes to get roles. Going by the number of young actresses today who strip for the camera, it would be safe to assume nobody much listened to him.
in Laura – Dana's most famous role
Dana Andrews was blessed with a photographic memory and instant recall, abilities he demonstrated on the Johnny Carson Show when he instantly recited all his lines from a western he had made over a decade earlier. As it happened, he only had to read a script once and it was all committed to memory. All of it. A terrible irony saw him spend the last years of his life as a patient in a facility called the John Douglas French Center for Alzheimer's disease. Good friend Burt Lancaster suffered a paralyzing stroke while visiting him at the center. The stroke would result in Burt's death two years later.
Dana's younger brother (16 years younger in fact), Steve Forrest, saw action in WW2 as a sergeant at the Battle of the Bulge. After demobilization he visited Dana in Hollywood and eventually was 'discovered' by Gregory Peck who got him started in the industry. Steve's career never reached the heights his brother's did, but he was a serviceable performer in several good films. Dana passed away in 1992; Steve in 2013.
'La Lollo'
Gina Lollobrigida
The Symbol of Italy
The year 1947 must have been a hot one for beauty contestants in Italy. Twenty year-old Luigina Lollobrigida entered the Miss Italy competition and ran third, beaten by two future Italian movie stars Lucia Bose and Gianna Maria Canale. Not that losing had any negative results for Gina. That same year (so it was said), Howard Hughes flew her to Hollywood. 'I stayed there two months and a half and saw him every day. He was very possessive. And secretive. He wanted to marry me but I was already married and divorce was not possible for me. For me at that time marriage was forever. He probably wanted me more because he couldn't have me. He didn't stop wanting me for 13 years.' She would return six years later for her American film debut in John Huston's Beat the Devil (1953).
Lucia Bose
Gianna Maria Canale
Before long she was nicknamed 'La Lollo', the Italian beauty prototype. Today (2015) she is in her 88th year, but she certainly crammed a lot of life (and love) into those years. 'I have had many lovers and still have romances', she said. Down the decades her lovers have included many movie stars, among them Frank Sinatra, Orson Welles, Yul Brynner, Burt Lancaster and (believe it or not) Jerry Lewis. Lovers from other fields include Fidel Castro (rumored), Buzz Aldrin, Henry Kissinger and heart surgeon Christiaan Barnard.
Jerry Lewis, one of Gina's lovers
She is quite happy to discuss her co-stars and her relationship with them. When asked about Rock Hudson her response was surprising to say the least. 'I tell you, he was not gay! He changed. He was normal. He was adorable.' Gina made no bones about her feelings for Yul Brynner either. 'When we kissed in Solomon & Sheba we lost our heads and couldn't stop. The director says 'stop!' but we continued and we were very embarrassing. But it is something that can happen in life. You can get physical and get carried away. We didn't hit it off at first', she added, 'but something happened on the love scenes.' In front of an entire film crew?
It might surprise some readers to learn that Gina was a confessed predator. 'I was the one who chose all the time', the 86 year-old Gina told journalist Nigel Farndale in 2013. 'I knew what I wanted. And if they didn't want me that made me worse. I was like a man, seducing them. I was very independent. I was not waiting for someone to choose me.' Never one to hide her light behind a bushel or to underestimate her own beauty, she added, 'Obviously, at that time I could have who I wanted.' As if to prove the point she takes great pride in her collection of magazine covers. All six thousand have her picture on them, yet she insists she does not like being photographed! And the lady never tires of mentioning how beautiful she was and is. Every anecdote concludes with some admirer telling her how gorgeous she is.
In the 1970s Gina retired (temporarily) from acting to become a successful photo-journalist who scooped the world's press by getting an exclusive interview with Cuba's Fidel Castro in 1974. Did she and Castro become intimate? Many people seem to think so. Given Hollywood's apparent love affair with the man it would come as no surprise. To read comments by Gina, Spielberg, Oliver Stone, Chevy Chase, Jack Lemmon, Harry Belafonte, Naomi Campbell, Jack Nicholson and Francis Ford Coppola, one could be forgiven for thinking butter wouldn't melt in his mouth. Gina's own words: 'Castro is an extraordinary man. He is warm and understanding, and seems extremely humane.'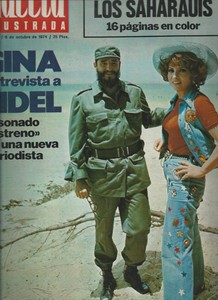 with Fidel Castro 1974
In October 2006, at the age of 79, she announced her engagement to a 45 year-old Spanish businessman Javier Rigau Rafols but, due to the intense media interest, she broke the engagement just two months later. Gina and Javier were together for twenty years before, according to her lawyer, Javier tricked her into signing papers that permitted him to marry her by proxy. A 72 year-old woman 'stood in' for Gina at the ceremony in Barcelona in 2010. In 2013 Gina learned of the proxy wedding three years earlier and has since taken her former fiancée to court, charging him with fraudulently trying to get his hands on her 35 million pounds estate. The court case, according to her attorney, should be over by the end of 2015.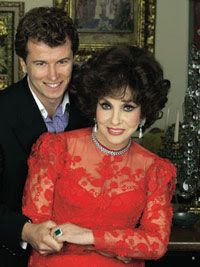 Javier & Gina
Gina in her 80s
Newspapers loved to report on the feuds between Gina and other sex symbols of her day. Whenever she and Sophia Loren or Anita Ekberg, for example, met the press the cattiness was highlighted in the tabloids. When asked about this 'La Lollo' answered in typical fashion. 'No, I had no rivals because I was number one all over Europe. Everyone claimed they were my rival but it was silly because I was the symbol of Italy. I was an icon. I was Gina Lollobrigida.' Personally, I preferred Sophia and Claudia Cardinale. But I am not Italian.