On October 24, 2015 the movie world lost one of its icons, the Irish-born beauty Maureen O'Hara. She was 95 years old. Having fallen in love with her screen image about thirty times, I still find it difficult to even imagine her as a frail 95 year old lady, but then who says Maureen O'Hara was ever frail, even in her dotage? Throughout her life and career she displayed that fiery Irish-ness that dared anyone, male or female, to challenge her beliefs and her integrity. If she thought she was in the right she would never take a backward step, no matter who she was up against. The lady even took on the omnipotent Walt Disney – and lost. She probably knew she could not win that one at the outset. The fight needed to be fought, however. But more of that later.
in The Black Swan (1942)
Maureen was born in Ranelagh, a suburb on the outskirts of Dublin. By the age of fifteen she was already winning acting awards for her stage work and fully focused on becoming the best actress she could be. That remained her goal throughout her career. Blessed with a rare beauty, flaming red hair, pale complexion and dazzling green eyes, she was born for Technicolor movies. Consequently, her road to Hollywood success was assured from the moment she screen-tested for Charles Laughton. He was so impressed by her staggering beauty and fierce determination that he immediately placed her under personal contract.
Charles Laughton
In 1946 she was personally responsible for the Republic of Ireland being ultimately recognized in its own right by the United States government. Maureen applied for US citizenship in that year and was astonished to discover in the paperwork that the words 'Ireland' and 'Irish' had been crossed out and replaced by 'Britain' and 'British'. Her refusal to sign unless her Irish birthright was acknowledged resulted in the Irish Prime Minister Eamon De Valera dispatching envoys to Washington DC with instructions to get the US to address this. Until Maureen's stance all Irish immigrants seeking US citizenship were deemed to be 'British subjects'. Not anymore.
equally stunning in black & white
While filming Kangaroo: the Australian Story (1952) in Australia, her co-stars Peter Lawford and Richard Boone were discovered by the press in a brothel full of beautiful boys! At the behest of the studio Maureen met privately with representatives of the press and begged them, for the sake of the budding Australian film industry, to keep the matter quiet. They duly did, as much out of respect and admiration for her as for any other reason. Lawford, incidentally, was definitely bisexual, but there is no evidence to indicate Boone was anything other than heterosexual. He may simply have accompanied Lawford out of curiosity.
with Richard Boone in Kangaroo (1952)
Peter Lawford
When Walt Disney decided to bill young Hayley Mills above both Maureen and co-star Brian Keith in his 1961 family sit/com The Parent Trap, Maureen took him on and paid the price. She never again worked for the studio, a pity indeed, for if there was ever an actress made to embellish Disney features it was Maureen O'Hara. It was rumoured that when her name was mentioned as he lay on his death-bed, Walt whispered, 'That bitch!' Apparently, he had billed The Parent Trap as starring 'Hayley Mills and Hayley Mills' because he wanted to publicize the new split-screen' process the picture was introducing. Maureen was aware of this, of course, but there was a principle involved. She was not about to bow to Disney (or anyone) on an issue she believed to be unjustly handled.
that poster (1961)
Maureen – aged 40 – with
Hayley Mills in The Parent Trap
In Maureen's 2004 book, 'Tis Herself': An Autobiography, she writes about the trick played on her by director John Ford and her co-star John Wayne during the making of The Quiet Man in 1952. For the scene in which Sean (John Wayne) drags Mary Kate (Maureen) face down on her stomach across a field, Ford and Wayne kicked sloppy, stinking sheep dung into the field directly in her path. Then Ford quietly ordered his cast and crew to refuse to give her towels or water after the sequence had been shot. Maureen had to endure the smell of her soiled clothes for the remainder of the day.
in The Quiet Man (1952)
the quiet man himself
director John Ford
Fans of The Quiet Man have always been intrigued with what Mary Kate whispers in Sean's ear at the end of the picture. Ford told Maureen precisely what she was required to whisper. 'No, I can't', she said. 'I can't say that to Duke.' But Ford was insistent. He wanted a shocked reaction from Wayne, so Maureen agreed, but on one condition. After the scene was shot the three of them must sign a pact never to reveal what she had whispered. As far as she was aware both Wayne and Ford went to their graves without telling a soul. And so did she.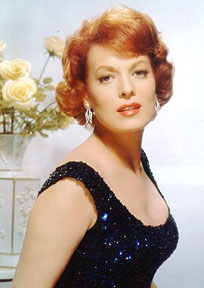 Wow! Maureen in her 30s
According to writer Scott Eyman in his 2014 book, John Wayne: The Life and Legend, the Duke and Maureen had a long love affair. 'They would meet in Arizona, at the ranch he owned with a friend. It went on for years, before and during his marriage to Pilar', he wrote. Pilar, the daughter of a Peruvian senator, was the Duke's third wife. Few people were allowed on Duke's boat The Wild Goose. That restriction did not apply to Maureen.
the Duke's other love
Robert Mitchum's son Christopher worked with them both on Big Jake (1971). 'Duke was truly in love with that woman', he recalled. 'He didn't marry her because Maureen was strong and tough, and he probably didn't think he could control her. He married women he thought he could control. Then he found out he couldn't.' Maureen visited him in April 1979 shortly before he died and 'they cried for hours together'. Eyman (and others) described her as 'his one true love'. 'Do I miss him?' Maureen is quoted. 'Oh, God, yes. There are so many times I'd like to call Duke, or the old boy (Ford) to ask their advice, to ask what they think. But I had a wonderful life with them.'
Chris Mitchum
In 2000, she told Larry King that she never had a relationship with any of her leading men. Not even Wayne? Anthony Quinn, on the other hand, in his autobiography, said he fell madly in love with her when they made Sinbad the Sailor in 1947 and claimed that they had an affair. 'But after a while we both tired of the deceit', he wrote. 'It was one thing to bed around on our spouses but quite another to settle into a serious relationship. She counted the days until her husband returned from overseas so she could divorce him and marry me…' he added. There was no divorce. Not then anyway, so how much of Quinn's tale you care to believe is up to you.
with Anthony Quinn in
Sinbad the Sailor (1947)
Maureen was a devout Catholic who readily admitted that love was important to her, but not as important as God. Would such a woman be forever breaking her marriage vows? A journalist once asked her how she managed without a man in the 'prime' years of her life. She replied, 'There was one but I don't want to talk about it.' Was she referring to Quinn? Was she referring to Wayne? Either way, her response suggests that her statement that she never had a relationship with any of her leading men is questionable unless, of course, she meant there was someone else outside of the movies. There have been scores of beautiful actresses who have graced our screens down the decades. In most lists describing the most beautiful of all the names of Liz Taylor, Grace Kelly, Sophia Loren, Marilyn Monroe, Greta Garbo and Lana Turner (to name but a few) would probably appear. For some reason Maureen O'Hara's is often overlooked and I have no idea why. Not only was she a knockout when she was young, she remained almost as stunning in her forties, fifties and beyond. As an actress she also deserved far better than she got. Throughout her entire career, one full of delightful performances rich in quality, she never once was nominated for an Oscar or a Golden Globe. In 2015, in her last year, she was belatedly given an 'Honorary Academy Award'. Too little too late.