After starring in A Summer Place in 1959, Blonde-haired, blue-eyed Troy Donahue had the acting world at his feet. Then he blew it with drugs and booze. 'I was loaded all the time', he recalled. 'I'd wake up about 6:30 in the morning, take three aspirins mixed with codeine, slug down half a pint of vodka and then do four lines of cocaine. That was just so I could get the front door open to peek out and see if I could face the day'. His first marriage, to co-star Suzanne Pleshette in 1964, lasted just eight months. 'I would lie, steal and cheat, all those wonderful things that drunks do.' For an entire summer he lived in bush in Central Park. 'I kept everything I had in a backpack'. The $10,000 he received for his small role in 1974's The Godfather Pt II went on cocaine. He only got the part because Francis Ford Coppola was an old school buddy. Three more failed marriages followed and he fathered a son out of wedlock in 1969. A heart attack claimed him in 2001 at the age of 65.
Suzanne Pleshette
James Caan as Sonny in The Godfather
James Caan will probably be best remembered at the end of his career for playing Sonny Corleone in The Godfather (1972). For nine years he was a rider on the professional rodeo circuit, hence his Hollywood nickname 'The Jewish Cowboy'. Being a Jew from the Bronx did not stop him from being voted 'Italian of the Year' in New York City – twice! When we look at the roles he has rejected for some reason or another, it is apparent that Caan has often been his own worst enemy. He turned down the Jack Nicholson role in One Flew Over The Cuckoo's Nest, the Han Solo role in Star Wars and, when offered the lead in Close Encounters of the Third Kind, he told his agent to demand $1 million and 10% of the gross if he was to accept the part. Dustin Hoffman's lead in Kramer vs. Kramer was another of his knockbacks.
Dan Blocker as Hoss in Bonanza
For those who grew up watching the nine seasons of Bonanza on television, the name of Dan Blocker was well known. He played the iconic 'gentle giant' 'Hoss' Cartwright in the series. When he was born in Texas in 1928 he weighed in at fourteen pounds! At the age of 12 he was already 6 feet tall and over 200 pounds. While Bonanza remained in the top five TV shows in America for nine successive seasons, Blocker's weight ballooned to as much as 365 pounds. 'I remember breakfast when I ate a dozen eggs, two loaves of bread, and drank two quarts of milk', he told an interviewer. 'Now I eat like a normal guy and I'm always hungry.' In 1972, at the age of 43, he died from a pulmonary embolism. Without him Bonanza failed to survive another season.
Inger Stevens
Beautiful Swedish-born Inger Stevens had a tendency to fall desperately in love with her co-stars, only to see the relationships collapse one after another. Failed affairs with Bing Crosby, James Mason, Anthony Quinn and Harry Belafonte left her depressed and despondent – even suicidal. She refused to marry Crosby because she would not agree to convert to Catholicism.  Her first attempt to end her life took place on New Year's Day 1959 when she was 24. In 1968 she fell in love with another co-star, Dean Martin, when they made Five Card Stud together. Her final romance was with Burt Reynolds. When her housekeeper found her unconscious and dying on the kitchen floor in April 1970, she was rushed to hospital but died en route from barbiturate intoxication. Although estranged at the time of her death, it was later discovered that this greatly troubled lady was secretly married to an African-American named Ike Jones, and had been since 1961. She was once aboard a jet airliner that crash landed, but luckily managed to escape the wreckage shortly before it exploded. In 1970, aged just 35, her luck ran out.
Jack Larson as Jimmy Olsen in
The Adventures of Superman
Back in the early fifties, when television was very much in its infancy, Jack Larson was chosen to play Superman's offsider Jimmy Olsen, although he did not want to do it. His agent convinced him to take the money because the series would never even get picked up, much less have any reasonable life. When The Adventures of Superman took off and became internationally popular, he found it impossible to shake off the Olsen image. Actually, Jack was supposed to make his movie debut in Scudda Hoo! Scudda Hay! in 1948, but at the last minute his intended character was given a gender change and given to another newcomer – Marilyn Monroe! Unbeknown to his many fans, Jack was homosexual and lived for over thirty years with his partner James Bridges, a writer/director with fine credits that included the screenplays for Urban Cowboy and The China Syndrome.
Eddie Albert
Eddie Albert's Warner Bros contract was severely interrupted in 1941 because of his affair with studio mogul Jack Warner's wife Ann. Jack caught his wife and Eddie en flagrante and made sure no director would employ Albert for a couple of years. Faced with a dearth of opportunities, Eddie joined the Navy and was sent to the Pacific.  He won the Bronze Star for bravery under fire, especially during the Battle of Tarawa where he piloted an assault craft and was directly responsible for rescuing 142 wounded marines. Eddie later married the actress with the solitary name of Margo in 1945, and remained with her until her death in 1985. Television fans loved him in Green Acres alongside Eva Gabor. He lived on until the ripe old age of 99 before dying from pneumonia and Alzheimer's disease in 2005.
Alan Alda as Hawkeye in M.A.S.H.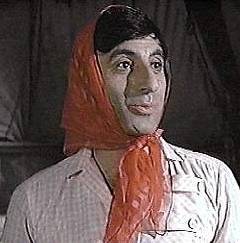 Jamie Farr as Klinger
The phenomenally successful TV series on which the 1970 movie M.A.S.H. is based owed much of its popularity to the only two members of its cast who actually served in Korea during the real Korean War, Alan Alda and Jamie Farr. Not that this made them bosom buddies; far from it. Farr claims that fame went to Alda's head and turned him into a very pompous man. 'He started thinking he was speaking God's words. Not the lines in the script, not his own personal thoughts. He thought he was speaking the words of God. I think he thought and believed that God was speaking through him. A person like that is not easy to be around.' Robert Altman was paid $75,000 to direct the movie M.A.S.H. (1970). His 14 year old son, Mike, wrote the lyrics to the theme son Suicide is Painless. After it was picked up and used in the long-running TV series he continued to receive residuals that ultimately amounted to over two million dollars!
Carroll Baker as Rina Marlowe in 
The Carpetbaggers
The blonde bombshell Rina Marlowe in The Carpetbaggers (1964) is played by Carroll Baker. Upon finding herself compared to Miss Baker a few years later, Raquel Welch retorted: 'Carroll Baker couldn't be sexy if she was spread-eagled naked on the cover of Life magazine'. Baker was incensed by the attack: 'I don't even know this girl', she complained with some justification. '…it would never occur to me to think of another woman spread-eagled naked. It was cruel, but it was also very perverted'.  Over the years she gradually drifted into character roles until, in 1990, at the age of fifty-nine, she portrayed the nasty villain's even nastier mother in Schwarzenegger's Kindergarten Cop. It is now 2015, and it still seems hard to believe that the beautiful Carroll is now eighty-four years old!
in Kindergarten Cop