The incomparable Tallulah Bankhead was born in Alabama in 1902 to a father who would become the Speaker of the House of Representatives from 1936 until 1940. At the age of eleven she was raped. At fifteen she ran away from home and before long was the toast of Broadway. It was not long before Hollywood beckoned and she responded. Her first Hollywood party was at director George Cukor's home. Tallulah stretched out naked on a marble bench in the foyer, with just a bunch of grapes in her hands, and greeted guests as they arrived. Quite a few elderly matrons were outraged. The men thought she was sensational.
Tallulah was quite openly bisexual, although she declared that men were strictly for sex, women for more meaningful relationships. One of those meaningful relationships was with actress Estelle Winwood, with whom she shared an apartment for some time. Unlike Tallulah, Estelle would live to a ripe old age (she passed away in 1984 at 100, in fact), her last movie role being Jessica Marbles' nurse in Neil Simon's Murder by Death in 1976. Other female lovers included Katharine Cornell, Frances Day, Sarah Vaughan, Joan Crawford, Barbara Stanwyck, Ethel Barrymore, Greta Garbo, Hattie McDaniel, Ona Munson, Patsy Kelly, Beatrice Lillie, Marlene Dietrich and Fred Astaire's sister Adele. As for Tallulah's male lovers, well, the list is staggering, for the lady hardly ever slept alone. She once estimated there may have been as many as 5,000! Friends said she had abortions like other women have permanent waves.
young Estelle Winwood                         and in Murder by Death (1976)
She was a danger to her studio because she said whatever she felt like saying, and to hell with the consequences. 'MGM's star quartet', she once said, 'of Garbo, Crawford, Harlow and Cary Grant, were Hollywood's most desirable women.' Securely closeted Cary would have just loved that! LB Mayer loathed her and threatened to expose her bisexuality to the press. She countered by promising to tell them about her affairs with Crawford, Stanwyck and Garbo, if he tried it. Mayer backed off. At an MGM party she sang the popular song 'Bye, Bye Blackbird', substituting the word 'Jewbird', just to provoke Mayer and to get a reaction from him. She was not intentionally being anti-semetic. She was just being outrageous Tallulah.
LB Mayer
The Will Hays Committee gave every studio a bound volume of The Doom Book. It contained a list of 150 performers the committee deemed as 'unsuitable for the public'. At the top of the list was Tallulah Bankhead, cited for verbal moral turpitude. Jean Harlow also made the list. Her crime? 'Baring her body', according to silly Will. Tallulah earned her top billing even before she referred to Hays as 'a little prick' which, all things considered, was a pretty accurate description of the man.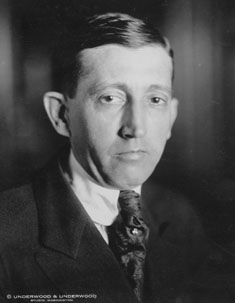 Will Hays
The movies never really captured Tallulah's personality, so she spent most of her career touring in stage shows. She lived for the applause. It was not until she made Lifeboat (1944) with Alfred Hitchcock that she hit it relatively big with the public, but her popularity was short-lived. In between movies she partied, boozed, and slept around with whichever gender became available at a moment's notice. She had a rather disconcerting habit of removing her clothes and standing around stark naked, talking to people as she chain-smoked and swilled Kentucky Bourbon from the bottle! She often answered her apartment door without a stitch on. Deliverymen, telegram boys, whomever, were usually greeted with, 'Dahling, come in. What'll you have?' More often than not they 'had' her before leaving.
Tallulah in Lifeboat (1944)
When she made Lifeboat she deliberately deigned to wear underwear throughout the shoot. The large studio tank was equipped with an entry and exit ladder, and Tallulah insisted that she climb up the ladder first, and down the exit ladder last, so that the all-male cast could get an eyeful of her privates coming and going. When one of the cameramen actually complained to Hitchcock about her continually exposing herself, Hitch replied that it really wasn't his department. 'Then whose department is it?' asked the man. 'I would say 'wardrobe', the great man answered. 'Or possibly 'hair-dressing'.
She came to Hollywood in 1932 to make The Devil and the Deep. When asked why she had deserted her beloved stage for the movies, she famously replied, 'for the money and to fuck that divine Gary Cooper.' Coops was never one to look a gift horse in the mouth. He fulfilled her wishes and gave her a dose of gonorreah for good measure.
Coops & Tallulah in The Devil and the Deep
By 1940 Tallulah was using marijuana, cocaine and other chemicals in rectal suppositories! Tennessee Williams said she would insert one and 'turn into a Zombie and pass out on the floor'. He actually wrote the character of Blanche Dubois in A Streetcar Named Desire specifically for Tallulah, but by the time it was ready to be produced she was too old for the role. In 1965, at the age of 63, she even took a shot at a very young Donald Sutherland when they made Die, Die My Darling. One evening she startled him by suddenly walking into his dressing-room completely nude. 'What's the matter, darling?' she asked. 'Haven't you ever seen a blonde before?' By that time in her life she was surrounding herself with young men who were mostly gay, but ready to satisfy her every whim. She referred to them as her 'caddies'. Occasionally, she still found a female to share her bed and her cocaine. 'My father warned me about men and booze', she delighted in telling reporters, 'but he never mentioned a word about women and cocaine'.
Donald Sutherland
and Tallulah in Die, Die My Darling (1965)
At dinner parties or at restaurants she would spot a recently arrived actor and loudly exclaim, 'I've slept with every man at this table and you're gonna be next.' At other times she would suddenly embrace the frumpiest woman in the room and bellow, 'You must know by now that I'm mad about you!' She all but wrecked a society wedding by loudly proclaiming about the bride and groom: 'I've had both of them, darling, and neither of them is any good.'
Tallulah had a wonderfully dry sense of humour. On seeing a former lover, a man she had not laid eyes on for years, her first words were, 'I thought I told you to wait in the car.' She was in a toilet cubicle one day and discovered there was no toilet paper, so she called out to the lady in the cubicle next door, asking if she had any in there. 'No, there is none here either', the woman replied. 'Well, in that case', Tallulah came back, 'do you have two fives for a ten?' The unique Miss Bankhead smoked 150 cigarettes a day, drank bourbon by the bottle, snorted cocaine, and slept with whomever she fancied of either sex. In the end it all caught up with her and she expired at the age of 66, mostly from emphysema. Her last words? 'Codeine…bourbon.' She was many things, but boring was not one of them. And in an industry where hypocrasy was a byword, Tallulah never even contemplated it, much less practiced it. As she loved to say: 'I'm as pure as the driven slush!'