This category will, from time to time, look at old stars from both movies and TV, to see where they are today, and what happened to them after their days in the spotlight ended. I shall start Pt 1 with the TV western series of the 50s and 60s. Some of them anyway.
GUNSMOKE (1955-75)
James Arness (1923-2011). He played the star of the show, Marshal Matt Dillon, and appeared in all 635 episodes of the series. His younger brother, Peter Graves, starred in his own series Mission Impossible (1967-73) and (1988-90), as James Phelps. Arness was a good friend of John Wayne who suggested him for the lead in Gunsmoke. A lifelong admirer of Wayne and Ronald Reagan, Arness passed away at 88 in 2011. His younger brother died in 2010 at 84. All his life James Arness disliked being 6'7" tall. He was one of the few stars who preferred to stand in a trench to disguise his height in close-ups.
As Miss Kitty
Amanda Blake (1929-89). She played 'Miss Kitty'. Fans watched and waited for almost a decade to see if Matt and Kitty would marry, but they never did. The show was a success as it stood, so why change a winning combination? Amanda married four times, the last of which more or less signed her death warrant. Husband number four was openly bisexual. Before dying from AIDS in 1985 he infected his wife with it. Amanda underwent oral cancer surgery in 1984, but it only delayed the inevitable. She died in 1989 aged 60.
As Chester Goode
Dennis Weaver (1924-2006). Weaver played Marshal Dillon's deputy, the stiff-legged Chester Goode. He actually landed the part by faking the stiff leg and a humorous country bumpkin accent, both of which added to Chester's persona. In the 1948 Olympic Decathlon trials he finished a creditable 6th to eventual gold medallist Bob Mathias, just missing out on selection in the US team. He and comedian Don Knotts died on the same day, and both aged 81.
As Doc Adams
Milburn Stone (1904-80). Stone played Doc Adams. He was resigned to playing extras in B-Grade Monogram films until he suddenly scored the role of Doc. It would make him a household name. Except for a brief gap in 1971 when he suffered a heart attack, he appeared in most episodes (604 of them) over the show's 20 year run. His dicky heart got him in 1980.
As Festus
Ken Curtis (1916-91). Don't be fooled by the hick voice of his character Festus Haggen. Ken Curtis began as a vocalist for Tommy Dorsey, even replacing Frank Sinatra for a while. Then he sang with the highly acclaimed Sons of the Pioneers. Marriage to director John Ford's daughter Barbara saw him appearing in several of his father-in-law's western classics, but it was Festus that made him well known. He died in his sleep from a heart attack in 1991.
MAVERICK (1957-62)
As Bret Maverick
James Garner (1928-2014). Twice wounded in the Korean War, Garner got his acting chance in 1957 when chosen to co-star as Bret Maverick, with Jack Kelly as his brother Bart, in this series. Pretty soon it became clear to everyone who the star of the show was. Garner's charisma made him a success overnight, but he walked out in 1960 following a dispute over money, only featuring in 60 episodes in all. In 1974, he would make The Rockford Files, unequivically another triumph. Some creative accounting at Universal robbed him of the series' huge profits so, in 1980, we walked out on that series as well. He was first choice to play the lead in the Cheyenne series, but was unable to be contacted in time, so it went to Clint Walker and it made him a star. Garner died in 2014, a month short of his 59th wedding anniversary.
As Bart Maverick
Jack Kelly (1927-92). Kelly nearly always played the star's wise-cracking pal in movies and on TV. When he landed the co-starring role of Bart Maverick he must have thought his fortunes had at last turned around. Garner's meteoric rise, however, made him a kind of 'supporting' player again, even if the pay was much better than usual. The two actors usually starred in alternate episodes, but far too many viewers only tuned in to see the 'Bret' episodes. Surprisingly, the two men remained friends for 35 years until Kelly's death at 65 in 1992. He was married for a while to May Wynn, Ensign Keith's squeeze in The Caine Mutiny (1954).
CHEYENNE (1955-62)
As Cheyenne Bodie
Clint Walker (1927- ). At 6'6" (1.98m), Walker was an inch shorter than James Arness of Gunsmoke, and for a while he was just about as popular with TV viewers. Working as a security officer at the Sands Hotel in Vegas, he met a lot of Hollywood people who suggested he try his luck in the movies. De Mille gave him a small part as a Captain of the Guard in his 1956 version of The Ten Commandments, which led to him being contracted by Warners for Cheyenne. His movie career did not really take off, his most memorable role being in The Dirty Dozen (1967). His twin sister, Lucy, died in 2000 aged 73, but Clint just keeps riding on.
RAWHIDE (1959-65)
Ad Gil Favor
Eric Fleming (1925-66). He was the original star of the show, playing the trail boss Gil Favor, but Clint Eastwood's popularity quickly rose above his. After seven top rated years, Rawhide ended, and Fleming prepared to marry his long-time partner and retire to a ranch he had purchased in Hawaii. Tragically, just two days before his wedding in 1966, he lost his life shooting a documentary for MGM in Peru. Evidently, he purposefully dived into the river from a dug-out canoe, but the current swept him away. His body was recovered three days later.
As Rowdy Yates
Clint Eastwood (1930 – ). Both Eastwood and Fleming were 6'4" tall. Clint got the role as Rowdy Yates in Rawhide because a casting scout saw him visiting the studio and thought he 'looked like a cowboy'. Before long he was the star of the series. Since then, of course, he has become an icon of the movie industry. I will write a piece on him at a later date.
As Wishbone
Paul Brinegar (1917-95). He played 'Wishbone', the cook, in Rawhide. Hailing from Tucumcari, New Mexico, Brinegar spent virtually his entire movie career playing grizzled, be-whiskered sidekicks to western heroes. His role in Rawhide  made his face (but not his name) known to the world. He died from emphysema in 1995.
TOMBSTONE TERRITORY (1957-60)
As Clay Hollister
Pat Conway (1931-81). Conway played Sheriff Clay Hollister in all 92 episodes of Tombstone Territory. His grandfather on his mother's side was the legendary silent star Francis X Bushman. Conway grew up on the family ranch, so he was an accomplished rider, especially around cattle, from about the age of 10. Surprisingly, he did a six-month stint at the Old Vic in London, playing Shakespearian roles, before returning to California. Another cowboy 'giant', he was 6'3" tall. A confirmed bachelor who enjoyed being alone, Conway was also an alcoholic, and this ultimately led to his early death at 50.
As Harris Claibourne
Richard Eastham (1916 – 2005). He played Harris Claibourne, fictitious editor of the Tombstone Epitaph. The paper itself existed, but the editor back in the 1880s was John P. Clum, on whom Claibourne is loosely based. Eastham was a fine baritone singer who toured with many productions, even replacing Ezio Pinza in South Pacific on Broadway at one time. He died from Alzheimer's disease at 89.
HAVE GUN – WILL TRAVEL (1957-63)
As Paladin
Richard Boone (1917-81). Despite a varied and impressive movie career, Boone will always be best remembered as Paladin in this series; the gun for hire with morals, (they're rare), who lived out of the Carlton Hotel in San Francisco. He was especially good in the Paul Newman western Hombre (1967), but turned down Robert Shaw's role in The Sting (1973), and also Jack Lord's in the Hawaii 5-0 series in 1968. Throat cancer claimed him in 1981. He was a direct descendent of Daniel Boone's brother.
WAGON TRAIN (1957-65)
As wagon master Major Seth Adams
Ward Bond (1903-60). Bond played Major Seth Adams, the wagon master, for 134 episodes until a heart attack took him out at 57. He was a lifelong pal of John Wayne and director John Ford, although the latter hounded him mercilessly on his film sets. At Bond's funeral, Ford walked up to actor Andy Devine and said. 'Now you're the biggest asshole I know.' It was not until years after his death it was learned that Bond was an epileptic.
As wagon master Christopher Hale
John McIntire (1907-91). He became the new wagon master, Christopher Hale, after Ward Bond died, and played the role effectively for the next four years. In 1967, he would also replace Charles Bickford in The Virginian after he died on the job. McIntire was married to actress Jeanette Nolan for 56 years until his death in 1991.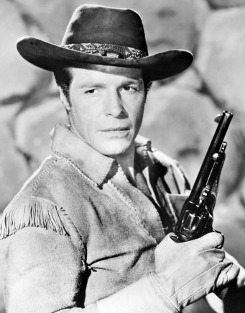 As Flint McCullough
Robert Horton (1924 – ). For 187 episodes he played the scout, Flint McCullough, from 1957-62. In most of the TV western series of the 50s and 60s it was almost compulsory to include a 'beefcake bondage' scene somewhere along the way. Just about every hero was subjected to a whipping or being staked out, bare-chested, for the lady viewers to drool over. Sad but true. Horton got to show off his physique in both these ways plus one more. Some Indians stripped his shirt and dangled him in their camp for an episode as well. He and Ward Bond did not get along on the set.
As Charlie Wooster
Frank McGrath (1903-67). Well-known for his role as the cook, Charlie Wooster, McGrath was a heavy drinker who often got into fights that he was rarely able to finish. He was Robert Horton's stuntman in Pony Soldier (1952) and Apache War Smoke (1952). A heart attack in 1967 put the kibosh on his cooking forever.
As Bill Hawks
Terry Wilson (1923-99). Wilson played Bill Hawks, the assistant wagon master, in 267 episodes of the series. His death in 1999 left Bob Horton as the oldest surviving member of the original cast. Wilson, John Wayne, Frank McGrath and Ken Curtis were all pallbearers at Ward Bond's funeral.
There were a great many western series during the 50s, 60s and 70s. I shall look at others at a later date.