For several decades the 'Big Five' in Hollywood were MGM, 20th Century Fox, RKO, Paramount and Warner Bros. United Artists had its moments in the sun, as did Columbia, Republic and Universal, but they were not really in the same league as the others. Of the 'Big Five' only RKO Pictures was not owned by European Jews. The initials RKO, incidentally, stand for 'Radio – Keith – Orpheum', and there is a story behind the company's creation. KAO was a vaudeville theatre circuit owned by three men, Keith, Albee & Orpheum. In 1928, they joined with Joe Kennedy's Film Booking Offices of America (FBO), and were brought together under the control of Radio Corporation of America (RCA). And yes, the Joe Kennedy we are talking about here is the same Joe Kennedy, (bootlegger and mob affiliate), who sired the youngest president in American history – JFK. In 1948, billionaire industrialist Howard Hughes took over the company, staying with it until 1955, no doubt until he saw the coming collapse of the studio system. By 1957 RKO was no longer in production.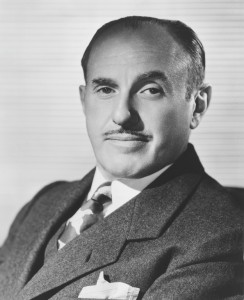 Jack Warner
There were four Warner brothers – Harry, Albert, Sam & Jack – all Polish Jews. All but the youngest, Jack, were born in Poland. The family migrated to the USA, stopping off in Canada for a while where Jack entered this world. They were quick to realize the potential of the fledgling movie business, and in 1904 started their own distribution company in Pittsburgh, Pennsylvania. By 1914 they were producing their own films, and in 1923 they became Warner Brothers Pictures Incorporated. The brains behind the company belonged to Jack. He ran things.
Jesse Lasky
Paramount Pictures began life as Famous Players-Lasky Corporation, itself a union between two smaller companies. The first of these was Famous Players Film Company, founded by Hungarian-Jew Adolph Zukor. The second was the Lasky Feature Play Company, started by another Jew named Jesse Lasky who was a native of San Francisco. He borrowed money from his brother-in-law, (another Polish Jew), named Sam Goldfish, who would later become Sam Goldwyn, to form the company. Their first employee was a theatrical director named Cecil B. DeMille, whom they sent south with a contract to make a motion picture called The Squaw Man in 1913. It cost them $47,000 to create, but it grossed $250,000 in no time at all, and put the company in the purple.
Adolph Zukor
In 1916, Zukor worked a three-way deal between his company, Lasky's company, and America's first ever nation-wide distributor, Paramount Pictures Corporation, run by a Utah theatre-owner named Hodkinson. Zukor and Lasky quickly bought him out and set up Famous Players-Lasky Corporation. They could now produce and distribute their movies across the country. A few name changes followed, Lasky was eventually bought out, and in 1936,  Zukor placed himself at the head of the new Paramount Pictures.
Joseph Schenck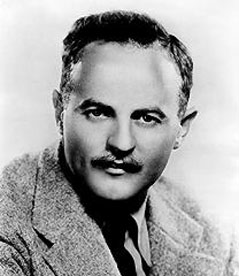 Darryl F Zanuck
20th Century Fox was a relative late-comer to the 'Big Five'. It had its origins in the tiny Fox Company, but it was not until 20th Century Pictures heads Joseph Schenck and Darryl F. Zanuck broke away from United Artists to join (and take over) the company that things really began to happen. That was in 1935. Only a few weeks after 20th Century Fox became a reality, Fox's top star, Will Rogers, was killed in a plane crash, yet the combined business expertise of the new bosses soon put the company on the road to commercial success.
Marcus Loew
And last, but not least, there was Metro-Goldwyn-Mayer (MGM), the daddy of them all. Marcus Loew was an entertainment entrepreneur, a very astute man, as indeed were all of these guys. In 1924, he took control of Metro Pictures, Goldwyn Pictures and Louis B. Mayer Pictures, and formed the greatest movie studio in history. Although born in New York City, Loew was also born into a poor Polish-Jewish family, one that had migrated to the USA just a year before his birth. He was a truly remarkable man. Loew had virtually no formal education, starting his working life doing menial chores, but he had imagination and vision; enough of both to make him borrow a little money to invest in a penny arcade business. From there he went to a nickelodeon, then to a small theatre, then to a bigger one, then lots of theatres big and small.
Louis B Mayer
Irving Thalberg
By 1913, 43 year-old Marcus Loew owned theatres all over New York, plus he was overseeing a score of other businesses. He needed someone to run his growing movie empire out in Hollywood (he preferred to live in the Big Apple), so he looked around for the best talent and came up with two incredibly shrewd choices. He made little known producer, Louis B. Mayer, Chief of Production at MGM. Mayer was another immigrant, another Jew, this time one from Russia. Next, he grabbed Universal's chief executive, the whiz-kid, Irving Thalberg, and made him 2IC to Mayer in Hollywood. Thalberg was yet another Jew, one who hailed from Brooklyn. Apart from being a very savvy businessman, Loew knew talent when he saw it. Between them Mayer and Thalberg would turn MGM into the studio to end all studios.
Each of the people mentioned above had the ability to recognize that the movie business was a 'goldmine' in the offing. It was, in effect, a license to print money. There have been many gold rushes throughout history. This was pretty much one more and, just like the real rushes, the real money was in the supplying of commodities. In the Klondike and California gold rushes, just to name two, it was the entrepreneurs who made the biggest money. Those who provided the food, clothes, equipment, booze and women, reaped the greatest profits. And all without raising a sweat. None of that back-breaking toil in freezing creek beds, or swinging a pick underground for them. Just ship in a load of whiskey, a few hundred shovels or pairs of Levi jeans, 50 or so eager ladies ready to provide horizontal refreshment – then sit back and count the money!
The newborn movie business was very similar. The moment the likes of Zukor, Goldfish, Loew and the others saw the lines stretching down the street, of patrons waiting to part with their hard-earned nickels to watch 15 seconds footage of a man sneezing, they knew they were on a winner. If a nickelodeon could make money servicing one customer at a time, what if that same piece of film could be projected on a wall, so that fifty people could watch (and pay) at once? How many more would pay more to watch a story unfold, one with beautiful women and handsome men in it? The industry grew quickly, for nothing motivates change and improvement like potential profit.
In 1905, when this all began to take shape, an average American could live comfortably on about $750 a year. Once movies began to be distributed nation-wide, then world-wide, the profits were mind-boggling. Executives suddenly found themselves earning $20,000 a week! It truly was a license to print money, but there were other 'fringe' benefits as well. The public fell in love with watching the 'flickers', as they were called, but the desire to actually perform in them grew just as quickly, especially among young girls. They did not have to be smart or particularly skilful. Movies were still without sound, so they did not even have to speak! They only had to be pretty and personable. Oh yes, and they must be prepared to – cooperate.
Claudette Colbert
It took the executives about ten seconds to realize that most of these beautiful young women were ready to do anything to get a contract. Often, Darryl Zanuck would conduct interviews with young hopefuls in his dressing gown, under which he was naked and aroused! Claudette Colbert wrote that the only star she knew who had not made it via the casting couch was Bette Davis. And that included herself. Needless to say, she did not know everybody, but she had been around a long time. Most biographies today describe LB Mayer as a man who personally serviced every actress he signed – hundreds of them.
Mary Pickford
Even the lowest contract offered $35 a week, a lot of money in those early days. Superstars like Mary Pickford got an incredible $50,000 a week, yet that was a drop in the old bucket compared to the stupendous amounts her movies generated. Anyone suddenly gaining a contract found his or herself surrounded by hundreds of 'beautiful people', the cream of the beauty crop in America. Money was no longer a problem, parties were on every night of the week, drugs were readily available on any studio lot, booze was cheap and everywhere (even during Prohibition), and there was an endless supply of extremely attractive bed-mates to choose from of either sex. And if you got into trouble (depending on your status), the studio 'fixers' would extricate you one way or another.
The studio system lasted until the late fifties. Then, quite suddenly, it was gone. The cracks had begun to appear back in the forties; Olivia De Havilland's successful stance over studio suspensions marking the beginning of the end. Legislation gradually eroded the dictatorial powers of the moguls, then television raised its ugly head and started to eat into the massive profits. Audiences dwindled as more and more TV sets kept former patrons at home. Whereas there were just a few thousand sets in 1945, just 5 years later there were millions! A corporate predator named Kirk Kerkorian bought the carcass of MGM and demolished it overnight. In 1970 he had the historical backlots bulldozed, and sold all 12,000 props and 120,000 costumes to an auctioneer named David Weisz for $1.5 million. Within this treasure trove there were 30,000 items that could be authentically connected to specific movies and stars! These Mr. Weisz auctioned individually. Kerkorian clearly did not possess a historical bone in his entire body. He was out to make a quick buck and to hell with the movie industry's heritage. In June 2015, he died at 98, far too late to prevent him killing off the studio he once worked for back in the thirties. Well, at least he got to die rich.
Kirk Kerkorian
Other than the fat cats who ran them, most people were glad to see the studios fold. Nobody should have such control over the lives of so many. No-one should be able to prey on naïve hopefuls whose only crime is a desire to pursue their dreams, however shallow those dreams may be. I do not know how the movie business operates today, but surely it cannot be worse than it was when studios were king. I hope not anyway.