THE BIRDS (1963)               
In the opinion of this writer this is quite possibly the most over-rated suspense (so-called) film in the history of the movies. No doubt, much of the hype was due to the fact that it was directed by Alfred Hitchcock, the reputed master of suspense, a reputation earned once when he helmed the 1960 thriller Psycho. I have watched The Birds four or five times since its release, each time endeavoring to convince myself that it was a 'masterpiece of suspense'; that it contained elements to support that accolade that I had somehow overlooked. Sadly, every viewing left me in no doubt whatsoever that one could experience a great deal more suspense at the dentist's! I found that the greatest difficulty with feeling apprehension in The Birds lay in the ridiculous scenario of people running, screaming, from these pesky critters when all they had to do was stay indoors! I am yet to hear of any bird capable of smashing its way through a brick wall!
Hitchcock revealed on The Dick Cavett Show in 1968 that 3,200 birds had been trained for the movie, adding that the ravens were the cleverest and the seagulls the most vicious. Really? I have eaten my lunch amid flocks of seagulls, in parks or by the seaside, many times, and they were about as 'vicious' as my pet puppy! One is left with the impression that Hitch was working overtime to convince Cavett and his viewers that birds could be as scary and as dangerous as rattlesnakes. Well, he certainly did not sell me on the notion. Not by a long shot.
Rod Taylor in The Birds
When audiences left the UK premiere at the Odeon, in Leicester Square, London, they were greeted by the sound of screeching and flapping birds from loudspeakers hidden in the trees to scare them further. I wonder how many (if any) patrons fell for that. Even in Psycho Hitchcock resorted to playing mind games on his audiences to heighten the tension, but at least his victims were at the hands of a maniac killer, not at the whim of some noisy birdies! There is no 'The End' title at the completion of the picture either. Hitchcock wanted to give the impression of unending terror!
Rod Taylor, the male lead in The Birds, claimed the seagulls were fed a mixture of wheat and whiskey, which proved to be the only way they could be made to stand around so much. Even so, a bird named Archine seemed to genuinely dislike him. It went out of its way to attack him, even when the cameras were not rolling. 'Every morning, if we were on the set together, he'd come over and bite me', Taylor recalled. 'I hated him and he hated me.' By the way, it is never explained at any time during the movie why any of the birds were prone to attacking people.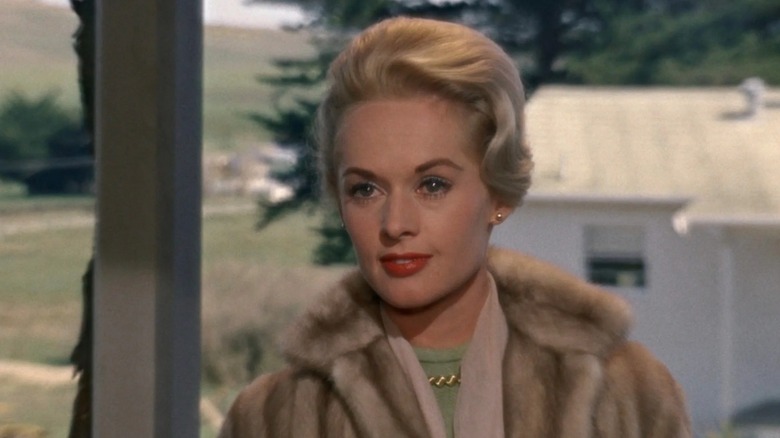 Tippi Hedren
Tippi Hedren played the female lead. She had been spotted by Hitch in a commercial and quickly signed to a seven-year contract before she had even met him. She was actually thirty-three years old, highly unusual for a Hollywood starlet to be making her acting debut at that age, so she was listed as twenty-eight in press releases. The lie was maintained until she herself exposed her real birth date decades later. Incidentally, it was claimed she was cut in the face by a bird in one of the shots. Maybe she was; maybe she wasn't. We are also informed that, the first time she looked at herself in the mirror after 'injuries make-up' had been applied, she walked out of the trailer and threw up! Uh-huh.
Hitchcock approached Joseph Stefano, the screenwriter of Psycho, to write the script, but he was not interested in the story, so Evan Hunter agreed to do it. Not every expert was unimpressed by this movie. Japanese director Akira Kurosawa named it as his favorite Hitchcock picture! In his accompanying commentary, he noted that the sight of so many birds massed together caused him to feel 'dread'. To each his own, I guess. The Birds was the last Hitchcock picture to be nominated for an Academy Award. The nomination was for 'Special Effects' but lost out to Cleopatra.
 Gene Kelly & Judy Garland
FOR ME AND MY GAL (1942)                   
This movie saw the screen debut of dancer/actor/singer Gene Kelly. It was known that Judy Garland landed him the role after seeing him in 'Pal Joey' on Broadway. Judy had acquired considerable clout by then; this picture being the first to feature her name above the title. Gene returned the favor when he starred her in his musical Summer Stock (1950), when her MGM contract was at an end. Judy backed up Kelly when he argued with the director of For Me and My Gal, Busby Berkeley, a man she did not like. This was the only picture Judy made in 1942, and she was just nineteen years old when filming began.
Judy Garland & George Murphy
Seeing as how it was shot and released during the Second World War, it was deemed prudent (after unfavorable initial reviews) to re-shoot much of the movie's ending, in order to make Kelly's draft-dodging character, Harry Palmer, more sympathetic to wartime audiences. Consequently, scenes in which he becomes a hero in combat were among those added. The story was actually based on the real life story of two vaudeville actors, Harry Palmer and Jo Hayden, when Harry was conscripted into service during World War One.
Eleanor Powell and Dan Dailey were originally supposed to star, but were replaced during rehearsals by Judy and Gene. For Me and My Gal revealed to the world Kelly's ability to comfortably carry a tune. Primarily a dancer, he demonstrated an undeniable talent for both acting and singing. The film was shot on an estimated $803,000 budget and grossed $4,371,000, making it one of the biggest hits of 1942. George Murphy no doubt considered himself hard done by when his original casting as the star (Harry Palmer), was reduced to that of supporting character Jimmy Metcalf once Kelly was signed up.