MY THREE SONS (1960-72) 380 EPISODES                  
Fred MacMurray & his three sons – Ernie, Robbie & Chip
At three hundred and eighty episodes over twelve years, My Three Sons was the second-longest running (live action) show in American television history. Only The Adventures of Ozzie and Harriet (1952) with four hundred and thirty-six episodes ran longer (as of 2003). Interestingly, Eddie Albert turned down the lead in My Three Sons and then turned down the role of Wilbur Post in Mister Ed, choosing instead (four years later) to star in Green Acres.
When the studio was unable to get insurance on William Frawley ('Bub' O'Casey) because of his health issues, he was replaced on the show by William Demarest (Uncle Charley O'Casey) in 1965. Frawley had appeared in one hundred and sixty-five episodes and was not happy about being replaced by Demarest whom he hated in real life. Don Grady (he played Robbie Douglas) considered both men to be curmudgeons, although Frawley was a little funnier. Demarest, according to Grady, was 'a grouch', just like the character he portrayed in the series. Frawley passed away, aged seventy-nine, about a year after leaving the show.
Meredith MacRae & Tim Considine
Fred MacMurray (Steve Douglas, the father), insisted all episodes be filmed out of sequence during the show's entire run, using a technique now known as 'The MacMurray Method'. He would do all his scenes in sixty-five non-consecutive days. Other cast members were required to have haircuts once a week in order to maintain continuity. Guest stars would have to return months later to complete an episode. All kitchen scenes would be done together, then all scenes in the up-stairs hallway would be filmed together, and so on. Frawley never felt comfortable with this method of filming, having grown accustomed to filming I Love Lucy in sequence during its entire run.
Tina Cole & Don Grady
Grady almost quit the show when Tina Cole was cast as Katie. In an interview, she revealed that he felt she wasn't his type. As it turned out, however, the two actors fell in love in real life and almost got married, not once, but twice! Tim Considine (Mike Douglas) and Meredith MacRae (Sally Ann Morrison) dated while they were on the show, but broke up before Grady left. Mike's wedding to Meredith (in the series) was shown in the show's first colour episode in episode one in the 1965-66 season.
TOP CAT (1961-2) 30 EPISODES 
Arnold Stang/Top Cat
This show was animated and featured a bunch of Manhattan alley cats parodying The Phil Silvers Show (1955). Arnold Stang voiced the leader, 'Top Cat', imitating the voice and con-artist persona of Sergeant Bilko, and Maurice Gosfield voiced Benny the Ball. Gosfield played Private Duane Doberman in the 'Bilko' show. Both Benny and Doberman shared the same demeanour and the same rotund appearance. This Hanna –Barbera production was only the second animated series to premiere on prime-time network television in the United States. The first was another Hanna-Barbera production, the far more successful The Flintstones (1960). Allen Jenkins provided the voice for Officer Charlie Dibble.
When the series was screened on British television in the sixties and seventies, its title was changed to 'Boss Cat' because there existed in the UK a brand of cat food called 'Top Cat'. Oddly, the theme tune and the dialogue mentioned the name Top Cat repeatedly, so the change was quite pointless. The series was set in New York City, as was mentioned in several episodes. It was a ratings failure in prime-time, but ratings improved when its time slot was changed to Saturday mornings. Even so, it was cancelled after just a single thirty-episode season.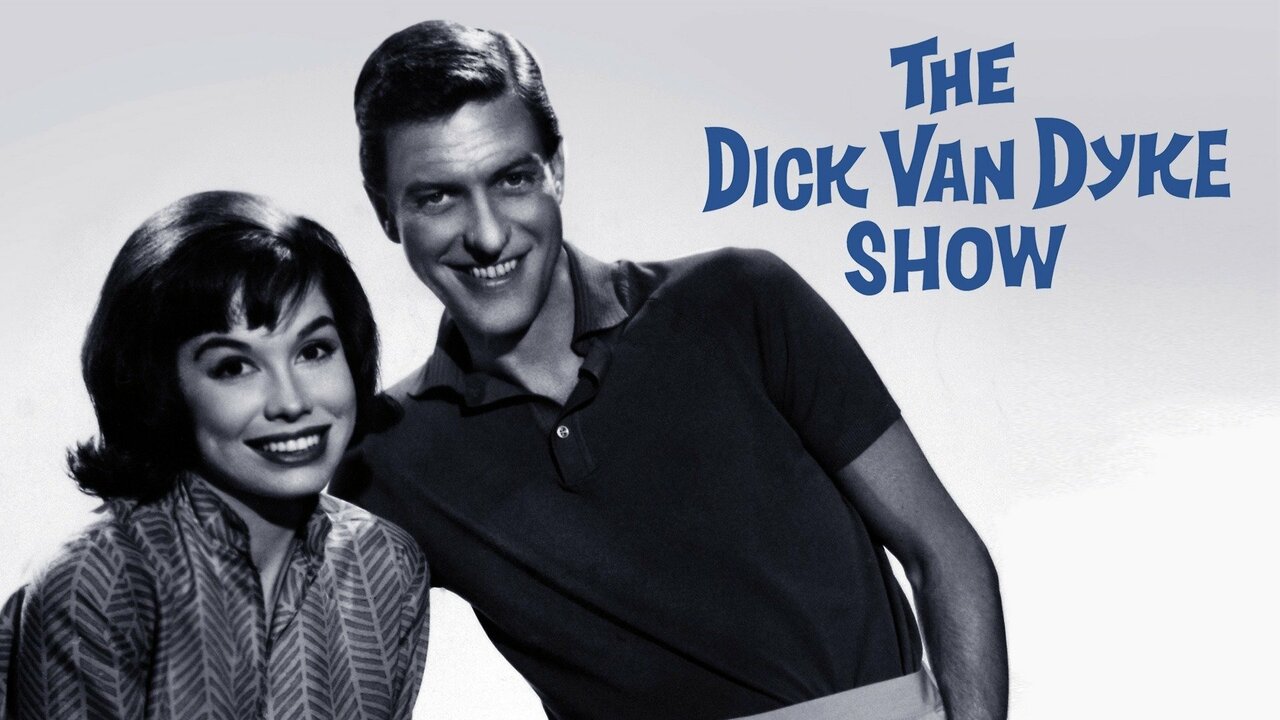 THE DICK VAN DYKE SHOW (1961-66) 158 EPISODES                     
This series was about a TV writer Rob Petrie, (Dick Van Dyke), and his wife Laura (Mary Tyler Moore) and their misadventures both at home and at work. Johnny Carson was runner-up for the role of Rob Petrie. Creator Carl Reiner would ask cast and crew members to tell him of any funny moments that happened to them or to family members at home or at work. Many of their responses became the basis for episode plot-lines for the show. Incidentally, President John F. Kennedy was inaugurated as the 35th president on the same day that filming for this series commenced.
When Reiner approached the network censors and asked for their permission to show Rob and Laurie sleeping in their large double bed together as husband and wife, arguing quite logically that this was normal for married couples in America, he was denied permission. Consequently, the Petries would always be depicted sleeping in nearby twin-beds, as was the custom for every TV series at the time, except for Bewitched and The Munsters. The Dick Van Dyke Show was the last show to have its entire run filmed in black and white. It was due to be shot in colour after season five, when the season six season (1966-7) marked the mandatory colour filming/taping of all prime-time shows, but that never happened with this series because the producers opted to end it after season five.
Morey Amsterdam & Richard Deacon
The characters portrayed by Morey Amsterdam (Buddy Sorrell) and Richard Deacon (Mel Cooley) were forever hurling insults at each other when, in fact, the two actors were actually close friends. Many of the best insults Buddy hurled at Mel were worked out when the two went out for a drink after work, or during a filming time-out. The character role of Buddy Sorrell was based on the long-time television comedy writer Mel Brooks. For that matter, the Rob Petrie character was based on Carl Reiner himself; and the Alan Brady character was based on comedian Sid Caesar.
Rose Marie
Originally, the series was to focus on Rob at the office with Sally Rogers (played by Rose Marie) as the lead female character and Laura as a minor one. However, the character of Laura became so popular that Mary Tyler Moore became the lead female character, and the show's focus shifted to the relationship between Rob and Laura. This put quite a strain on the relationship between Rose Marie and Mary. The two ladies (apparently) got along well but never became close friends. Since then, however, Rose Marie has stated in interviews that she and Mary never got along at all! Dick and Mary played a married couple so convincingly on the show that many viewers actually thought they were married in real life. They both admitted later that they had crushes on each other while the show was in production and became close friends until Mary's death in 2017.