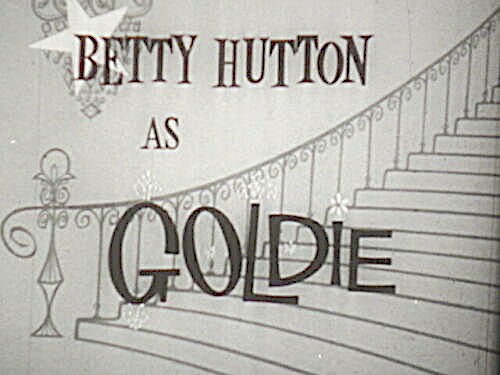 THE BETTY HUTTON SHOW (1959-60)              30 EPISODES                      
The talented but erratic Betty stars as Goldie, a showgirl turned manicurist. When one of her regular customers, a millionaire named Mr. Strickland, suddenly dies, he leaves her everything he owns. That includes, not only his $60 million fortune, but also his three children. Of course, the chances of a multi-millionaire leaving everything to a lowly manicurist might appear to the cynical to be a tad unrealistic – but what the hell – this is Hollywood, after all! The series ran on CBS on Thursday evenings and was produced by Desilu and Hutton Productions. Unfortunately it was up against the very popular ABC series The Donna Reed Show, so after just thirty episodes it was cancelled. The series was later syndicated under its original title – Goldie.
Betty in Annie Get Your Gun (1950)
As for Betty, she had a troubled career. Her one big number in the Broadway show 'Panama Hattie' was cut just before opening night, on the orders of the show's star Ethel Merman. Betty was distraught, so much so that the producer promised to make her a star in movies at Paramount. And he did. The incident was later used in Valley of the Dolls (1967) – both in the book and in the movie. When Betty was cast to replace Judy Garland in Annie Get Your Gun (1950), she claimed that the cast hated her for doing so. She and co-star Howard Keel did not get along on the set either. She claimed the picture ended her career.
Betty in later years
A New York newspaper discovered her working, in the early 1970s, for a soup kitchen, and later a rectory as a house cleaner. She had become addicted to alcohol and to prescription drugs by then. The Catholic priests at the parish helped her to find new meaning to her life after Hollywood. She became a devout Catholic after spending time in a clinic for treatment to combat her addiction to sleeping pills. Betty lived in quiet retirement in Palm Springs, California, until succumbing to cancer in 2007 at the age of eighty-six.
HENNESEY (1959-62)                     95 EPISODES                                              
US Navy physician, Lt. Charles 'Chick' Hennesey (Jackie Cooper) is assigned, along with Navy nurse, Lt. Martha Hale (Abby Dalton), to the hospital at the US Naval Station in San Diego, California. Cooper, incidentally, served in the US Navy during World War Two, rising to the rank of Captain in the Navy Reserves after hostilities ceased. Not only was he the star of the series, he also produced and directed it. Unlike most former child actors (he starred in the Our Gang comedy shorts in the thirties), he made the transition to movie actor after his teens. This military comedy/drama series aired on CBS from 1959-62. Unfortunately, most of the original first series episodes were lost in a fire. Jackie died of an undisclosed illness in 2011.
Abby Dalton progressed from low-budget fillers to playing Hennesey's nurse/girlfriend here, but she eventually became a much-recognized part of the game show circuit, especially as a mainstay panellist on The Hollywood Squares (Daytime), where she exuded both wit and sex appeal She occupied the centre square on that show for several years until calling it a day in 1970. She also played the wife of Joey Bishop on his series, as well as the scheming Julia Cumson on Falcon Crest in the early eighties. The lovely Abby left us in 2020, after a long illness. She was eighty-eight.
DENNIS THE MENACE (1959 – 63)                                             146 EPISODES
This is the live-action adaptation of Hank Ketcham's comic strip of the same name. Dennis Mitchell is a red-blooded 'typical' American boy, dressed in overalls with a sling-shot sticking out of his back pocket. He apparently means well, but his natural curiosity generally leads to trouble of some kind. His next-door neighbour, George Wilson, is usually on the receiving end of problems caused by young Dennis. The boy adores Mr. Wilson, and is in turn adored by the man's wife, Martha, who looks upon the boy as a kind of surrogate grand-son. Dennis's own parents are Henry (an engineer) and Alice (a stay-at-home mother).
Hank Ketcham
Dennis is modelled after Ketcham's own son, also named Dennis. Sadly, that is where any similarity between the lives of the two boys ends. The real Dennis lost his mother, when he was twelve, to a drug overdose while she was in the process of divorcing his father. Hank moved with his boy to Switzerland, but Dennis found it difficult to adapt to his new life and environment. When he started having trouble in school his father shipped him off to a boarding school in the USA, while dear old dad stayed behind in Switzerland with his new wife and family. Dennis remained estranged from his father for the remainder of his life. Hank, meanwhile, continued to make a lot of money from the daily newspaper comic strips he drew based on his abandoned son. Dennis managed to turn his life around, joined the US Army and served in Vietnam. On his return from war service he was found to be suffering from PTSD.
Jay North was chosen to portray Dennis from five hundred children auditioning by none other than Hank Ketcham himself. Jay became completely identified with the character he played in this series. During the four years it ran, he appeared in numerous programs as either himself or as Dennis. These included The Donna Reed Show, The Red Skelton Show, The Hollywood Squares and I've Got a Secret. He even had a cameo in the 1960 film Pepe. But then Dennis the Menace was cancelled and Jay quickly found that Hollywood had little time for child stars who had become teenagers. He struggled to adjust to his sudden abandonment. Two divorces, drug experimentation and weight problems followed. Jay served for two years in the US Navy in the late seventies before being honourably discharged. In recent years (from 2002), he has served as a correctional officer and administrator in Florida's juvenile justice system. He is also active in the child-actor advocacy group, 'A Minor Consideration', founded by actor Paul Petersen.
Dennis & Mr. Wilson (Joseph Kearns)
Joseph Kearns played Mr. Wilson and was a native of Salt Lake City, Utah. Unfortunately, he passed away unexpectedly in February 1962, aged just fifty-five, part-way through season three. To explain his absence, the producers said 'Mr. Wilson' had gone on a trip to Ohio and his brother, John, (played by Gale Gordon) had come to take care of the house for him. Needless to say, John fell victim to Dennis's pranks in his predecessor's place. Oddly enough, Dennis only misbehaved in the very first episode of season one. Every other 'difficulty' he encountered was due entirely to his youthful exuberance and earnestness. Evidently, a 'typical American boy' never misbehaves.