77 SUNSET STRIP (1958-64)           
The first 'private investigator' series to air on TV was probably Richard Diamond – Private Detective in 1957. It lasted until 1960. Another crime-fighting show, M Squad, appeared at the same time, but it was about a squad of detectives operating out of the Chicago Illinois Police Department, so technically it did not quite qualify as a 'P.I.' unit.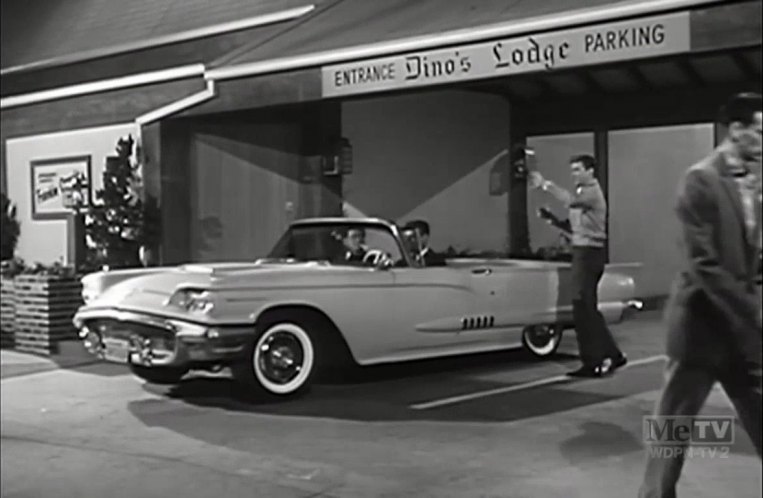 In 1958, however, there emerged two series that captured the imagination of the viewing public, not just in the United States, but around the world. Indeed, viewers tended to be aligned to one or the other. The first was the slick, one-hour per episode Warner Brothers' series titled 77 Sunset Strip; the other, the more sophisticated half-hour per episode series titled Peter Gunn. And they were quite different from one another. Mind you, both had very catchy theme tunes, although it would be fair to say that Henry Mancini's iconic 'Peter Gunn Theme' won that race hands down. These two shows heralded the arrival of the 'private eye' TV show and, as inevitably happens, 'everybody and his dog' jumped on the band wagon. There were private eye shows falling out of trees, not just in the USA but in Britain as well. This article, however, will focus on just one of them – 77 Sunset Strip.
The building in which the detectives' offices were located was, in real life, the home of the Mary Webb Davis modelling agency. The front of the building, the 'Dino's Lodge' driveway, was reproduced on a Warner Bros. sound-stage. The Mary Webb office was eventually replaced by the Tiffany Theatre. The building has since been torn down. Even though Dino's Lodge is shown in every episode, Dean Martin, who owned the lodge, was never on the show, or even mentioned.
This was the first of Warner Bros.' formulaic detective series. The ABC ordered three identical series that differed only by locale. Bourbon Street Beat (1959), Hawaiian Eye (1959) and Surfside Six (1960) had brief life-spans but were nowhere near as popular as 77 Sunset Strip. The series was the creation of Roy Huggins and first hit TV screens in 1958, on the ABC. It starred Efrem Zimbalist Junior as Stu Bailey and Roger Smith as Jeff Spencer, two womanizing, wise-cracking private investigators, operating out of an office situated at 77 Sunset Strip in Los Angeles, California, right next door to a restaurant where 'Kookie' (played by Edd Byrnes) works as a valet. He occasionally helps Stu and Jeff on cases and will one day become a fully-fledged member of the P.I. team.
Efrem Zimbalist Jr as Stu Bailey
Efrem Zimbalist Jr was born in New York City in 1918, the son of renowned Russian-born concert violinist Efrem Zimbalist Senior. After service in the US Army during WW2 (he was severely wounded in action at Huertgen Forest), young Efrem entered the entertainment business, initially acting on stage, and then as a theatrical producer. It would be his roles as Stu Bailey in 77 Sunset Strip and as Lewis Erskine on The F.B.I (1965), however, that would make him famous. As Bailey he would actually smoke a pipe, which became a kind of trademark for him, along with a deep, rich voice and an air of integrity that seemed to come quite naturally. He acted for six decades before dying peacefully at home, aged ninety-five, in 2014, whilst watering his lawn.
Roger Smith as Jeff Spencer
Roger Smith portrayed Jeff Spencer in the series. His good looks appealed to a slightly younger generation of viewers, compared to Zimbalist's fans. After being enrolled by his parents into a dancing, elocution and singing school at the age of six, Roger won several amateur talent prizes before a chance meeting with James Cagney resulted, ultimately, in him being signed by Columbia Pictures in 1957. The following year his successful move to Warner Bros. saw him land the Spencer role in this series. In 1962, however, he took a fall at home and lost consciousness. A brain clot was diagnosed and he temporarily left the show in 1963. Roger had wed Australian-born actress Victoria Shaw in 1956 but the marriage crumbled, despite them parenting three children, and they divorced in 1965. He next met singer/actress Ann-Margret and they married in 1967. The union would last fifty years until Roger's death in 2017, aged eighty-four.
Edd 'Kookie' Byrnes basked in extraordinary popularity because of this series, in which he played the hip-talking parking lot attendant. Kids all over America began quoting his sayings. Born in New York City in 1932, by the age of seventeen he had developed physically through gym work. He was approached by a man who offered to take 'free' physique photos of him. According to Edd's 1996 autobiography titled Kookie No More, the next few years saw him hustling older, well-to-do men, despite being heterosexual himself.
Connie Stevens
In 1959, he released a record album titled 'Kookie, Star of '77 Sunset Strip'. The top single on it was performed by him and Connie Stevens, who was then appearing as 'Cricket' Blake in the sister series Hawaiian Eye. The song was 'Kookie, Kookie, Lend Me Your Comb', playing off Kookie's habitual combing of his hair on the show. Incredibly, this extremely ordinary single reached #4 on the Billboard charts, due entirely to Edd's enormous popularity! At this point in time he was receiving up to fifteen thousand fan letters every week – more than anyone else in the cast!
A career built on spouting hip lines and incessantly combing one's hair could never hope to last, however. And it didn't. Restrictions on his Warner Bros. contract forced him to turn down roles in Rio Bravo (1959), Ocean's Eleven (1960) and North to Alaska. An angry Edd began to drink heavily and then walked off the 77 Sunset Strip set. His contract dispute was eventually settled, and 'Kookie' was upgraded to partner in the private eye firm (complete with suit and tie). That was not what 'Kookie' fans wanted. Not at all. Ratings plummeted and the show was cancelled. When President John F. Kennedy made it clear he did not want to be played by 'Kookie' in PT 109 (1963), Edd lost the lead in the picture. His career had suddenly peaked at thirty. A 1962 marriage to long-time girlfriend Asa Maynor ended in divorce nine years later, partially due to his substance abuse. By 1982 he was 'clean and sober again, but never remarried. He died in January 2020, aged eighty-seven.77