ALAN RICKMAN
Alan Rickman arrived in this world on February 21, 1946, via Hammersmith, London, England. Whilst studying graphic design at Chelsea College of Art and Design, he met Rima Horton, who would later become his life-time partner until his death from pancreatic cancer in 2016, aged sixty-nine. In 2012, the couple married in a private ceremony in New York City, after being together for forty years.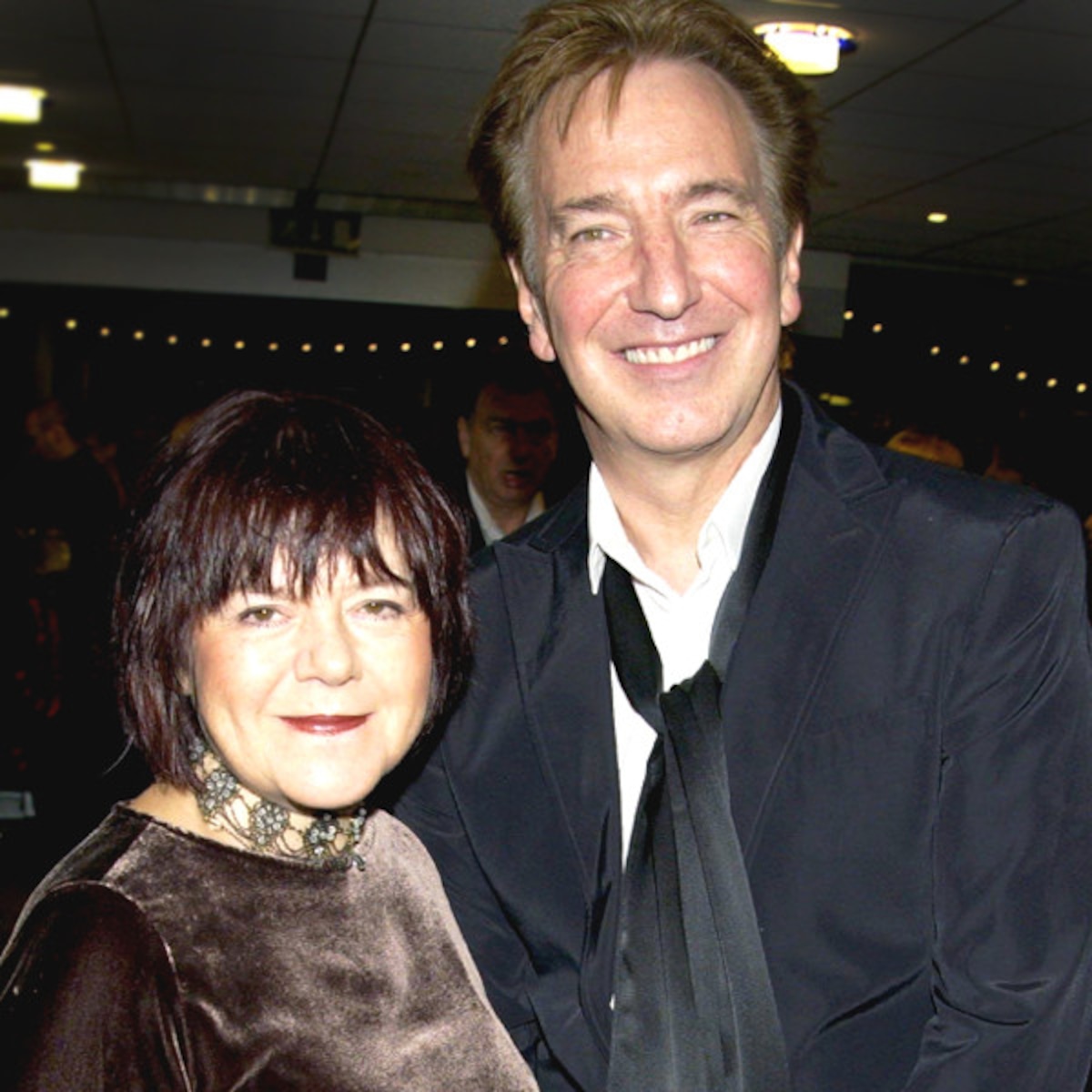 Rima Horton & Alan married 2012
As a young man he opened a successful graphic design business, 'Graphiti', with friends, and managed it for several years until the call of the theatre saw him successfully audition with the Royal Academy of Dramatic Arts (RADA). He received a scholarship at the relatively late age of twenty-six. He impressed American audiences on Broadway when he portrayed the Vicomte de Valmont in 'Les Liaisons Dangereuses' in 1987 and was nominated for a Tony Award. He was denied the film version (Dangerous Liaisons), but was signed for Die Hard.            
Alan as Hans Gruber in DIE HARD (1988)
From the moment he first appeared on the big screen in 1988 as the evil Hans Gruber in Die Hard, opposite Bruce Willis, Rickman set the standard for screen villains for decades to come. His rich baritone voice, usually delivered in a malevolent whisper, coupled with an air of malicious superiority, made him a unique 'heavy' in a medium that had been tossing up 'baddies' for decades. But Rickman gave these characters a whole new dimension. After all, nothing enhances a hero or heroine's accomplishments more than when he or she overcomes an opponent who is clearly an exceptional adversary.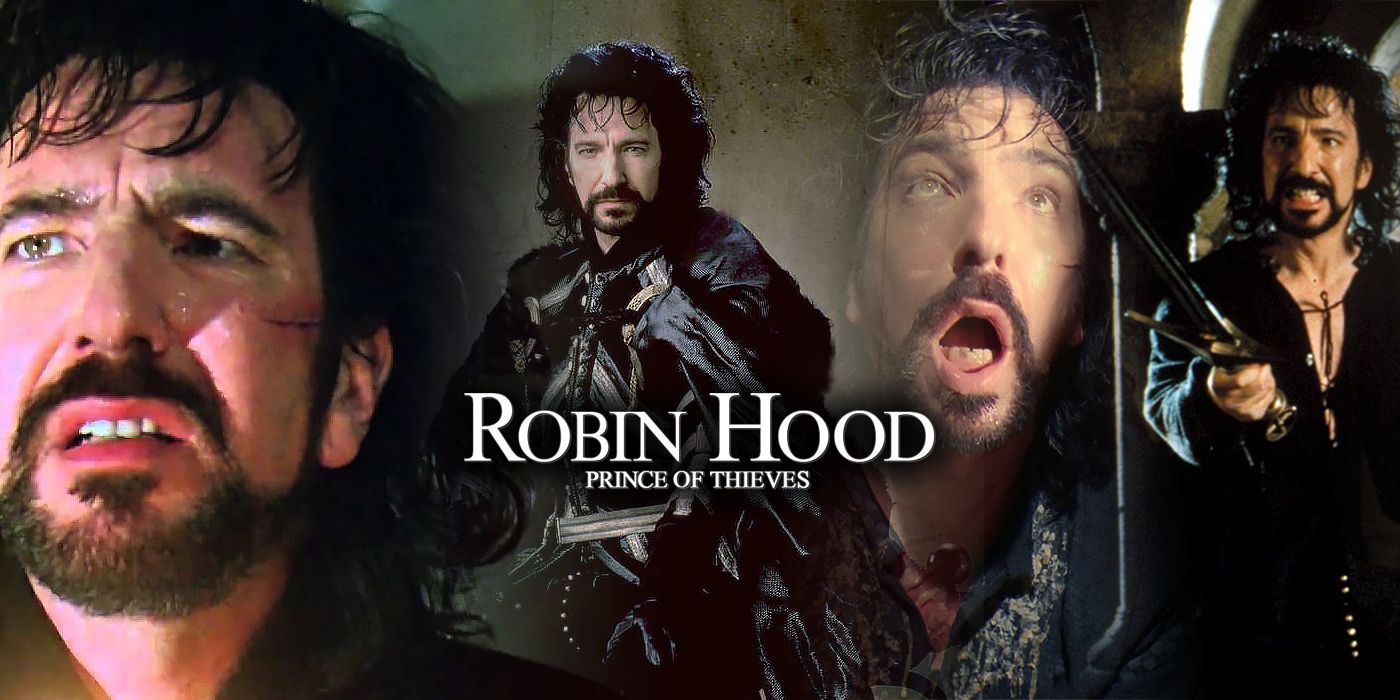 As the Sheriff of Nottingham 1991
Rickman delivered a dozen or so fine portrayals, ten of which were of less than perfect individuals, but each one memorable, nonetheless. After Die Hard he played the Sheriff of Nottingham in Kevin Costner's Robin Hood: Prince of Thieves (1991). The movie itself had plot holes one could drive a truck through, but it was a light-hearted affair (for the most part), enhanced by Rickman's unusual (and at times quite hilarious) turn as the Sheriff. I, personally, felt he was the best thing in the picture by a considerable margin.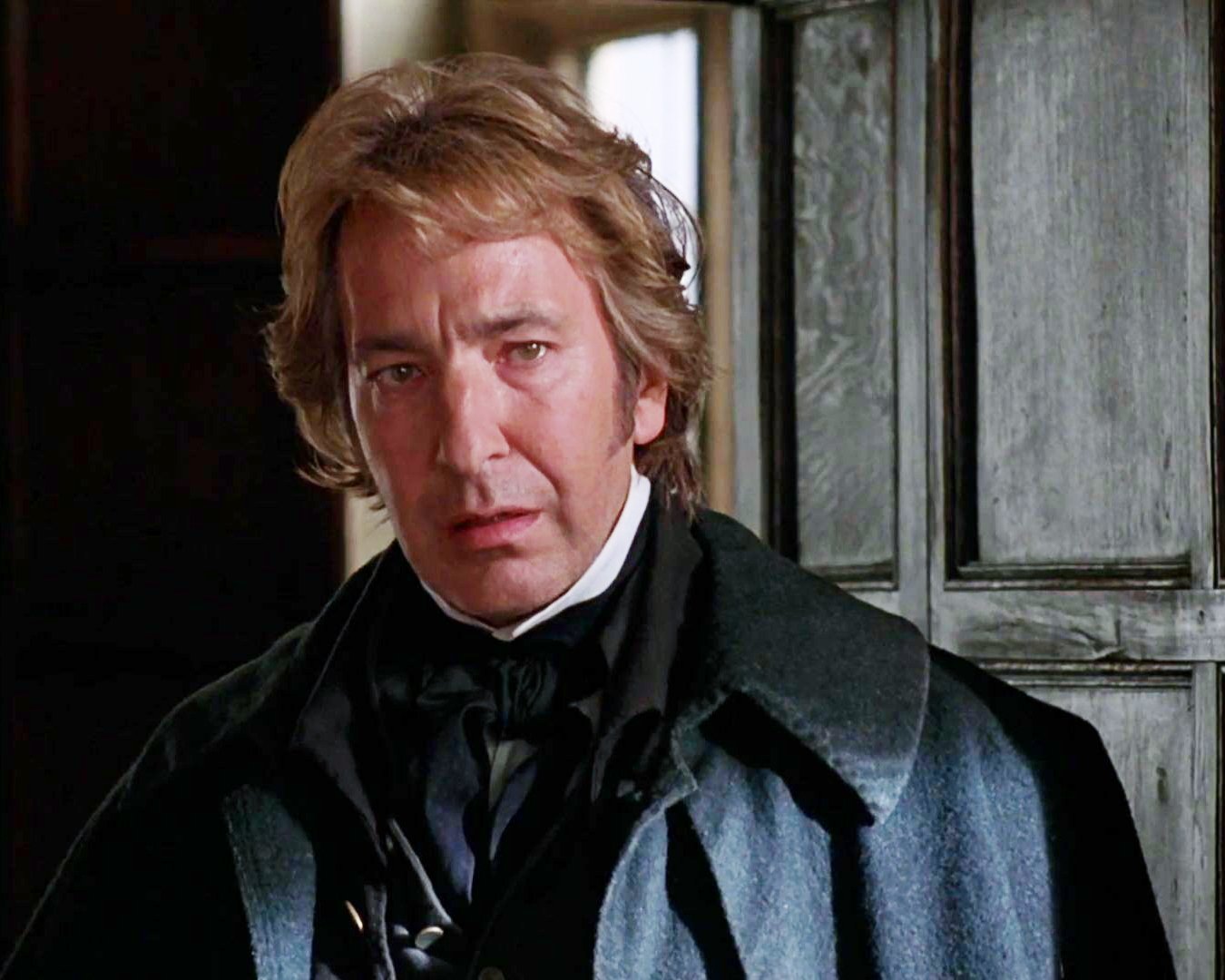 As Colonel Brandon in SENSE AND SENSIBILITY (195)
Four years later (1995) he played the sympathetic role of Colonel Brandon in Ang Lee's adaptation of Jane Austen's novel Sense and Sensibility. The screenplay, incidentally, was penned by one of the picture's leading players, Emma Thompson, for which she picked up a well-deserved Academy Award. Rickman's character worships Kate Winslet's character throughout the film. However, she is considerably younger than Brandon and smitten by another man who ultimately breaks her heart. This picture demonstrates Alan's versatility; he cannot always be cast as an evil or sinister character. He can be equally convincing as a man with a gentle heart.
Galaxy Quest (1999) shows us another side of this fine performer. The movie takes a huge 'pot-shot' at the Star Trek franchise in a delightful parody that is generally thought by most critics to be well presented. I love the movie! It is all done tongue in cheek and Rickman is as good as anyone in it. A much under-rated picture. Sigourney Weaver (in a blonde wig) has never looked lovelier; Tim Allen does a fine 'Captain Kirk', and Sam Rockwell is a hoot as the 'expendable' un-named extra. Rickman actually hated sci-fi as a genre, but signed on because he felt the screenplay was very funny. And it is.
As Professor Severus Snape
In 2001, the first of the Harry Potter films made its debut – Harry Potter and the Sorcerer's Stone. Rickman was hand-picked by writer J. K. Rowling to play Professor Snape. Rowling even provided him with special details regarding Snape's back-story that were not revealed until the final novel. Alan portrayed the 'dark' professor in the franchise's films, and once again, he gave memorable, sinister performances. Oddly enough, he was not the studio's first choice to play Snape. They wanted Tim Roth, and Alan only secured the role after Roth withdrew to play the lead in Planet of the Apes (2001).
Alan & Emma Thompson in LOVE ACTUALLY (2003)
Fast forward to 2003 and the iconic Christmas feature Love Actually. It seems to be that each year, when Christmas rolls around, it becomes time to 'bash' Love Actually. Why is that? The picture has so many enjoyable moments, it should be forgiven if there is the odd unrealistic sequence. A case in point is the dance that Hugh Grant's character (the British Prime Minister, no less) performs at #10. Grant thought the scene was ridiculous; that no PM would do such a thing. And, of course, he is probably right, but that scene has become the most talked about moment in the entire film. Why? Because it is fun. It makes us feel good, and is that not what the entertainment business is all about?
In this movie Rickman plays an unfaithful husband. He cheats on his wife (played beautifully by Emma Thompson) and is found out. There is a superb scene in which Emma tries to hide her sadness (for their children's sake), a scene in which she called upon her own real life marriage to actor Kenneth Branagh, and the time when he had an affair with actress Helena Bonham Carter that wrecked the Branagh/Thompson marriage back in 1995. In this movie Karen (Emma) and Harry (Alan) have a son called Bernard. In real life, this was the name of Rickman's father, who died when Alan was just eight years old.
Other notable performances by Rickman include his romantic, cello-playing ghost (Jamie) in 1990's Truly, Madly, Deeply, as well as comedic turns in Dogma (1999) and The Hitchhiker's Guide to the Galaxy (2005). Roles such as his Dr Alfred Blalock in Something the Lord Made (2004) and his Alex Hughes in Snow Cake (2006), showcased his ability to play ordinary men in extraordinary situations. In Sweeney Todd: The Demon Barber of Fleet Street (2007), he took on the daunting task of singing in the movie adaptation of Stephen Sondheim's musical. Alan sang the role of Judge Turpin., but it was his introduction to the younger generation in the role of Professor Severus Snape that he will, arguably, be best-remembered by the youth of the world.