Bobby Driscoll as Jim Hawkins in Treasure Island (1950)
There have been few child stars blessed with the natural talent and charisma of Bobby Driscoll (1937-68). The public loved him in Song of the South (1946) and as Jim Hawkins, opposite Robert Newton as Long John Silver, in another Disney hit Treasure Island (1950). Bobby also provided the voice for Disney's Peter Pan in its 1953 animated classic of that name, yet within three short years the boy was washed up and on the road to oblivion and a premature death! In 1956, the then 19 year-old was booked on his first narcotics charge. He made The Party Crashers (1958), after which, as work opportunities dried up, he embarked upon a vicious downward spiral.
Bobby with Robert Newton as Long John Silver
In 1960 he was charged with assault with a deadly weapon; in '61 he was arrested for robbing an animal clinic, for forging cheques, and on further narcotics offences, one of which landed him in the Narcotics Rehabilitation Centre at the Chino State Penitentiary for six months. In March 1968 two children stumbled on his decomposing corpse in a deserted Lower East Side New York tenement. It was surrounded by a pathetic litter of religious objects; its arms scarred by hypodermic tracks. A further 19 months elapsed before this once famous screen star's remains could be identified through dental records. Driscoll was just 31.
(L to R) Sean Connery, director John Huston, and Michael Caine on the set of The Man Who Would Be King (1975)
Michael Caine was in the middle of a long speech during the making of The Man Who Would Be King (1975), when director John Huston suddenly shouted, 'Cut.' He looked at Caine and smiled. 'You can speak faster. He's an honest man.' Honest men, according to Huston, don't need to take the time to think about what they are saying or the impact their words are making. They just talk. It was an astute (and accurate) observation.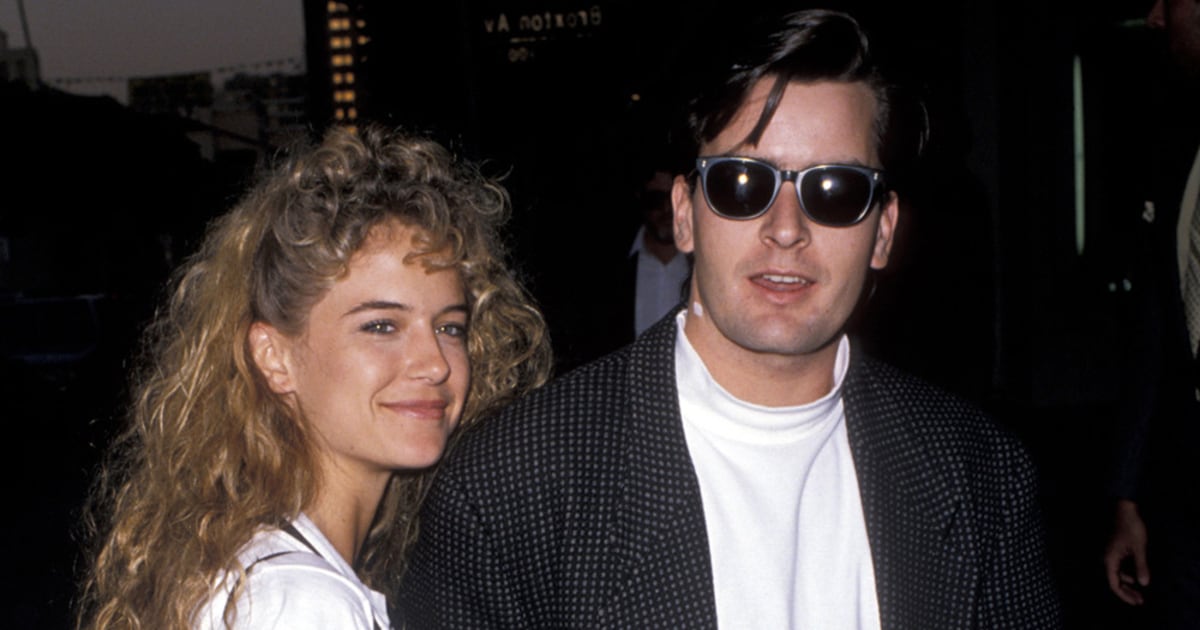 Kelly Preston & Charlie Sheen
Between 1987 and 1990 actress Kelly Preston and actor Charlie Sheen were one of the hottest items in Tinsel Town. In fact, Charlie gave her a massive 2.5 carat pink diamond engagement ring in 1989. In 1990, Kelly received an accidental gunshot wound when she dropped his gun in the bathroom and it discharged. The couple broke up soon after that and she married her platonic friend John Travolta in September 1991.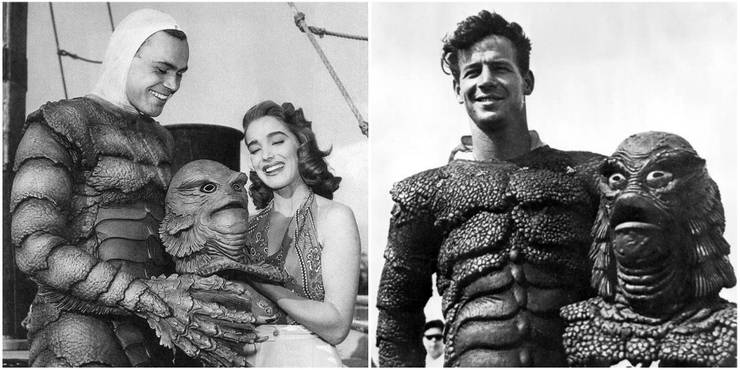 Stuntmen Browning & Chapman with star Julie Adams – Creature from the Black Lagoon (1954)
One of the cinema's most popular cult films was the 1954 feature titled Creature from the Black Lagoon. Two different stuntmen clad in rubber suits portrayed the creature. Ricou Browning, a professional diver and swimmer, played the creature when it was in the water; Ben Chapman played it when it was out of the water. However, since Browning's scenes were shot in Florida and Chapman's were filmed in California, the two men never laid eyes on each other until they met at a convention in Florida twenty years later!
 Mick Jagger as Ned Kelly
Within a week or so of former Rolling Stone Brian Jones' death on July 2, 1969, band leader Mick Jagger had arrived in Australia to make the film Ned Kelly, in which he would play the title role. His girlfriend, singer Marianne Faithfull, came with him. Exhausted but unable to sleep, she swallowed an overdose of sleeping tablets and very nearly died. It was touch-and-go for a few days because she was also undergoing heroin withdrawal. After filming completed the Rolling Stones flew to America to put on a free show at Altamont, in California. It was December 1969. When 350,000 screaming fans turned up, the Stones hired the Hell's Angels to act as bodyguards, in return for mountains of cold beer. When one fan, Meredith Hunter, pulled a gun on an Angel who was attacking him, another Angel stabbed the young man to death. Jagger was understandably distraught over the killing and even considered quitting the music business. He didn't.
 Frances Farmer at the peak of her popularity
Director Howard Hawks once described actress Frances Farmer as having 'more talent than anyone I ever worked with'. She was Paramount's hottest property but refused to play the 'Hollywood game' of embracing the sable and limousine style appropriate to a star of her magnitude. Not only did she drive around Beverly Hills in an old jalopy and flatly refused to give interviews, she was also a political activist. After visiting the Soviet Union in 1935 she was dubbed a dangerous 'Pinko' by the press, despite actively raising money for the Loyalists in the Spanish Civil War.
More images of a tragic beauty
In October '42, whilst en route to a party thrown by Deanna Durbin, she was arrested and charged with drunken driving. Frances had begun drinking more and more to control her nerves and was consuming quantities of amphetamines to control her weight. It was a disastrous combination. Her erratic behaviour saw her dislocate a hairdresser's jaw in an altercation on one occasion, but it was her topless run down Sunset Boulevard one evening that hit the headlines. Upon failing to report to her parole officer on January 13, 1943, she was dragged off to police headquarters in Los Angeles and booked yet again. On the charge sheet she defiantly listed her occupation as 'Cocksucker'. In court she abused the press and the judge prior to hurling an inkpot at him. She was strait-jacketed and certified as 'mentally incompetent'.
Frances with her mother 1936
Over the next seven years Frances was subjected to an appalling cycle of committal, release and re-committal to mental institutions, all of which was engineered by her own mother, and subjected to insulin therapy, immersion for hours on end in freezing water and, in all probability, an unauthorized frontal lobotomy. At the Western State Mental Hospital in Washington her head was shaved and she was kept confined, naked, in a ward for the incurably insane. She was eventually released in 1960 and passed away in 1970 aged just 56.
Cary Grant & Randolph Scott at home 1933
While Cary Grant and Randolph Scott lived together from 1932 until 1944, in the beach-house jocularly dubbed as 'Bachelor Hall', the studios provided a steady stream of beautiful women to travel in and out of their abode, simply to assuage the rumours that the two stars were living together as a couple. They remained 'close friends' until Grant died in November 1986. On hearing the news, Scott is said to have put his head in his hands and wept. About three months later he, too, died. Randy had been a shrewd investor in real estate all his life and was reported to be worth around $100 million at the time of his death.