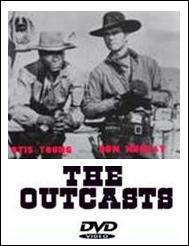 THE OUTCASTS (1968-9) 26 EPISODES                
The major claim to fame for The Outcasts television series was that it boasted the first ever African-American to co-star in a western series. Otis Young played the black bounty hunter Jemal David and established screen star Don Murray portrayed an ex-Confederate cavalry officer named Earl Corey. The two leading characters were not friends in the series. They were thrown together by circumstance when Corey walked into town, carrying his saddle and in need of a job. David was badly in need of another gun to watch his back so an uneasy partnership evolved. At times Corey would call David, 'Boy' and David would sarcastically call him 'Boss'. Eventually a grudging respect would evolve between the two men; one hailing from a rich Virginian plantation, the other a former slave who had never owned a thing in his life. The series was criticized for 'excessive violence' and was cancelled after just twenty-six episodes.
Don Murray
Murray made his film debut as Beau Decker, a socially inept cowboy from Montana, in the romantic drama Bus Stop (1956), one of Marilyn Monroe's early hit pictures. In fact, he was nominated (unsuccessfully) for a Supporting Actor Academy Award for his performance. Anthony Quinn won for Lust for Life. A member of the Brethren Church, Murray he had registered as a conscientious objector when called up for service in the US Military during the Korean War (1950-3), and was signed to alternative service in Europe. For five years (1956-61) he was married to actress Hope Lange who gave him two children. In July 2020, he turned ninety-one.
Otis Young
In direct contrast to his co-star, Young joined the US Marine Corps as a seventeen year-old and served in the Korean War. He enrolled for acting classes at the State University of New York following his discharge. Thirty years on (in 1983) he studied to be an intern pastor at Angelus Temple in Los Angeles. Years later he became a college professor, acting teacher and ordained minister. A stroke took him at sixty-nine in 2001.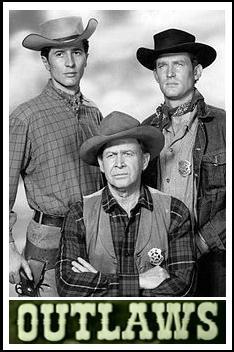 OUTLAWS (1960-2) 50 EPISODES                                   
Outlaws originally ran on NBC-TV and enjoyed two lifespans. The first season (1960-1) was filmed in black and white, featuring Barton MacLane as Marshal Frank Caine, assisted by his two deputies – Will Foreman (Don Collier) and Heck Martin (Jock Gaynor). The setting was the Oklahoma Territory of the 1870s, 1880s and 1890s, an era that saw the region infested with outlaw gangs such as the Daltons, among others. The most unusual aspect of this series was that each episode was shot from the point of view of the outlaws; their motivation for breaking the law, how they went about plotting their raids, and how they felt about being captured by the pursuing lawmen.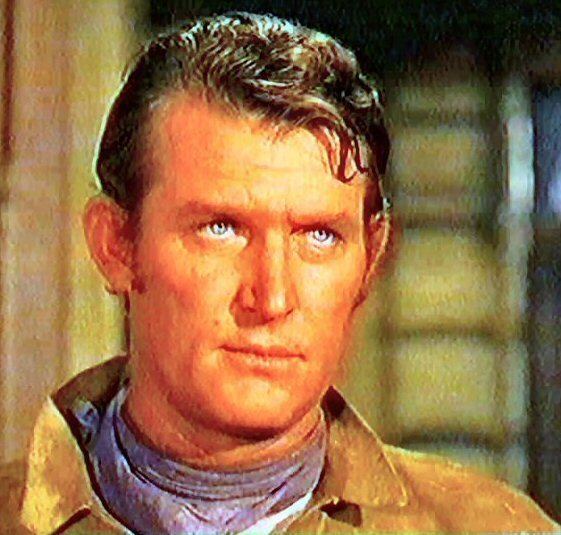 Don Collier as Marshal Foreman
The second season (1961-2) was shot in colour but with important cast changes. Marshal Caine and Deputy Martin were removed, (Caine had been made territorial Governor), while Will Foreman was promoted from deputy to United States Marshal and given his own deputy, a gentleman with the unusual name of Chalk Breeson, (played by Bruce Yarnell).
Judy Lewis
The new marshal was also provided with a love interest, Connie Masters, (played by Judy Lewis). She ran the Wells Fargo office as well as the town's general store. Judy was the love child of Clark Gable and Loretta Young, conceived when her famous parents co-starred in Call of the Wild (1935). Gable was a married man at the time and Loretta was unmarried, so it was decided to keep her pregnancy secret until after the birth somewhere in Europe. Loretta then 'adopted' her own child following her return to Los Angeles. It was not until a Gone with the Wind convention in May 2001 that Judy was publicly introduced as the daughter of Clark Gable for the first time! She died from lymphoma in November 2011, aged seventy-six.
Slim Pickens
Veteran yokel actor Slim Pickens was also brought into the series to play the town 'character'. Outlaws sought greater historical accuracy than did most other TV westerns. It featured the lawmen in pursuit of real-life Oklahoma outlaws such as Bill Doolin, Sam Bass, Al Jennings and the above-mentioned Dalton Boys. Even so, the series could not survive beyond its second season.
OVERLAND TRAIL (1960) 17 EPISODES                      
This was a short-lived western series that starred William Bendix and Doug McClure, the latter ultimately finding TV immortality with his long stint in The Virginian. Bendix was basically a lightweight actor unsuited (in my opinion) to carrying a series. Overland Trail had a couple of things running against it. First of all, it was an hour-long show that tended to bog down in the middle stages of its episodes. Second, it was screened on Sunday evenings, which placed it in direct competition with shows such as The Ed Sullivan Show, Maverick, Steve Allen and Lassie. Still competition indeed.
Bendix portrayed Fred Kelly, a gruff and hearty supervisor working for the Overland Stage Lines. McClure was Frank 'Flip' Flippen, an orphan Fred had raised since the boy's childhood. The 'Flip' character seemed to be forever getting involved with beautiful women. The two stars seemed to work well together and the series provided a light-hearted premise at a time when TV was experiencing a glut of 'serious' westerns. But therein lay the problem. The TV western genre was fast approaching saturation point. After just seventeen episodes the show was dropped.
Bendix returned to playing supports in low budget movies and television in the few years he had left to him. He died in December 1964 after suffering a stomach ailment compounded by malnutrition and pneumonia. He was fifty-eight. McClure eventually became Trampas in the hugely popular 90-minute colour series The Virginian (1962-71). Five times married, he lived life to the full until lung cancer took him before he turned sixty, in 1995. One of his final screen appearances was as a riverboat poker player in the 1994 film version of Maverick that starred Mel Gibson in the title role. McClure was already suffering from the disease that would kill him when he made the film.