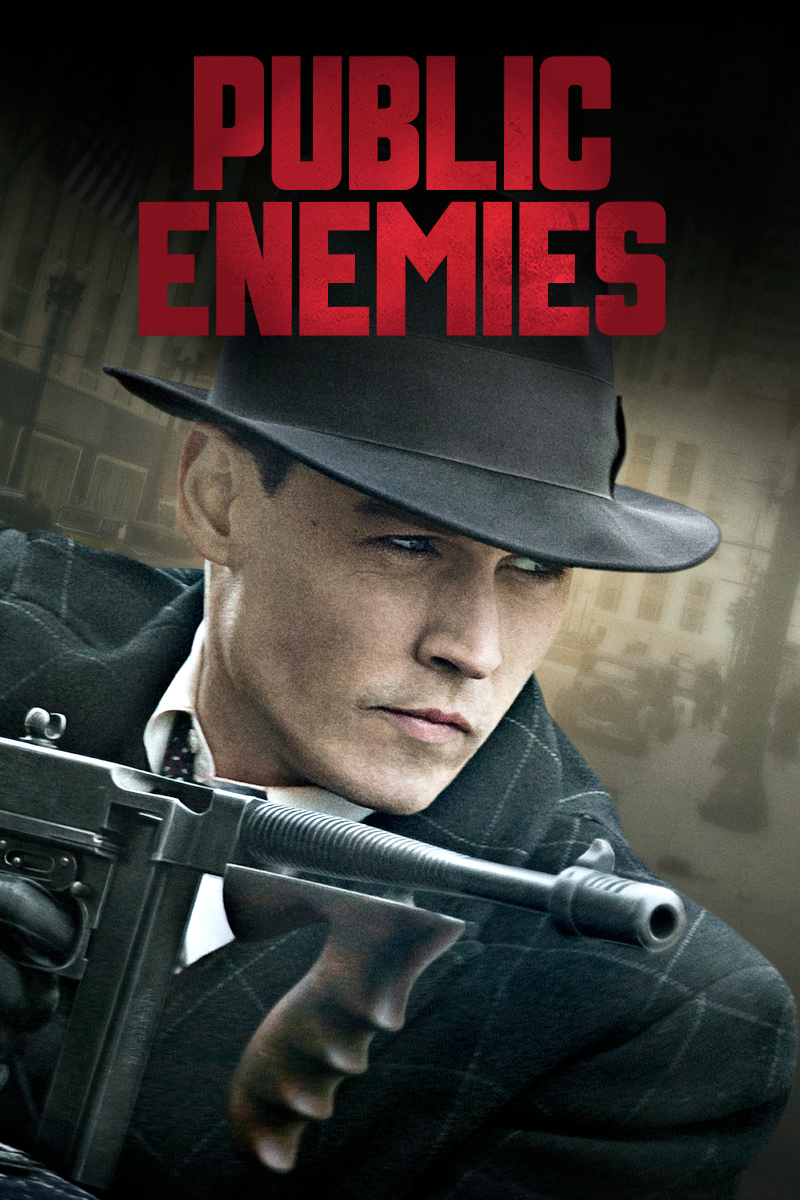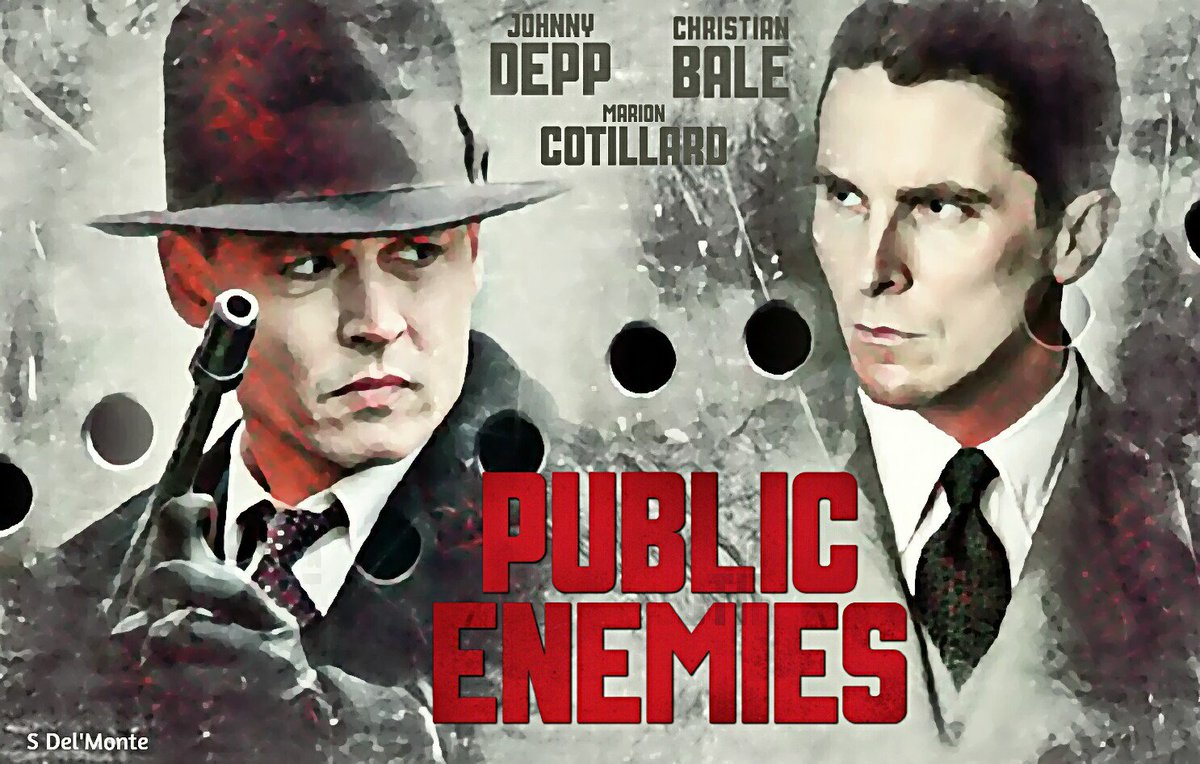 PUBLIC ENEMIES (2009)             
I must confess that I have been putting off watching this movie for more than a decade, unusual for me because I have always been fascinated by the criminal element in the USA of the 1930s. The synopsis tells of the efforts of the fledgling FBI (headed by Agent Melvin Purvis) to hunt down and eliminate the likes of John Dillinger, Charles 'Pretty Boy' Floyd, George 'Baby-Face' Nelson and Alvin Karpis. I was dubious, however, the moment I read that Dillinger would be played by screen heart-throb Johnny Depp, an indication that the man was probably going to be given on-screen qualities he did not possess in real life. I expected some dramatic license to be taken, some condensing of time to enable the story to be told within the film's time-frame, but I was not about to watch a picture that white-washed Dillinger and transformed him into some kind of misunderstood hero. So I avoided the movie until, with nothing readily available to watch, I gave it a try.
Dillinger & Depp
Public Enemies was not as bad as I expected, but it did not ring quite true just the same. Of course, you can't have a 'factual' picture starring Johnny Depp without his character being romantically involved with a beautiful woman. Enter Marion Cotillard as Dillinger's 'great love', Billie Frechette. The notorious bank robber did indeed have a relationship with this woman but one doubts if it was anything even approaching true love. They were 'involved' for about six months until she was picked up by the FBI. In the film she is badly beaten during interrogation but this did not happen in real life. Not to her anyway. In 1936, the enterprising Billie joined members of the Dillinger family and toured the country with a presentation entitled, 'Crime Did Not Pay'. She also made herself a few bucks with a brief memoir. She died in 1969.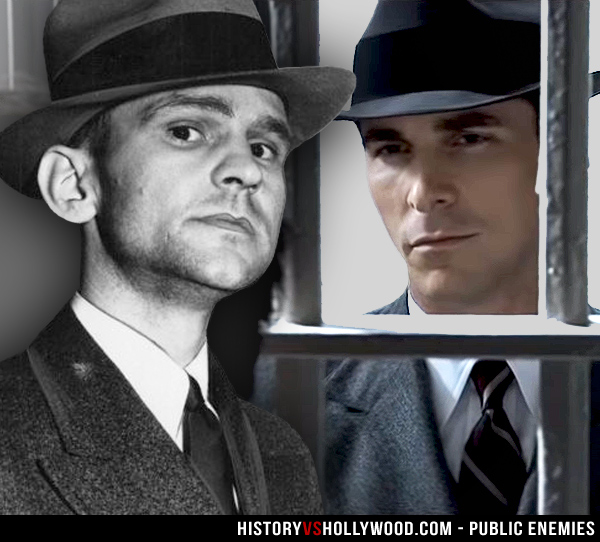 (L to R) Melvin Purvis & Christian Bale
Because the movie is primarily about Dillinger, the pursuit and despatch of 'Pretty Boy' and 'Baby Face' are served up as entrees prior to the main event. In reality these killers were liquidated a few months after Dillinger, not before him. An indication of the public interest in these criminals can be assessed by the attendance at Floyd's funeral. No fewer than twenty thousand mourners and sight-seers turned up. It was the largest funeral in the history of the state of Oklahoma. When Dillinger was gunned down in Chicago, ghoulish passers-by rushed to dip handkerchiefs in his blood to keep as souvenirs! A similar thing happened when the car containing the bullet-riddled corpses of Bonnie & Clyde was brought into Arcadia, Louisiana on May 23, that same year.
(L to R) Billie Frechette & Marion Cotillard
The shoot-out with the FBI (they were called the 'Division of Investigation' at that time) at Little Bohemia Lodge, located off Highway 51 in Manitowish Waters, Wisconsin, however, actually took place in 1934, although not quite as depicted in the movie. On the afternoon of April 20, 1934, Dillinger, Nelson and several associates (and their girlfriends) arrived at the lodge for a weekend of rest. Dillinger's attorney, Louis Piquett, knew the lodge's owner Emil Wanatka. While away from the lodge at a children's birthday party, Wanatka's wife told a friend that the Dillinger Gang was holed up at the lodge and he tipped off the Feds. Purvis and a posse of agents flew to the area and hastily attacked the lodge. There was virtually no planning and the resultant gunfight was a disaster. One federal agent and a civilian died in the fusillade, four were severely wounded (including two more lodge guests), and the entire Dillinger Gang escaped unharmed. Today, the Little Bohemia is still operational as a restaurant and gathering place, featuring a historic display of artefacts and memorabilia from the battle. Original bullet-holes are still in the walls and windowsills. In fact, shell casings can still be found in the woods surrounding the building.
Little Bohemia Lodge, Manitowish Waters in the 1930s
I was willing to accept that the producers of Public Enemies (and most movies based on fact) are obliged to tinker with stories to present them more dramatically, but then they chose to include a scene in this picture that lost me forever. Just prior to his demise, we see Dillinger walking into the local police precinct in Chicago where 'The Dillinger Squad' worked. He wanders through a few corridors until he reaches a glass door reading 'The Dillinger Squad', and lets himself in. He then wanders through the operations room looking at the notice-boards that feature photographs of him. Capture means death in the electric chair for him, but that does not deter our hero for an instant. A bunch of squad-members are tuned in to the baseball, so he asks them for the score! They tell him and he casually walks out. Are we really expected to believe that none of these dudes noticed that this uninvited visitor looked uncannily like the bank robber they've been hunting for months! A stupid and unnecessary scene, no doubt aimed at impressing cinema-goers with a sense of this wonderful guy's derring-do'.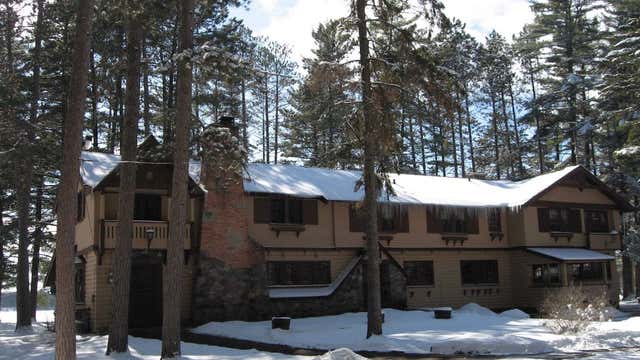 Little Bohemia Lodge today
Producers can be unpredictable when it comes to choosing what to leave in a film, what to take out, and what to use their poetic license on. The jail escape perpetrated by Dillinger utilizing a wooden pistol is a case in point. In real life he actually fooled no fewer than seventeen police officers with the phony weapon yet, for reasons known only to the makers of this movie, it was decided that he would only deceive three, not seventeen! Surely, they were not worried that the cinema audiences might find the reality harder to accept? After all, these were the same executives that came up with the ludicrous scenario depicted in the previous paragraph.
The Biograph Theatre, July 1934
The best thing about Public Enemies (in my view) is the strong cast brought together for the picture, notwithstanding the curious casting of Depp as Dillinger. Lovely French actress Marion Cotillard (Oscar-winner for La Mome in 2007) was ideally cast as Billie Frechette; Christian Bale (star of three 'Batman' features) played Melvin Purvis, and Billy Crudup as J. Edgar Hoover, were ably supported by quality actors such as Stephen Lang, Giovanni Ribisi, David Wenham, Christian Stolte and Stephen Dorff, along with many others.