HIGH SOCIETY (1956)                    
As most cinema-goers are probably aware, this movie is a musical adaptation of the 1940 film The Philadelphia Story, although it is set in Newport, Rhode Island (in order to take advantage of the famous jazz festival held there). It is also the final screen appearance of the stunningly beautiful Grace Kelly before she retired from acting to become Princess Grace of Monaco. Recently engaged to Prince Rainier, she insisted her character wear the actual engagement ring he had given her, a 10.5 carat, emerald-cut diamond flanked by two baguettes. The movie was released just three months after her marriage to the prince. Helen Rose, who designed her costumes for High Society, also designed her real-life wedding gown.
The one and only Grace Kelly
Cole Porter composed the score for the film. The song 'Well, Did You Evah?' (from one of his previous musicals), was added at the last minute when it was realized that there wasn't a song for Bing Crosby and Frank Sinatra to sing together. The ballad 'True Love' was especially written by Porter for the picture and went on to sell a million copies. Grace and Bing were awarded platinum records for the song. Because Grace was married by the time the award was presented, she became the only sitting member of royalty thus far to be so awarded.
Dexter's mansion aka Clarendon Court, home of the von Bulows
The house used for the exterior of Dexter's (Bing Crosby) mansion was later purchased by 'Sunny' von Bulow and her husband Klaus. It was here that the 48 year-old Sunny fell into a coma in 1980, and remained in a vegetative state until her death in 2008. Her husband was accused of injecting her with insulin, tried, and found guilty. On appeal, the verdict was overturned. He would die in 2019. The mansion that Louis Armstrong and his band are shown arriving at by bus at the beginning of the film is not in Rhode Island at all. It is in California and would one day be used as the Clampett's mansion in the TV series The Beverly Hillbillies.
Sinatra & Crosby – 'Well,Did You Evah?'
Incredible as it may seem, a 'Bowery Boys' comedy that had been released the previous year with the same title was mistakenly nominated, in 1957, for an Academy Award for 'Best Writing – Original Story'. When the mistake was discovered, the two screenwriters of the 'Bowery Boys' film graciously declined the nomination. High Society was also the last film of Louis Calhern, the actor who portrayed Uncle Willie. After shooting wrapped he journeyed to Japan to make The Teahouse of the August Moon. Sadly, he suffered a fatal heart attack after filming a few scenes there and was dead at sixty-one. His part was recast, thereby making High Society his final screen credit.
Celeste Holm & Sinatra – 'Who Wants to be a Millionaire?'
The old Hollywood practice of happily having young, beautiful women falling in love with much older men is once again in evidence in the plot of High Society. Grace was just twenty-six when the film was shot, yet we are expected to accept her character falling in love with fifty-three year old Crosby's character. Even her fiancée played by John Lund was forty-four years old at the time. Come to think of it, she gets the hots in the picture for Sinatra too, and he was also over forty! It is no secret that Grace preferred older men in her personal life. Still in her mid-twenties in 1955, she had already been bedded by Clark Gable, Gary Cooper, Spencer Tracy and Crosby, (all of them in their fifties); not to mention Ray Milland, William Holden and costume designer Oleg Cassini, who were in their forties. She was even engaged to Cassini a year or so before she met the prince. Prince Rainier, on the other hand, was just thirty-two when they tied the knot.
THE CRIMSON PIRATE (1952)                 
This so-called comedy started out as a serious drama until the director, Robert Siodmak, re-read the script and had a rethink. In 1946, he had previously directed two thrillers, The Killers and The Spiral Staircase, so he was more than capable of recognizing the difference between a fine dramatic screenplay and this rubbish. Besides, co-producers Burt Lancaster and Harold Hecht thought that a comedy pirate picture might be an ideal place in which to take a sly dig or two at the Communist witch-hunts rampant in Hollywood at the time. And they were right. Few people even noticed that the film's very title was in itself a slap at the existence of the much-publicized 'Red scare'. Consequently, the plotline about a government denying the rights of its people flew right over the heads of almost everybody. The Crimson Pirate was, after all, nothing more than light-weight, swashbuckling flotsam.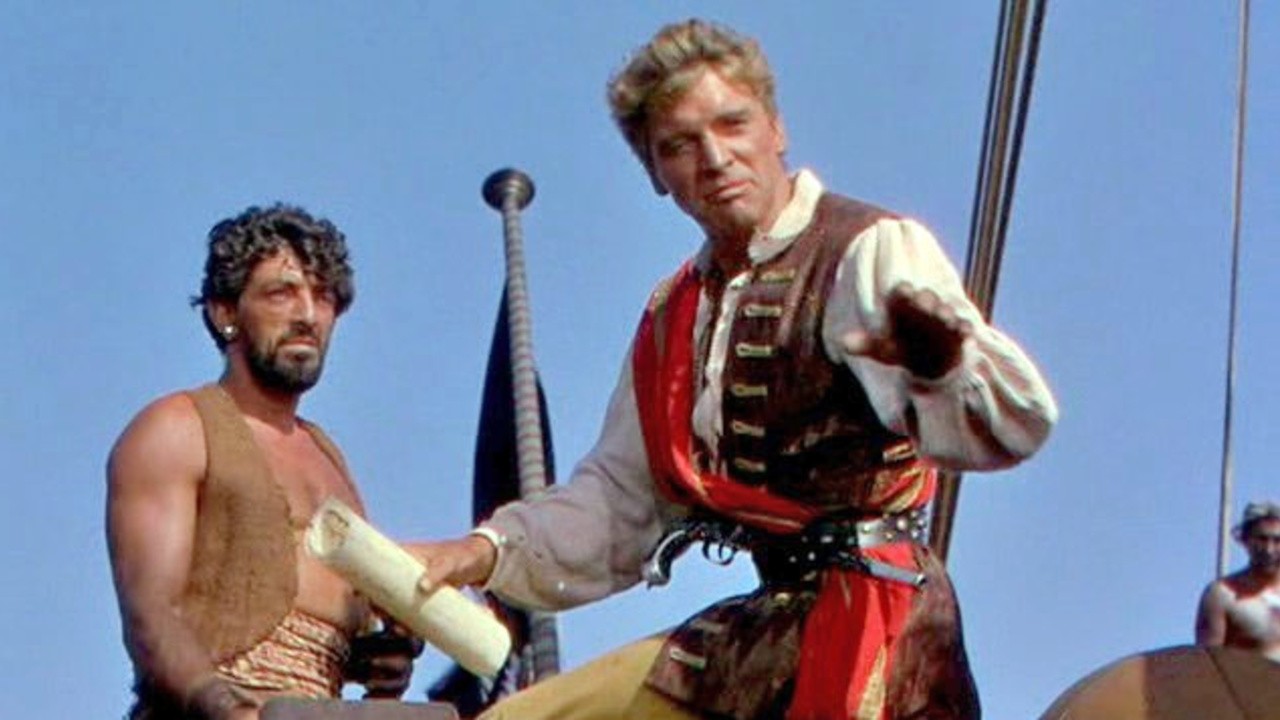 Nick Cravat & Burt Lancaster
Burt was at his outrageously over-the-top, 'toothy' peak here. One either loved him or cringed at his exuberance. I cringed. Of course, being an ex-circus performer, he easily did all his own stunts, ably accompanied by his long-time circus buddy Nick Cravat. Nick always played a mute on-screen, simply because he was incapable of disguising (or even softening) his broad Brooklyn accent. Let's face it, not a lot of pirates and swashbucklers hailed from Brooklyn. Burt and Nick made nine films together, the most successful being this one and The Flame and the Arrow (1950). Lancaster kept his old circus partner on his payroll for life, both as a trainer as well as a co-star.
Eva Bartok
The picture started out with a $1.1 million budget but soon blew out with over-runs to $1.85 million. That might not sound very much today, but back in the early fifties it was a substantial amount to be 'over'. Two years later, Lancaster would head another Warner Bros film, His Majesty O'Keefe (1954), and it too would run well over budget. Warners were unimpressed and decided to limit all future Lancaster/Hecht productions to just $900,000 each. When advised of this, the two men struck a new deal with United Artists and left Warners forever. Surprisingly, the critics, in general, enjoyed The Crimson Pirate. The Disneyland attraction 'Pirates of the Caribbean' was inspired by the film.
Hungarian actress Eva Bartok played Burt's love interest here. She was quite a beauty and a talented, classically-trained actress, but she carried with her demons from the past. Her Jewish father disappeared without trace during the rise of Nazism in Europe, and the fifteen year-old Eva was forced to marry a Nazi officer in order to avoid being sent to a concentration camp. The marriage was annulled after war on the grounds of 'coercion of a minor', but the war years had taken their toll. To escape the new Communist regime, she wed Hollywood producer Alexander Paal in 1948 and escaped from Hungary. In all, she would have five husbands, one of whom was actor Curd Jurgens. Decades after their brief union ended, Eva announced that their daughter was actually fathered by singer Frank Sinatra during a one-night stand. Frank and his family ignored the claim. Eva died from heart failure in London in 1998. She was seventy-one and flat broke.