ANNA MAY WONG (1905-61)                 
Anna May Wong, the first Chinese-American movie star, was born Wong Liu Tsong in Los Angeles in 1905. She managed to have a relatively successful screen career (mostly in silent features), in an era that was deeply racist. It was a time when the taboo against miscegenation meant that only Caucasian actresses were cast as 'Oriental' women in lead parts opposite Caucasian leading men. Anna was a close friend of author Pearl S. Buck and desperately wanted to play O-Lan when MGM decided to make Pearl's best-seller The Good Earth into a feature film in 1937. She was quickly rejected, however, and the role was given to Austrian actress Luise Rainer. The leading male role of Wang, O-Lan's peasant farmer husband, went to Warner Bros star Paul Muni after MGM agreed to loan them Clark Gable and Leslie Howard for Gone with the Wind (1939), in exchange for his services. 'I'm about as Chinese as Herbert Hoover', Muni mused as he accepted the role.
Luise Rainer & Paul Muni in The Good Earth (1937)
The reason Anna was rejected, MGM head Irving Thalberg informed her, was because she did not fit a Caucasian's imagined ideal look for an Asian woman! Five years earlier, she had unsuccessfully screen-tested for the studio's 1932 production The She-Daughter and was told she missed out on the role because she was 'too Chinese to play a Chinese', so Helen Hayes was selected instead and played the role in 'yellow-face'. Of course, far too many theatres in the Deep South would have refused to screen any film starring an Asian actress anyway, even one as beautiful as Anna, and MGM was only too aware of this.
Anna at the peak of her beauty
In 1938, as the Chinese people battled against their Japanese invaders prior to World War Two, Anna auctioned off her movie costumes and donated the money to Chinese aid, and the Chinese Benevolent Association of California honored her for her work in support of Chinese refugees. Between 1939 and 1942, she made few films, instead engaging in events and making appearances in support of China's struggle against the Empire of Japan. She did, however, star in two anti-Japanese propaganda films in 1942, Bombs over Burma and Lady from Chungking, both of them churned out by Poverty Row studio 'Producers Releasing Corporation'. Anna donated her salary for each movie to United China Relief. That same year she wrote and published a Chinese cookbook entitled New Chinese Recipes, then dedicated it and all proceeds from its sale to United China Relief.
Anna May Wong embodied the Caucasian ideal of a foreign exotic beauty, an alien presence despite her American citizenship. 'A lot of people, when they first meet me, are surprised that I speak and write English without difficulty', she told movie magazine 'Pictures' in 1926. 'But why shouldn't I? I was born right here in Los Angeles and went to the public schools here. I speak English without any accent at all.' As she grew older, Anna's career problems were exacerbated by a drinking problem. By the mid-1950s she learned she had a heart condition and was suffering from cirrhosis of the liver. America's first Chinese movie star died of a heart attack in February 1961. She had never married.
LORETTA YOUNG (1913-2000)              
Loretta Young was born Gretchen Young in Salt Lake City, Utah, one of three very beautiful sisters. After her parents separated when Gretchen was three, her mother took her girls to Southern California and opened up a boarding-house. Gretchen and her sisters were on movie screens as child extras by the time she was four years old. At fourteen she changed her name to Loretta Young; her older sister Elizabeth Jane was by then acting as Sally Blane. Three years later, in 1930, seventeen year-old Loretta hit the headlines when she eloped with Grant Withers, an actor who was nine years her senior and a divorced man. The marriage was annulled in 1931. In 1935, she made Call of the Wild with Clark Gable and became pregnant to him. No headlines this time, however, because steps were taken to keep their affair and Loretta's pregnancy secret. When her daughter Judith was born, that was also kept secret. Months later, Loretta adopted her own daughter and, in 1940, married businessman Tom Lewis. He never adopted Judith but she was known from that time onwards as Judith Lewis. Gable had quietly exited their lives, scandal-free  
Judy Lewis (R) & her famous parents
Loretta and Tom Lewis honeymooned in Hawaii in August 1940. During their last weekend there, they were the honored guests of Admiral Isaac Kidd aboard his battleship the USS Arizona in Pearl Harbor. Of course, on December 7, the following year, the Arizona was sunk at its Pearl Harbor mooring and Admiral Kidd lost his life. During the war, Loretta made Ladies Courageous (1944), a fictionalized story of the Women's Auxiliary Ferrying Squadron that depicted a unit of female pilots who flew bomber planes from factories to their final destinations. Loretta Young may have put in hours at the Hollywood Canteen; she may have participated in War Bond drives or on USO tours, but I have been unable to discover any evidence of that. Ovarian cancer took her in 2000.
EFREM ZIMBALIST JR (1918-2014)                  
Efrem Junior was born in New York City to renowned Russian-born concert violinist Efrem Zimbalist Senior and Romanian-born opera singer Alma Gluck, a few months after the 1918 Armistice that ended World War One. He would become a handsome leading man in both movies and television, but it was the latter that made his face known throughout the world. Warner Bros. cast him as 'Dandy Jim' Buckley in their hit TV series Maverick in 1957, but it was as the suave, pipe-smoking, private investigator Stu Bailey in 77 Sunset Strip the following year that made him a household name. His face became even more widely recognizable when he portrayed Inspector Lewis Erskine in the 1965 Quinn Martin series titled The F.B.I.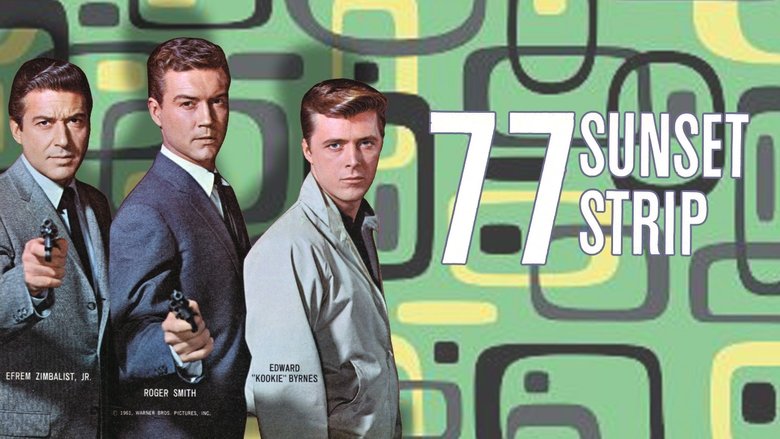 Back in 1941, he was drafted into the United States Army, emerging from officer candidate school in 1943 as a second lieutenant. A platoon leader in the 60th Infantry Regiment, 9th Infantry Division, he saw action after the Normandy landings of June '44. To go with his Bronze Star, he was awarded a Purple Heart after receiving a severe shrapnel wound to his leg during the Battle of Hurtgen Forest. Following the war, he returned to New York City and made his Broadway acting debut in The Rugged Path starring Spencer Tracy. This led to a stage career as an actor and producer, which in turn led to a Warner Bros. contract. Efrem lived a long life before passing away from natural causes at ninety-five in 2014.