HAROLD SAKATA (1920-82)                              
His name might not ring many bells for cinema fans, but his face usually does. Harold Sakata achieved cinematic immortality portraying Auric Goldfinger's personal bodyguard Oddjob, steel-rimmed bowler hat and all, in the third of the James Bond franchise films Goldfinger (1964). Born in Hawaii of Japanese descent, he moved to mainland United States at eighteen, thus missing the Pearl Harbor attack of December 1941. At the time he weighed just 113 pounds, but by the time he played Oddjob, more than two decades later, he had ballooned to 284 lbs.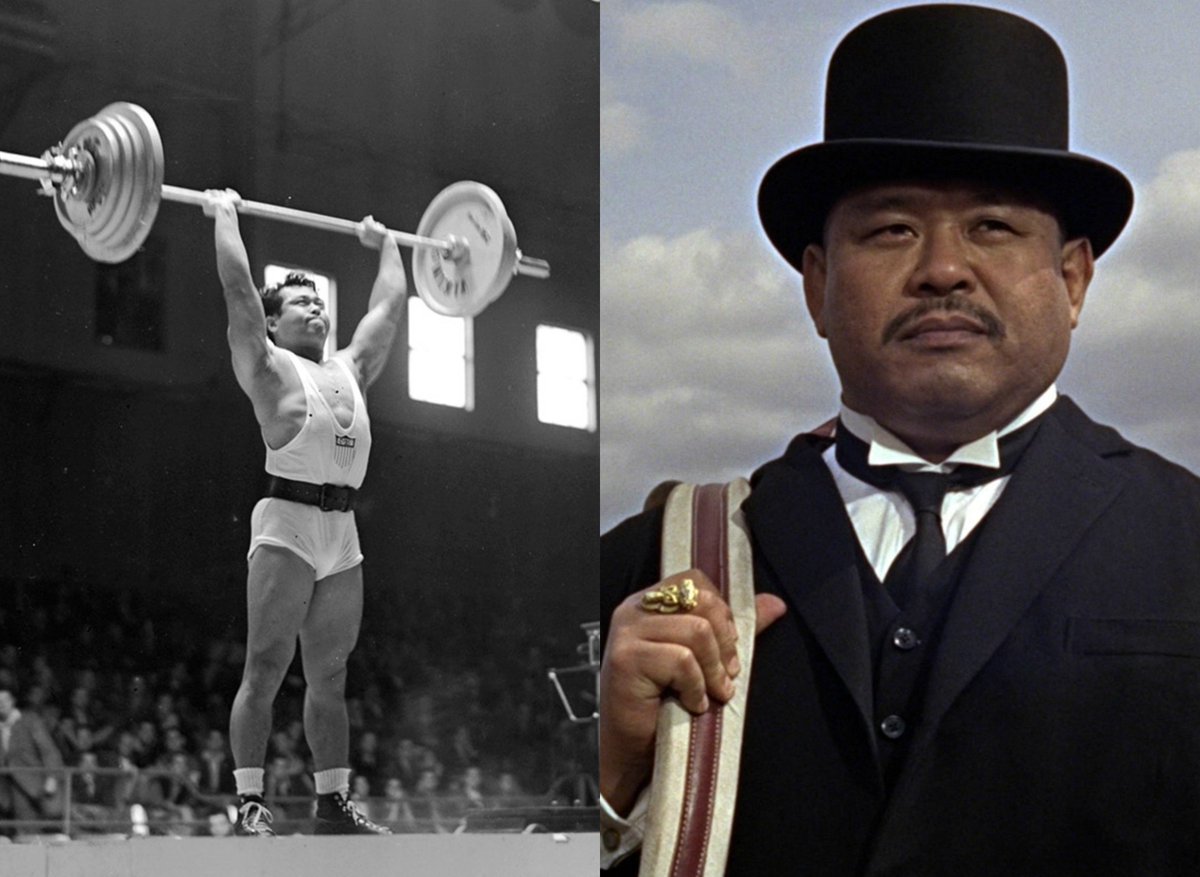 Sakata winning Silver in the London Olympics 1948
Little is known of his war service, except to say that he served in the US Army. Japanese-Americans were formed into battalions and fought (with conspicuous gallantry) in Europe against the Germans, so he may very well have served there. After the war, he represented the USA at the 1948 Summer Olympics in London as a weight-lifter, winning a Silver Medal in the light heavyweight division. He then went on to become a professional wrestler under the name of 'Tosh Togo', a 'bad guy' wrestler who allegedly threw salt in his opponent's eyes. After the huge success of Goldfinger, Sakata could not shake off the 'Oddjob' tag and, consequently, film roles became very scarce. Liver cancer took him in 1982 at the age of sixty-two.
GEORGE SANDERS (1906-72)                            
Sanders was born in Russia to British parents and grew up in England. He was a pacifist of sorts, although many suspected he was pro-fascist. In fact, he once told Douglas Fairbanks Junior, 'I couldn't care less if Hitler took over everything.' He said this 'laughingly', but then added that he agreed with Errol Flynn and was 'not going to lift a finger to stop the Germans.' Fairbanks was unimpressed. In a 'Confidential Journal' that Sanders kept from 1937 to 1938, he wrote he would be content to have ring-side seats in the 'New World' created by the 'Reformists' (fascists), and to effectively 'run with the hare and hunt with the hounds.'
Sander & a young Marilyn Monroe in All About Eve (1950)
He held three passports, one Russian, one American and one British, and vowed that, if he was ever caught by the draft board, he would immediately become a Quaker. 'If they tell me to drive an ambulance', he said, 'I shall crash so many, learning how to drive, that they'll send me home.' He appeared to have a complete change of heart after the Japanese raid on Pearl Harbor, however, and started to think about plans to help America win the war! In fact, in 1943, he actually wrote to Washington, suggesting that the military outfit a fast-moving infantry division equipped with roller skates! He also, somewhat bizarrely, felt the government should try declaring 'love' on the Nazis instead of declaring war on them. Fans of All about Eve (1950) will recall his Oscar-winning turn as the oily Addison DeWitt, and he also memorably supplied the voice for Sher Khan the Tiger in Disney's 1967 version of The Jungle Book. He killed himself in 1972 at the age of sixty-five.
TELLY SAVALAS (1922-94)                                                        
Telly was born Aristotle Tsavalas to Greek parents on Long Island, New York in 1922. Shortly after entering the Columbia University School of General Studies in 1941, he was drafted into the US Army where he served in Company C, 12th Medical Training Battalion, 4th Medical Training Regiment, at Camp Pickett, Virginia. Whilst he was there during the war, he worked for the US State Department as host of the show, 'Your Voice of America', but was eventually discharged from the Army with the rank of corporal after suffering severe injuries in a car accident. In fact, he spent more than a year in hospital recuperating from a broken pelvis, sprained ankle and concussion. Telly always refused to talk about his service in World War Two. Most of his enlistment records were destroyed in a 1973 fire in the National Personnel Records Centre in St. Louis, Missouri.
Telly with hair
His early career saw him portraying bad guys most of the time, but all that changed when his hit TV series Kojak hit screens from 1973 through 1978. Telly's bald head became instantly recognizable around the English-speaking world when he played the lollypop sucking Lt. Theo Kojak. Incidentally, he sucked the lollipops in an attempt to quit smoking. Kojak's oft-used phrase, 'Who loves ya, baby?' is still used today. Savalas made a career decision to remain completely bald after playing Pontius Pilate in The Greatest Story Ever Told (1965). This enormously popular star passed away from bladder cancer in 1994.
JOSEPH SCHILDKRAUT (1896-1964)               
Austrian actor Joseph Schildkraut was a Jewish actor who played a victim of the Holocaust three times, one of which was his performance as Otto Frank in the 1959 film The Diary of Anne Frank. By then he was a US citizen who had been living and working in America for decades. Many of his relatives had been murdered by the Nazis in the thirties and forties, the full extent of which he did not learn until after the war had ended. A matinee idol of the silent era, he adapted his technique in order to conquer talking films as well, culminating with a Best Supporting Oscar for The Life of Emile Zola (1937).
With Millie Perkins as Anne Frank
The Schildkraut family had migrated to the USA in 1912, to New York City, but lucrative offers of theatre work in Germany led to Joseph and his actor father returning to Europe prior to the outbreak of World War One. Their theatrical connections were enough to keep Joseph out of the draft for the Austrian Army until the Armistice. Acting opportunities in Europe dried up so both men returned to America in 1920. Joseph's star rose steadily in Hollywood from that point onward, until he made a poor career move and signed (for financial reasons) with the low budget Republic Pictures studio. At Republic he simply did not get offered quality roles. He died from a heart attack in 1964 at the age of sixty-eight, almost the exact same age his father was when he too suffered a fatal heart attack.