Phillip Seymour Hoffman
Philip Seymour Hoffman split from his long-time girlfriend, costume designer Mimi O'Donnell, in 2013. She is the mother of his three children. In May of that same year he announced he had checked himself into a substance abuse treatment centre because he had started snorting heroin. On February 2, 2014, he was found dead on the bathroom floor of his Manhattan apartment. It was reported he was dressed in a T-shirt and shorts and with a hypodermic needle still protruding from his arm. Seventy baggies of heroin were discovered inside his Greenwich Village apartment. He was forty-six years old.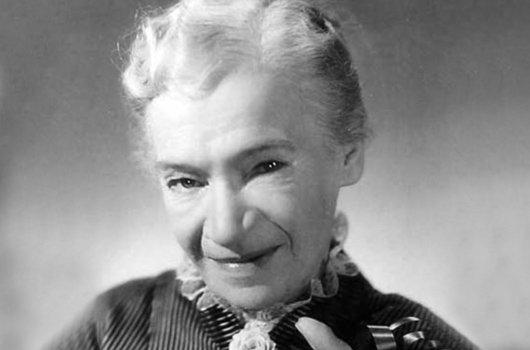 Maria Ouspenskaya
Diminutive Russian-born actress Maria Ouspenskaya, (she was just over 5'1" (1.56m) tall), was nominated twice for Oscars (for Dodsworth in 1936 and for Love Affair in 1939). She was on-screen for just four minutes in the former film and only ten minutes in the latter. Cinema-goers, however, always identified her with her role as Maleva the Gypsy in The Wolf Man (1941) and Frankenstein Meets the Wolf Man (1943). She was the first Russian actor from the Moscow Art Theatre to teach the Stanislavski Method in the United States and her students included a young Lee Strasberg who developed his own variation on her system, now known as 'The Method'. A heavy smoker, Maria fell asleep in bed with a lit cigarette in late November 1949 and suffered massive burns in the subsequent fire. She died three days later aged seventy-three.
Jerry O'Connell today and in Stand by Me (1986)
Jerry O'Connell made a name for himself in his very first picture, playing Vern Tessio in the 1986 hit film Stand by Me. He recalled being greatly impressed when, as an eleven year-old, he was allowed to swear, even when practicing his lines at rehearsals. These days, he dislikes speaking about that particular film because he was considerably overweight when he made it. It is perhaps difficult, therefore, to believe that, while he was at NYU, he was sabre captain of the varsity fencing team. In fact, at one time he was actually ranked #17 in the United States!
Stephen Rea
Dolours Price
Irish actor Stephen Rea was nominated for a Best Supporting Actor Oscar for his performance in The Crying Game (1992). For twenty years he was married to Dolours Price, a former Provisional IRA who later became a critic of Sinn Fein when they agreed to cease the IRA's military campaign. In 1973, she attended a performance of Stephen's at the Court Theatre in London, the night before she participated in a car bombing at the Old Bailey which injured two hundred people. Sentenced to life in prison, she was freed on humanitarian grounds in 1980 and married Rea in 1983. Their marriage produced two sons but ended in divorce in 2003. She died in January 2013.
A victim of the 1970-1 'Rural Purge'.
At the end of the 1970-71 television season in the USA, network programming, particularly on CBS, underwent what became notoriously known as the 'rural purge'. New demographic studies conducted by Nielsen, the ratings service used by all the networks, reached the conclusion that certain TV shows appealed to older, more conservative audiences who were not spending their money buying products advertised on these kinds of shows. Younger, more free-spending audiences were willing to spend their money on shows they watched but did not watch these 'rural' programs. The outcome of these studies saw country sitcoms, such as The Beverly Hillbillies, Petticoat Junction and Green Acres, being promptly cancelled. So, too, was Hogan's Heroes because its viewer base was estimated to be of the older, non-buying category as well. All four shows were still popular but were 'axed' anyway.
Rock Hudson weds Phyllis Gates
Universal-International's vice-president Ed Muhl was a married man with children, but that did not stop him having afternoon trysts in his office with a new and aspiring actor named Rock Hudson. Ed was in love; Rock was ambitious and in a hurry to become famous. The outcome? Hudson was handed the lead in Universal's Magnificent Obsession (1954), after which he was loaned out to Warners for the much sought after role of Bick Benedict in Giant (1956). Rock was on his way but there were worrying rumours circulating through Tinsel Town regarding his sexuality, especially after Life magazine in its October 3, 1955 issue, commented: 'Fans are urging twenty-nine year old Hudson to get married – or explain why not.' The inference was clear enough and his agent Henry Willson moved quickly, placing phone calls to both Louella Parsons and Hedda Hopper, announcing the betrothal of his new secretary, Phyllis Gates, to the screen's hottest slice of beefcake. On 9 November, Rock and Phyllis became husband and wife and his career was safe.
Jennifer Jones & husband Robert Walker in Since You Went Away (1944)
Jennifer & husband David O Selznick
It was not too long after she won her Oscar for portraying the saintly Bernadette Soubirous in The Song of Bernadette (1943), that 25 year-old Jennifer Jones became intimately involved with studio head David O. Selznick, despite her still being wed to actor Robert Walker at the time. Darryl F. Zanuck, head of 20th Century Fox, was not overly thrilled to have his resident studio 'saint' committing adultery on a daily basis. He was even less thrilled to learn that Selznick intended starring her in his upcoming Since You Went Away (1944), and that her real-life husband was to play her lover in the film! As much as Zanuck wanted to jump up and down about the situation, he could do and say nothing without risking accusations of hypocrisy. In The Song of Bernadette, (as all Hollywood knew), he himself had cast his own mistress, the gorgeous but promiscuous Linda Darnell, in that picture as none other than 'The Virgin Mary'! All Hollywood was still laughing about that.
Real life sisters – Blossom Rock (L) & Jeanette MacDonald
Songstress Jeanette MacDonald had an older sister whose real name was Marie Blake and whom Jeanette often said was more talented than her. Marie finally attained some small measure of recognition when, under her married name of Blossom Rock, she portrayed Grand-mama Addams in The Addams Family TV series that ran in the sixties. Jeanette's biographer claimed she never missed an episode and watched her big sister on the tube each week that the series ran.
Jennifer Jason Leigh & her father Vic Morrow
When actor Vic Morrow was killed in a helicopter accident while shooting a scene in the 1983 production Twilight Zone: The Movie, he and daughter Jennifer Jason Leigh were already estranged, a situation borne out when he left her just $100 in his will. 'I always hoped we could work together', Jennifer said later, 'and, through that, resolve whatever needed to be resolved between us. Now that chance is lost. That's the real tragedy.'