AIRPLANE! (1980)
In 1980, Paramount Pictures released a parody titled Airplane! in most countries and Flying High in Australia. It was a massive box-office success that cost a meagre $3.5 million to make but brought in a staggering $158 million around the world! In fact, the film's entire production costs were recouped in the first two days of its release! The screenplay was the creation of three men, Jim Abrahams, David and Jerry Zucker, who also jointly directed the picture. When it was released in June 1980, Airplane! became the third-highest grossing comedy in box-office history to that time, headed only by Smokey and the Bandit (1977) and National Lampoon's Animal House (1978).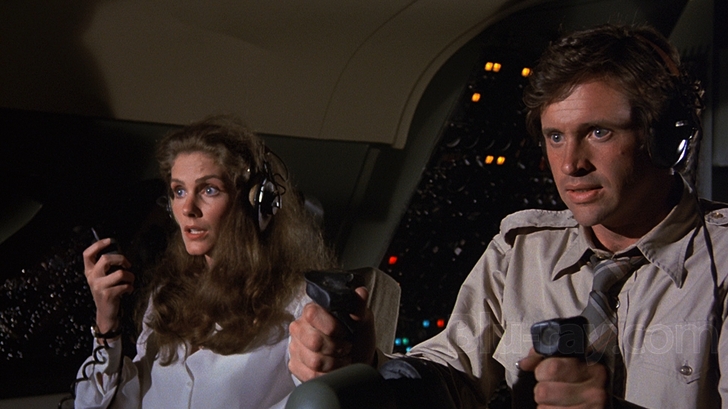 Julie Hagerty as Elaine Dickinson & Robert Hays as Ted Striker
It stars Robert Hays as ex-fighter pilot Ted Striker, (a traumatized war veteran turned taxi driver), and Julie Hagerty as flight attendant Elaine Dickinson, his former wartime girlfriend, who has just broken up with him. She boards her assigned flight from Los Angeles to Chicago, causing Ted to abandon his taxi and purchase a ticket on the same flight, in an endeavour to win her back again. When the aircraft gets into trouble, Ted is the only person left on board who has ever flown an aircraft. He is reluctantly roped into bringing the stricken airliner in safely. Anyone who has seen the serious drama Zero Hour! (1957), will immediately know that Airplane! is a parody of this very poor film. Its main character's name is Ted Stryker and one of the serious lines, (not meant to be funny), is: 'We have to find someone who can not only fly this plane, but who didn't have fish for dinner.' The producers of Airplane! purchased the rights to Zero Hour! from Warner Bros for just $2,500. That particular line of dialogue will make it into Airplane!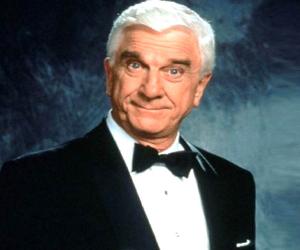 Leslie Nielsen as Doctor Rumack
Abrahams and the Zucker brothers selected Robert Stack, Lloyd Bridges, Peter Graves, Leslie Nielsen and Barbara Billingsley for pivotal roles because of their reputation for playing no-nonsense characters in their movies. None of them had attempted comedy before, so their straight-laced line delivery worked brilliantly, heightening the satire in their scenes. It was truly clever casting. Miss Billingsley was known to a generation of television fans through her portrayal of the mother, June Cleaver, in the top-rating fifties series Leave it to Beaver. Bridges (former star of TV's Sea Hunt), did not want to be in the film at all, but his actor sons talked him into it. And he is terrific. Nielsen, on the other hand, was thrilled to be offered his role. In his mid-fifties by then, the Canadian-born actor had all but resigned himself to landing only 'elderly grandfather' parts as his career approached its twilight years. This movie would kick-start a whole new career in wacky comedies for him. Robert Stack was told to deliver his lines as if he was still playing Eliot Ness in his hit TV series The Untouchables (1959).
Lloyd Bridges as McCloskey
Interestingly, the only airline to initially buy the picture and show it as its in-flight movie was Aero -Mexico. All the others felt the content was unsuitable for their passengers to view. Producer Jon Davison mentioned receiving numerous letters from pilots regarding the famous scene in which the Boeing 747 crashes through the large windows inside the terminal. Some pilots admitted experiencing similar moments, having come so close as to actually touch the glass with the noses of their aircraft! The From Here to Eternity skit was not shot at the 'From Here to Eternity Beach' in Hawaii, but at the same beach where Charlton Heston discovered the Statue of Liberty sticking out of the sand in Planet of the Apes (1968). Curiously, none of the three directors had ever seen From Here to Eternity (1953).
Robert Stack as Rex Kramer
When Captain Oveur (Peter Graves) asks the young boy, Joey, if he'd ever seen the inside of a cockpit before, it is not the original line he is uttering. Originally, he was supposed to ask, 'Have you ever seen a grown man's cock?', but it was ultimately deemed too risqué. Graves initially thought the script was 'disgusting crap' and objected to playing a character who was attracted to young boys. Like Bridges, he was eventually talked into taking the role by friends and family. Back in the fifties he had portrayed a father figure to a boy (also named Joey) in the Fury TV series, and that, too, added another level of satire to his role as Captain Oveur.
Peter Graves as Captain Oveur chats with Joey
It might surprise some readers to learn that the directors initially wanted David Letterman to play Ted Striker, and even auditioned him. They liked his reading, but it was evident he was most uncomfortable at the idea of formally acting a role in a movie, and was visibly relieved when he did not land the part. David Zucker was still keen to have him and tried to get him to come in for a second audition but Letterman's manager made it very clear that was never going to happen. Letterman's audition was shown on his talk show, much to his embarrassment.
Barbara Billingsley as 'Jive Lady'
All five of the elderly stars of Airplane! are no longer with us. Lloyd Bridges (Steve McCroskey) was the first to go when he passed away from natural causes at the age of eighty-five in 1998. In May 2003, eighty-four year old Robert Stack (Captain Rex Kramer) succumbed to a heart attack. Peter Graves (Captain Clarence Oveur), at eighty-three, also fell to a heart attack (in March 2010). Indeed, 2010 was a bad year because Barbara Billingsley (the Jive Lady) died from polymyalgia in October (she was ninety-four), and in November, Leslie Nielsen (who portrayed Dr Rumack) failed to fight off complications from pneumonia and was gone at eighty-four.
Dialogue. Flight-attendant Elaine Dickinson attempts to calm down passengers:
'Ladies and gentlemen, this is your stewardess speaking…We regret any inconvenience the sudden cabin movement might have caused. This is due to periodic air pockets we encountered. There's no reason to be alarmed, and we hope you enjoy the rest of your flight…by the way, is there anyone on board who knows how to fly a plane?'
On the ground, Kramer and McCloskey endeavour to talk Striker into landing the stricken airliner:
Kramer (to McCloskey): 'Our only hope is to build this man up. We gotta give him all the confidence we can.'
Kramer (to Striker): 'Striker, have you ever flown a multi-engine plane before?'
Striker: 'No, never.'
Kramer (to McCloskey, with the microphone still on): 'Shit! This is a God damn waste of time! There's no way he can land this plane!'
Many of the gags and one-liners in this picture are pretty lame when we watch it today. Back in 1980, it was considered hilarious from beginning to end, but it has most definitely dated. However, it was a pioneer in cinematic parody and, consequently, spawned a plethora of similar features, many of them decidedly cleverer and funnier.