PETER ORTIZ (1913-88)                                                   
The highlight of the undistinguished film career of Peter Ortiz was probably his portrayal of Captain St. Jacques in the 1950 John Wayne western Rio Grande. His wartime career, however, is the stuff of legend. Multi-lingual Pierre 'Peter' Ortiz was the most decorated man to serve in the OSS. He is said to have received two Navy Crosses (although his tombstone acknowledges only one), two Purple Hearts, a Legion of Merit and no fewer than five Croix de Guerre.
Ortiz with John Wayne in a scene from Rio Grande (1950)
After serving for five years in the French Foreign Legion in North Africa prior to WW2, (he joined at the age of nineteen), Ortiz re-joined the Legion in 1939 after surviving being torpedoed in the Atlantic whilst bound for Morocco. The Germans captured him in North Africa in 1941 but he escaped a POW camp in Austria and made his way via neutral Portugal to the USA, where he enlisted in the Marine Corps in June '42.
Sent back to Morocco, he was wounded prior to being promoted to captain. The OSS then sent him to France to work with the Marquis in '44. Trapped at Centron, France by a German battalion, he negotiated his own surrender in order to get the Gestapo to spare retribution against the town. Again he escaped; again he was re-captured and again he escaped in April 1945. When the war ended he was in training with the OSS and about to embark on operations in Indo-China. The film 13 Rue Madeleine (1946), starring Jimmy Cagney, was modelled on his extraordinary exploits. This highly decorated soldier of fortune passed away in Arizona at the age of 74 in 1988.
JACK PALANCE (1919-2006)                  
There have always been contradictory stories about how Jack Palance wound up with his distinctive facial features. Which of these we care to believe must, therefore, be very much a matter of individual choice. On a nationally televised talk show, Jack addressed the question of whether or not damage done to his face supposedly resulted in plastic surgery and reconstruction. 'I know I'm no beauty', he said, 'but these are the Estonian features I was born with.' Sounds straight forward enough. After his death in 2006, his biographer wrote that Jack had told him the entire burning B-17 story had been contrived by his studio. Several obituaries quoted the actor as saying: 'Studio press agents make up anything they want to, and reporters go along with it. One flack created the legend that I had been blown up in an air crash during the war, and my face had to be put back together by way of plastic surgery.' He then added a rather telling sentence. 'If it is a 'bionic face', why didn't they do a better job of it?' Good point.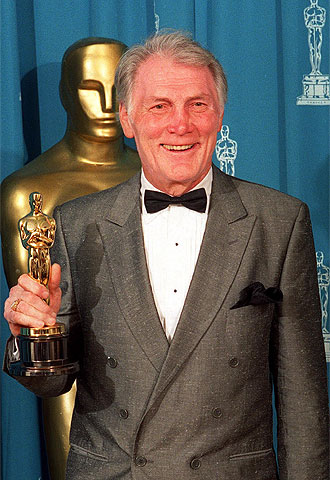 Jack & his Oscar for City Slickers (1991)
However, according to a website honoring movie celebrities that flew in B-24s (not B-17s), he burned his face severely when baling out of a burning B-24 during a training flight near Tucson, Arizona in 1942. Describing him as a 'pilot in training', it was stated he underwent several surgeries before being honorably discharged in 1944. Jack himself then muddied the waters. 'There are some moments you never get over. That was one of them', he said when asked about the accident. Another version of events had him flying combat missions with the USAAF 455th Bomb Group, and suffering those injuries when his B-17 crash-landed in Britain in 1943! His distinctive cheekbones and deep-set eyes were said to have been the result of reconstructive surgery. Which of these tales do we believe? Even Jack himself told contradictory stories and he is no longer around to confirm one story or the other. Or neither. Early pictures of him in Hollywood after the war do not appear to be of someone whose face had been horribly burned and then reconstructed. In November 2006, he passed away from natural causes at the age of 87.
ELEANOR PARKER (1922-2013)                        
Born Eleanor Parker in Cedarville, Ohio in 1922, this excellent (and stunning) actress set her sights on being a thespian at the age of fifteen. However, when a 20th Century Fox talent scout attempted to sign her in 1937, she turned him down, preferring instead to gain more acting experience in theatre in Cleveland after graduating high school. Then she moved to California, further honed her skills at the Pasadena Playhouse, and was again offered a contract, this time with Warner Bros. Again she refused it, opting to first finish her rookie year at the Playhouse. Finally, she signed with Warner and was cast (at eighteen years of age) in the studio's big 1941 feature They Died with Their Boots On. Her performance ended up on the cutting room floor. However, her beauty was not forgotten and she soon debuted in a B-feature before being cast in Warner Bros big 1943 production Mission to Moscow, a movie that would become notorious in the McCarthy era for its glorification of 'Uncle Joe' Stalin.
Eleanor & John Garfield in Pride of the Marines (1945)
On the set, Eleanor met her first husband, US Navy dentist Lt. Fred L. Losse. After a brief wartime romance the couple wed in March 1943 but the marriage was over by December 1944. By then, she was considered enough of a 'name' to be given a cameo in Hollywood Canteen (1944). That same year she replaced an ill Ida Lupino as the female lead in The Very Thought of You. Both Eleanor and fellow player Andrea King were married to servicemen who were away at war, Andrea living a long way from the studio, Eleanor just five minutes away. With wartime gasoline-rationing as it was, Eleanor generously offered Andrea the opportunity to live at her home while the picture was being shot.
The Baroness in The Sound of Music (1965)
Eleanor always said that her big break came when she was cast opposite John Garfield in 1945's Pride of the Marines. 'It was a great part, and who wouldn't look good with John Garfield?' she later said. 'He was absolutely wonderful.' Garfield portrayed a real life marine who had been blinded in fighting on Guadalcanal. Oddly enough, despite her three Oscar nominations, Eleanor will probably be best remembered by movie audiences for playing Baroness Schrader in the 1965 musical blockbuster The Sound of Music, a role she played when she was in her forties. Some critics accused her of over-acting, but she was a fine actress who enhanced any production she was in. After her fourth husband passed away in 2001, she spent the remaining twelve years of her life in quiet seclusion in Palm Springs before dying from pneumonia at the age of 91.