CADDYSHACK (1980)
This golfing comedy has acquired quite a cult following since its release in 1980, due mainly to the performances of Rodney Dangerfield, Ted Knight and (to a lesser extent) Bill Murray. Murray shot all his scenes in six days (including one with Chevy Chase). Despite genuine concerns to the contrary, everything went smoothly between the two men who had a history of feuding back in 1975 on Saturday Night Live. Director Harold Ramis encouraged a rowdy, improvisational atmosphere on the set that did not, however, sit well with all the cast. Ted Knight, known to be a very nice man, disliked the unrestricted shenanigans of Dangerfield, Murray and Chase throughout the shoot. All three culprits were initially intended to have cameo roles, but as filming progressed Ramis built up their parts at the expense of others, such as the greatly chagrined Scott Colomby who played Tony D'Annunzio. His experience on the picture was not all bad, however, for he and Cindy Morgan (Lacey Underall) dated for two years after it was released.
Cindy Morgan & Scott Colomby in Caddyshack
The picture was inspired by writer/actor Brian Doyle-Murray's recollections of caddying in his youth. His brother Bill Murray and director Ramis both caddied as teenagers. Brian played Lou Loomis, the caddy shack boss here. The 'Baby Ruth candy bar in the swimming pool' scene was based on a real-life incident at Brian's high school. Bill Murray's ball-mashing speech lasted thirty minutes in the original four and a half hour cut before sanity was restored and drastic editing began. This was Ramis's directorial debut and he always felt he could have done it much better. He especially hated the fact that only Michael O'Keefe (Danny Noonan) was capable of swinging a golf club properly. The rest of the cast were quite hopeless. Michael, by the way, stayed away from golf for the next 25 years. He couldn't handle the pressure of 'everyone coming out of the pro-shop to watch.'
Producer Jon Peters
When informed that she would be required to go topless in one scene, Cindy Morgan baulked at the prospect and refused. Ramis was prepared to alter the scene to suit her wishes until producer Jon Peters asked to speak with her while the director had her on the phone. Peters told her (not with any originality), that she would never work in Hollywood again if she refused to do the scene as originally written. She reluctantly consented, whereupon he then invited a photographer onto the set to shoot a Playboy magazine centerspread of her as a promotion for the picture! The girl was so nervous and unwilling to do the shoot that Ramis intervened, sided with her, and had the Playboy project cancelled. Incidentally, Peters most recently ditched his fiancée in order to marry actress Pamela Anderson. Wed on 20 January, 2020, the union lasted twelve days. Then he returned to his fiancée!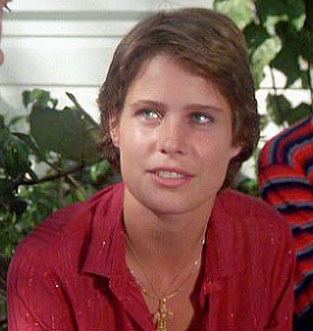 Sarah Holcomb as Maggie
Sarah Holcomb, who portrayed the Irish girl Maggie O'Hooligan, had a screen career that lasted just two years and comprised only four films. Fans of National Lampoon's Animal House might recall her playing the semi-naked thirteen year-old Clorette DePasto (the mayor's wild daughter), who passes out atop Tom Hulce's character. Sarah was eighteen at the time of filming. It was reported that she later developed a drugs problem but the report has never been verified.
(L to R) Michael O'Keefe, Chevy Chase & Bill Murray
Most discerning cinema fans would probably agree that this was Chevy Chase's best film, even though box-office returns would not support that opinion. Five years after making this picture, he and Dan Aykroyd co-starred in an abysmal comedy titled Spies Like Us, a movie that critics universally agreed was more or less devoid of a single funny line of dialogue. However, as far as the box-office was concerned, it made more money than any other Chevy Chase film released, including Caddyshack, which racked up a little less than forty million dollars after costing six million to make. Spies Like Us (1985) was churned out on a twenty-two million dollar budget, yet returned sixty million in North America alone, plus another seventeen million internationally! Evidently, there is no accounting for taste. No pun intended.
Donna Dixon, Dan Aykroyd & Chevy Chase in Spies Like Us (1985)
While on the subject of Spies Like Us, it should be noted that the picture did have a solitary redeeming feature. And one only. The love interest was played by the beautiful Donna Dixon, wife of Dan Aykroyd, who provided discerning male cinema-goers with a lovely, much-needed distraction. Donna and Dan had met back in 1982 on the set of Doctor Detroit (1983), fell in love and married in April 1983. The former fiancée of KISS lead singer Paul Stanley (before she broke off their engagement), Donna represented the state of Virginia in the 1976 Miss USA Beauty Pageant. A year later she represented the District of Columbia in the 1977 Miss World Pageant, (she was declared 1st Runner-up). She and Dan remain husband and wife to this day (March 2020), the parents of three attractive daughters.
Ted Knight & Chevy Chase
Back to Caddyshack: A year after this picture's release, one of its stars, Ted Knight, lost his battle against colorectal and bladder cancer. He was only sixty-two. Ted was born into a Polish-American family in Terryville, Connecticut in 1923. He dropped out of school and enlisted for duty in World War Two, (see my book Hollywood at War for details), and developed an interest in acting during his tour of duty. After the war he landed his first job in the entertainment industry via his fascination for puppetry and ventriloquism, as the host of a children's radio show in Providence, Rhode Island.
Rodney Dangerfield
He did commercial voice-overs and picked up bit parts in movies and several TV shows until his big break arrived in 1970. He was cast as the arrogant but inept WJM anchor man Ted Baxter on TV's The Mary Tyler Moore Show. The role made him a comedic star but it pigeon-holed him for the remainder of his career. In 1980, he landed his own television series titled Too Close for Comfort and it enjoyed a healthy run for several years. The series was about to be retitled The Ted Knight Show when it was cancelled because of the serious illness that led to Ted's demise. The world of comedy had lost a unique talent and, by all accounts, a nice guy.