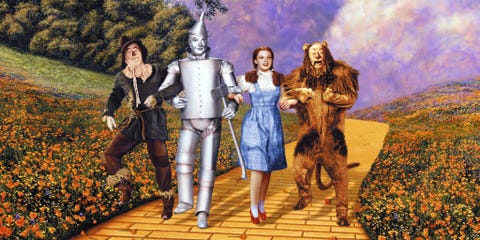 Three of the film's Munchkins
Judy Garland recalled working on the set of The Wizard of Oz (1939) with The Scarecrow (Ray Bolger), The Tin Man (Jack Haley) and The Cowardly Lion (Bert Lahr). 'Whenever we'd do that little dance up the Yellow Brick Road, I was supposed to be with them – and they'd shut me out! They would close in, the three of them, and I would be in back of them, dancing. So director Victor Fleming – who was a darling man – would say: 'Hold it! You three dirty hams! Let that little girl in there! Let her in there!' As for the behaviour of the actors playing the Munchkins: 'They were drunks', Judy said. 'They got smashed every night and the police used to scoop them up in butterfly nets!'
Jack Carson
During the 1940s, actor Jack Carson would disappear from Hollywood for weeks at a time. Only his wife, Kay, would know that he was off touring as a clown in the Clyde Beatty Circus. Audiences never knew it was him performing under the greasepaint. 'They loved me and my routines', he said. That particular marriage would founder because of his affair with new singing/acting sensation Doris day. She would in turn end their relationship because he drank far too much.
Novelist Richard Condon, then a Hollywood movie publicist, recalled attending a New York opening of the 1941 film A Yank in the RAF   with the picture's two hot stars, Tyrone Power and Betty Grable. 'Despite police protection, a crowd of hysterical thousands…surged forward and succeeded in ripping all the clothes off Miss Grable down to her underwear', he remembered. At that time Betty was probably the most popular woman in the world.
Michael Wilding & Marie McDonald
Michael Wilding once described himself as 'the worst actor I ever came across.' Allegedly bisexual, he was thought to have had a homosexual relationship with Noel Coward in the thirties, although when columnist Hedda Hopper implied he was gay in her 1964 book, 'The Whole Truth and Nothing but the Truth', he sued her for $3 million. She settled out of court for $100,000. His four wives included actresses Elizabeth Taylor and Margaret Leighton and, in 1957, while still wed to Liz, he had a brief fling with Marie McDonald, the actress known as 'The Body'. A lifelong sufferer from epilepsy, he passed away in July 1979 from head injuries sustained when he fell down a flight of stairs whilst having an epileptic seizure.
John Ireland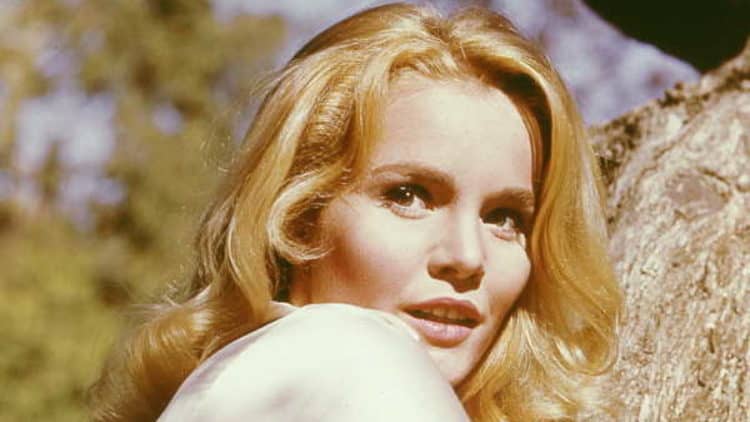 Tuesday Weld
John Ireland was born in Vancouver, British Columbia, Canada in 1914. He was in his mid-thirties when he met and fell in love with Joanne Dru on the set of Red River (1948), but it was a bit of bad timing because the film's director, Howard Hawks, had the hots for her as well and harboured serious aspirations in that direction. When she fell for Ireland instead, Hawks petulantly cut the Canadian's showpiece role down to next to nothing, probably forever ending his hopes of becoming a major star. In 1949 John and Joanne became husband and wife, but then he blew it by having an affair with the aging Joan Crawford (she was 50), when they made Queen Bee in 1954. After his divorce he became involved with Natalie Wood, Barbara Payton and Sue Lyon, but it was his heavy affair with 16 year-old Tuesday Weld (when he was in his 45th year) that set the tabloids against him. 'If there wasn't such a difference in our ages', he said, 'I'd ask her to marry me. That and her mother are the only things that stop me.' They eventually split up.
Peter Lorre in Casablanca
During the House Un-American Activities Committee's investigation of Communist infiltration in the movie industry during the forties and fifties, actor Peter Lorre was interviewed by investigators and told to name anyone suspicious he had met since coming from Europe to the United States. He responded by naming every person he knew!
Kenneth More, the delightful British actor who portrayed Douglas Bader so convincingly in Reach for the Sky (1956), was a drinking companion of the hell-raisers Trevor Howard and Jack Hawkins; and an eventual close friend of Noel Coward. Coward, a noted homosexual, once unsuccessfully attempted to seduce him in a bedroom. 'Oh, Mr. Coward, sir', gasped More, 'I could never have an affair with you, because you remind me of my father!'
Charles McGraw in Spartacus
Craggy-faced Charles McGraw was a fine character actor who graced a number of big movies. He was wonderful as the trainer at the gladiator school in Spartacus (1960), and who could forget his fight with Kirk Douglas when Kirk (as Spartacus) slammed his face into the side of a soup cauldron, accidentally breaking the man's jaw! Bad luck again caught up with him in 1980 when he accidentally fell through his glass shower door and severed an artery in his arm, resulting in him bleeding out before help could arrive. His death brought about a change in California law. All shower doors in that state must now be made of safety glass so that his tragic accident could not be repeated.
Garry Marshall
The extraordinarily popular television series Happy Days (1974-84) was created by Garry Marshall, the director of numerous fine movies, the most successful of which was undoubtedly Pretty Woman (1990). Determined to create a series that might appeal to the youth of America in 1972, but aware that the current climate of the Vietnam War precluded using a contemporary setting, he decided to focus on the more innocent fifties era. He wrote a pilot episode in 1971 and Paramount inserted it in their series Love, American Style, a notorious graveyard for dead pilots. The idea was shelved for two years until, in 1973, American Graffiti landed in theatres and was hugely successful. Suddenly, the networks were keen to look at any series set in the fifties. Happy Days became the first.
Ron Howard & Henry Winkler – Happy Days
Ronnie Howard, Tom Bosley and Marion Ross were cast as the stars of the series, while a young man named Henry Winkler was signed for a minor role, that of a character named Arthur Fonzarelli ('Fonzie). He proved to be a sensation. At one point, Fonzie's incredible popularity resulted in ABC advising Marshall that they wanted to change the name of the show from Happy Days to Fonzie. Both Winkler and Howard were aware of this, but no-one connected to the series, Winkler included, would agree to implement a change that must surely insult the very popular Howard. Another more ambitious actor than the affable Henry might have accepted ABC's edict and run with it, but that was not Winkler's style. The name of the series remained as Happy Days.