LLOYD BRIDGES (1913 – 98)
Californian Lloyd Bridges was the son of parents who owned a movie theatre. Although his father wanted him to become a lawyer, young Lloyd set his sights firmly on an acting career while at the University of California in Los Angeles. He later worked on Broadway and in off-Broadway theatre until he made his first movie in 1936. In 1941 he went under contract to Columbia. His career came under serious threat in the early fifties following allegations that he was a Communist. In fact, he had been a member of the Actors' Laboratory Theatre, a group known to have links with the Communist Party. He recanted his membership and testified as a cooperative witness before the House Un-American Activities Committee (HUAC), thereby saving his career.
Lloyd with Katy Jurado in High Noon (1952)
In the late thirties all the best male roles at Columbia tended to go to Glenn Ford and William Holden, leaving Bridges to take whatever B- feature roles became available. His career was stagnating when he left Columbia to join the United States Coast Guard during World War Two. Years later, both his sons, Jeff and Beau, would also join the Coast Guard and the Coast Guard Reserve. On his return from war service Lloyd worked as an independent, picking up some good parts including a couple of leads. There was a support role in A Walk in the Sun (1945) and a bit in DeMille's Unconquered (1947).
In Airplane! (1980)
In 1952 he landed a fine supporting part in High Noon, alongside Gary Cooper and Grace Kelly, playing Sheriff Kane's deputy, Harvey Pell. However, he will best be remembered for his starring role as Mike Nelson in TV's Sea Hunt (1958-61). He kept busy in both TV and movies over the next two decades before scoring a hit with Airplane! (1980), a spoof on air disasters in which he showed an unexpected flair for comedy late in life. A decade or so later he proved this was no fluke when he again had us in stitches with roles in Hot Shots! (1991) and Hot Shots! Part Deux (1993). Five years after his 1993 hit, he died from natural causes at the age of 85. His wife of fifty years survived him.
BEAU BRIDGES (1941 – )
Being just two days after the Japanese attack on Pearl Harbor, Beau Bridges was born during a power blackout and delivered by candlelight! Christened Lloyd Vernet Bridges III, his parents, actor Lloyd and mother Dorothy, immediately started calling him Beau after Ashley Wilkes' son in Gone with the Wind (1939), which kind of begs the question, 'why not name him Beau in the first place?' He is the older brother of actor Jeff Bridges. Another brother, Garrett, came along in June 1948 but died of SIDS less than two months later.
Beau has appeared in numerous movies and guested on scores of television series, including spots in two episodes of his Dad's popular underwater series Sea Hunt (1958-61). In fact, he has been nominated for an Emmy Award fourteen times, three of those successfully, yet is probably better known for starring alongside his brother Jeff in The Fabulous Baker Boys (1989).
JEFF BRIDGES (1949 – )
Jeff in Starman (1984)
Jeff is the younger of Lloyd Bridges' two acting sons. It would be accurate to add that he is most assuredly the best actor in the family. He grew up in the Hollywood scene and, at 14, toured with his father in a stage production of 'Anniversary Waltz'. During the boy's teen years he had serious issues with drugs and marijuana until his folks intervened and sorted him out. It was his performance in The Last Picture Show (1971) that earned Jeff his first Supporting Actor Oscar nomination and established him as a promising leading man of the future.
Jeff as 'the Dude' with John Goodman in The Big Lebowski (1998)
His delightful portrayal of an alien in 1984's Starman was unlucky not to win him his first Oscar, but he lost to F. Murray Abraham for Amadeus. It would be another 25 years before he finally won his first Oscar when he delivered a powerful performance in Crazy Heart (2009). As of July 2019, he has been Oscar-nominated seven times for that solitary win. His 1998 film The Big Lebowski did not earn a nomination but it has since acquired cult status. A fascinating film.
JAMES BRODERICK (1927-82)
New Hampshire-born James was a fine actor who never quite made it to the upper reaches of his profession, although he did receive an Emmy Award nomination for playing the father in the TV series Family that ran from 1976 to 1980. His movies included Alice's Restaurant (1969), The Taking of Pelham One Two Three (1974) and Dog Day Afternoon (1975). Cancer took him at the age of 55. His son, Matthew, followed in his father's acting footsteps and became a major player on both stage and film.
MATTHEW BRODERICK (1962 – )
Jennifer Grey as Ferris's sister
Matthew is one of those actors who always seem a decade younger than they actually are. This was never more apparent than in his iconic role as Ferris in the 1986 hit film Ferris Bueller's Day Off. Ferris is a high school student, yet Broderick was over 23 years old when he convincingly played him. For that matter, Alan Ruck who portrayed his best friend Cameron was, in fact, thirty at the time of shooting! Jennifer Grey portrayed Ferris's sister in the picture, but away from the screen she and Broderick were engaged to be married. As the movie was about to be released in America, the couple took off for a holiday in Ireland where they were involved in a tragic car crash that resulted in the deaths of a woman and her daughter in the other vehicle. Broderick's leg was broken in the crash but neither he nor Miss Grey could recall what led to the accident. Not a single detail. He later paid a small fine to the family of the victims.
Matthew as Colonel Shaw in Glory (1989)
Colonel Robert Gould Shaw (1837-63)
His boyish looks initially worked against him when he starred as Colonel Robert Gould Shaw in Glory (1989). Actually, the real Shaw was also rather boyish-looking and bore a strong resemblance to Broderick. The problem for both patrons and the critics was the matter of the gentlemen's ages. Shaw was made a colonel at twenty-five and looked far too young for such a high rank. Broderick looked even younger! The movie is a well-crafted piece and highly entertaining, but if its aim was anti-war, it failed miserably. Indeed, it is well-named, for it unashamedly glorifies warfare at every turn. A pity, really, because it contains some wonderfully moving moments. And Broderick is excellent.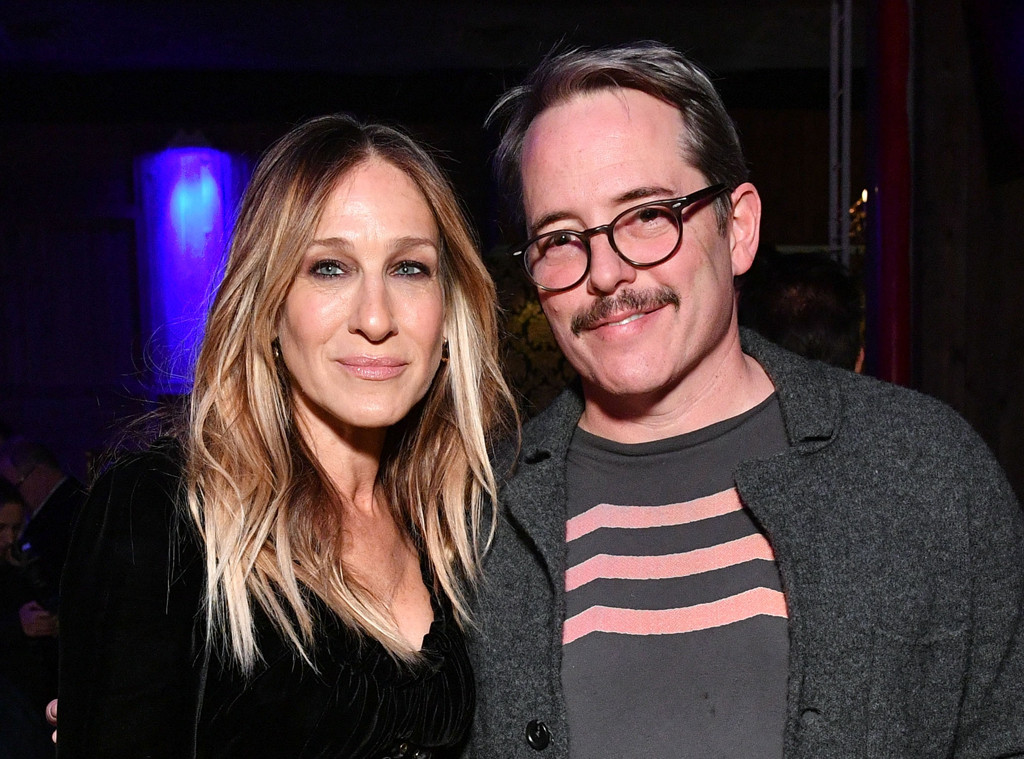 Matthew & his wife Sarah Jessica Parker
Matthew never did marry Jennifer Grey. She would go on to become engaged to Johnny Depp as well, but that did not work out either. Broderick would eventually wed Sarah Jessica Parker, star of the popular TV series Sex and the City (1998-2004). She played Carrie Bradshaw in it. The couple married in 1997 and are still together. They have three children. These days Matthew is a regular star on Broadway.