Warren Beatty & Faye Dunaway in Bonnie & Clyde (1967)
Before he agreed to play the role of Clyde Barrow in the 1967 hit Bonnie and Clyde, Warren Beatty was chasing the director's job and had already chosen the two actors he wanted to play the title roles – his sister Shirley MacLaine and singer Bob Dylan! Shirley's chances dissolved the moment Warren decided to play Clyde himself. His close friend, character actor Michael J. Pollard, was certain that Beatty and his co-star Faye Dunaway agreed not to become sexually involved for the duration of the shoot 'because Clyde was supposed to be impotent'. They were worried that any off-screen interaction between them might show on up on-screen. Of course, once filming had concluded…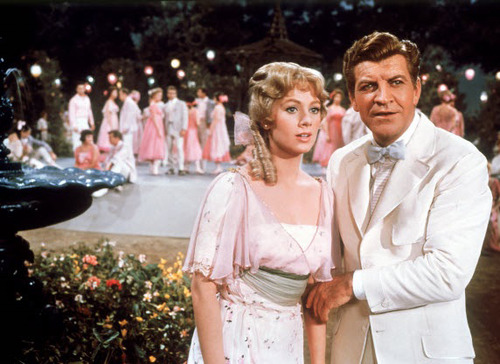 Shirley Jones & Robert Preston in The Music Man (1962)
Shirley Jones discovered she was pregnant when filming was about to commence on The Music Man (1962). Director Morton DaCosta assured her that costuming and creative camera angles would camouflage her condition, but he asked her to keep the news of her pregnancy to herself. Co-star Robert Preston found out, however, when they embraced on a footbridge during a scene and her unborn son kicked out. 'What was that?' Preston asked as he jumped back. 'That is Patrick Cassidy', replied Shirley proudly. 'Say, Hello.' Years later, Patrick had the opportunity to meet Preston. 'Hello, I'm Patrick Cassidy', he introduced himself. 'Yes, I know', said the affable Preston. 'We've already met.'
Ava Gardner, John Huston & Richard Burton on the set
The Night of the Iguana (1964) brought together an intricate and somewhat extraordinary web of relationships in the cast that arrived in a small Mexican location village. Richard Burton arrived with his lover Elizabeth Taylor who was still married to Eddie Fisher. She was constantly consulting Burton's press agent, Michael Wilding, who was once her second husband. Deborah Kerr was with her husband Peter Viertel who had once been involved with another of the picture's stars Ava Gardner. Peter happened to be the author of White Hunter, Black Heart, a novel that negatively described director John Huston's obsession with big game hunting while he was in Africa making The African Queen.  Huston was directing 'Iguana'. And visiting screenwriter Budd Schulberg was the ex-husband of Viertel's recently divorced wife Jigee. Huston's sense of humour came to the fore when, before starting the picture, he gathered everyone together and presented each of them with a gold-plated derringer, each gun complete with four golden bullets engraved with the names of potential targets in the cast!
        Marilyn & Montand – publicity still
Marilyn Monroe and Yves Montand embarked upon an affair when they made the aptly titled Lets Make Love in 1960. Montand was married at the time to Simone Signoret and Monroe was married to Arthur Miller. The French actor quickly tired of her (as was his way) and unceremoniously terminated their affair.
Errol Flynn was originally cast as Allan Quartermain in the 1950 version of King Solomon's Mines, but he did not fancy sleeping in a tent in Africa so he went off to make Kim in India instead, where the cast were booked into a resort hotel. Stewart Granger took his place and gained the added bonus of becoming intimately involved off-screen with his co-star Deborah Kerr.
                                            Cantinflas
Mexican comedian Cantinflas played Passepartout in Around the World in 80 Days (1956) and western audiences found him to be 'unfunny', an assessment that must have shocked and disappointed his millions of Mexican fans. In his own country his popularity was such that the government would actually close all pawnshops two days before the opening of his latest film because there was genuine concern that the poor would pawn their meagre possessions to purchase tickets!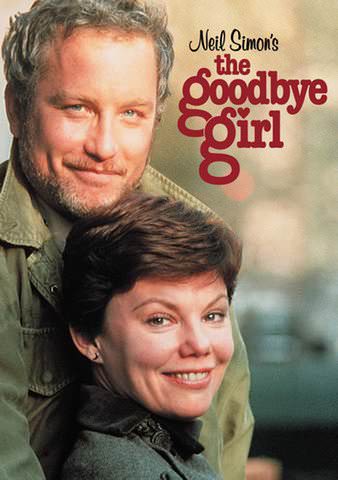 Richard Dreyfuss & Marsha Mason
Marsha Mason enjoyed working with Richard Dreyfuss on The Goodbye Girl (1977), but complained about him smelling like fish day in and day out. 'The man ate nothing but sushi', she said. 'He had sushi brought to his trailer; he had sushi brought to the set. He had sushi sent to his home. The man lived and breathed – and reeked – sushi. I think he even slept with it.' Dreyfuss had decided early in the shoot that he needed to lose weight and his food of choice to accomplish this task was sushi.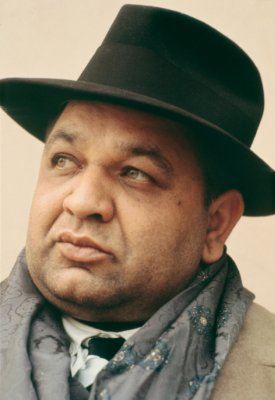 Brando & Martino in The Godfather (1972)                  Richard S. Castellano
Singers Frankie Avalon and Vic Damone auditioned for the role of Johnny Fontane in The Godfather (1972). Director Francis Ford Coppola was most impressed with Damone and gave the role to him, but Al Martino was cast by the producers and used his organized crime connections to make sure he held onto the part. Richard S. Castellano played Clemenza and was visited on the set by his cousin, Mafia boss Paul Castellano. He had succeeded Carlo Gambino as head of the Gambino crime family until John Gotti had him assassinated in 1985.
In the fine seafaring feature Down to the Sea in Ships (1949) character actor Cecil Kellaway plays 'Slush' Tubbs, the cook on a whaling ship out of Massachusetts at the end of the 19th century. Cooks were often nicknamed 'Slush' or 'Slushy' because they boiled salt pork or salt beef for the crew and the grease that came to the surface was called 'slush'. Some of it was spread on biscuits in lieu of butter. Any excess was sold to candle-makers or soap makers and the money received was used to purchase things for the ship. So, if you ever wondered where the term 'slush fund' originated, well, now you know.
Robert Pattinson in Little Ashes (2008)
Robert Pattinson has become famous as a Twilight star, but before that he made a movie called Little Ashes in 2008. When critics mentioned to him how impressed they were by his facial expressions during an orgasm scene, he proudly admitted that there was no acting involved in that particular scene, adding that, out of camera shot, 'I pleasured myself in front of the camera. My orgasm face is recorded for eternity.'
The first ever feature film (a 'feature' being a commercially made film of over one hour duration), was Charles Tait's The Story of the Kelly Gang, a biopic about the Australian bushranger Ned Kelly that ran for 60-70 minutes. It was produced in Australia and premiered in December 1906, nearly three years before the USA's first feature, Vitagraph's Les Miserables, was released in September 1909.