Richard Harris was nominated for an Oscar for The Field (1990) and was asked by reporters if he intended to attend the Academy Awards. His response, needless to say, was not published in the papers. 'Why the fuck would I want to participate in any of this Hollywood bollocks? It's fourteen fucking hours there, fourteen fucking hours back, two hours of fucking stupidity and kissing people's fucking cheeks. Fuck that!' (Richard's vocabulary could be severely limited on occasion).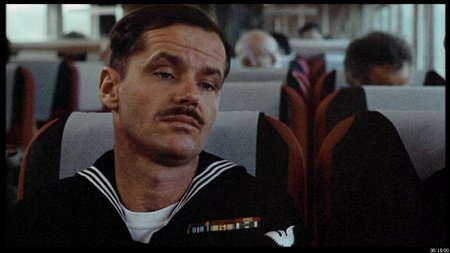 Jack Nicholson in THe Last Detail (1973)                              Robert Redford in The Sting (1973)
Jack Nicholson had the choice of two interesting roles – that of Johnny Hooker in The Sting (1973) and the part of Buddusky in The Last Detail (1973). He thought The Sting would be 'too commercial', so he accepted the Buddusky role instead. Robert Redford played Hooker. Both actors were nominated for Oscars but lost out to Jack Lemmon for Save the Tiger.
    Liza Minnelli about to board the wrong bus in Arthur (1981)
In one scene in the 1981 comedy Arthur, Liza Minnelli is required to board a bus after first meeting Arthur (played by Dudley Moore). A real bus pulled alongside her and she stepped aboard thinking it was the one hired for the scene. She only realized what had happened when she got half a block away, looked out the back window and saw the crew rolling about in hysterics!
            Sissy Spacek & Martin Sheen in Badlands (1973)
The harrowing drama Badlands (1973) is based on the exploits of Charles Starkweather and Caril Fugate, whose 1958 murder spree horrified the American nation. Starkweather had been executed by the time this film went into production, but Fugate was still in prison. Producers, fearful of a possible lawsuit from her, changed the names of the principals for the picture. Note: Two little boys playing under a lamp-post are actually Martin Sheen's sons, future actors Charlie Sheen and Emilio Estevez.
         Rupert Everett in My Best Friend's Wedding (1997)
My Best Friend's Wedding became one of the biggest hits of 1997, due in no small part to the performance of the outrageous Rupert Everett who clearly stole the show. Fellow British actor Nigel Havers recalled in his autobiography how Rupert responded to a letter criticising his performance in a stage version of Noel Coward's The Vortex. In typical Everett style he wrote a reply: 'Dear Mrs. Snodgrass, I'm sorry you found me inaudible and I have pleasure in enclosing one of my pubic hairs.'
              Barbara Stanwyck & Elvis Presley in Roustabout (1964)                                        Raquel Welch (L) in an early scene in Roustabout
In the Tea House scene in the Elvis Presley vehicle Roustabout (1964), if you look closely you will see the then unknown Raquel Welch as one of the college kids. Seventy year-old Mae West was approached to play the elderly owner of the carnival but turned down the role after the studio refused to rewrite the script to her liking. She wanted to be one of Elvis's love interests in the picture! Barbara Stanwyck replaced her.
               Ursula & Harry
Twenty-eight year-old Harry Hamlin played Perseus in Clash of the Titans (1981) and 44 year-old Ursula Andress played Aphrodite. They commenced a relationship during filming that resulted in a son being born to Ursula in 1980 following completion of principal photography. The hard to please Harry liked to date other women and their relationship ended in 1983. Incidentally, the white bikini worn by Ursula in her first scene in Dr No (1962) sold for 41 thousand pounds at Christie's in London in 2001.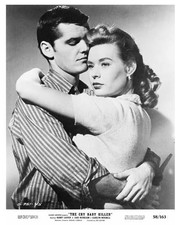 Jack Nicholson & Carolyn Mitchell in THe Cry Baby Killer (1958)                  Rooney & Carolyn aka Barbara Thomson
The Cry Baby Killer (1958) is not a good movie but it has historical interest. It was Jack Nicholson's first big-screen appearance and it was the final one for Carolyn Mitchell. She was the fifth wife of actor Mickey Rooney, a 21 year-old beauty who, tragically, would be murdered before her 30th birthday. She and Rooney had four children but his philandering led to her taking a lover in retaliation. Milos Milosevics was a 24 year-old Yugoslavian actor, a friend of French star Alain Delon. When Carolyn threatened to end their affair and return to Rooney, Milos shot her through the face and then put the gun to his own head
John Houseman
When 71 year-old John Houseman won the Best Supporting Actor Academy Award for The Paper Chase in 1973, most people in the industry assumed his win was just reward for a lifetime on the screen. In fact, prior to appearing in that movie his total screen credits consisted of a) playing a Keystone Cop in Too Much Johnson (1938) and an uncredited bit as Vice-Admiral Farley Barnswell in Seven Days in May (1964). And that was it! His main claim to fame was co-founding the Mercury Theatre with Orson Welles in the thirties.
Kenneth Taylor (L) and George Welch – Pearl Harbor heroes
In the 2001 gung-ho flag waver Pearl Harbor, Ben Affleck and Josh Hartnett portray two American fliers based loosely on real life heroes Kenneth Taylor and George Welch, who managed to get their P-40 aircraft off the ground during the December 7, 1941 Japanese attack on Hawaii. With extraordinary courage they took on the Japanese strike force consisting of hundreds of aircraft and shot down eight of them (four apiece). Nominated for the Medal of Honor, the two men had to settle for DFC's after senior officers disgracefully argued that they 'had taken off without proper authorization.' Welch would be later killed as a test pilot at 36.
Walt Disney's brother Roy issued thousands of Pollyanna Photo Locket Necklaces, each one containing the following quote attributed to Abe Lincoln in the movie Pollyanna (1960) – 'When you look for the bad in mankind, expecting to find it, you surely will.' Director/screenwriter David Swift rushed to Walt and asked him to withdraw the lockets at once because Abe had never said it. Swift had simply made the quote up.
Nigel Green as Colour-Sgt Bourne in Zulu (1964)                     The real Frank Bourne
In the classic 1964 film Zulu, Nigel Green portrayed Colour Sergeant Bourne although he was considerably older than the real Bourne who was just 24 at the time of the defence of Rorke's Drift in 1879. Eleven Victoria Crosses were awarded, a record for a single action, yet the number could have risen to twelve if Bourne had not opted for a commission in preference to a VC. He was the last defender to die when he passed away in 1945 at the age of 91. It might interest the reader to know that only seventeen British soldiers perished at Rorke's Drift that day, and most of those were wounded men trapped in the wooden hospital building when the Zulus burnt it to the ground.