It is a pleasure to be able to write about a 'true story' that has been made into a movie without the end result having made the original tale almost unrecognizable along the way. Changeling (2008) should not be confused with the term 'based on a true story', a description that all but guarantees any resemblance to what really happened will be entirely accidental. This movie sticks to the facts (mostly), drawing primarily on court transcripts and official police documentation. Of course, there must always be the inevitable changes for expediency, to meet time frames, to provide composite characters and to heighten drama, but happily that has been kept to a minimum in this instance. More of that later.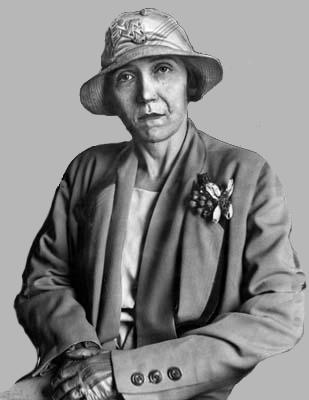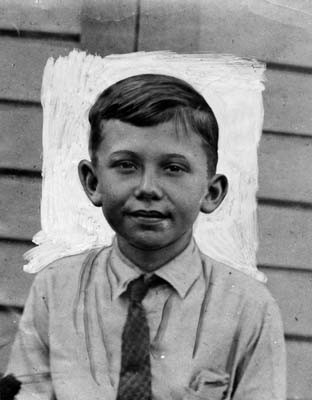 Christine Collins                   Walter Collins                        
Hilary Swank and Reese Witherspoon were keen to play the lead character, Christine Collins, but executive producer Ron Howard convinced director Clint Eastwood that Angelina Jolie's face was better suited to a woman of the Roaring Twenties. It was also agreed that a married woman should portray Christine, an actress who could better empathize with her loss of a child. They were right, of course, and Angelina is very believable in the part.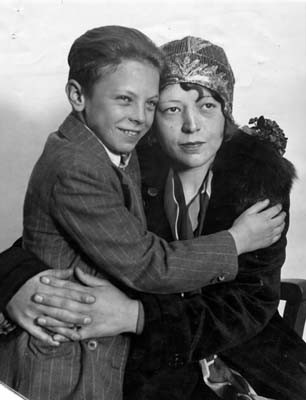 Publicity shot of Christine
and Arthur Hutchens
Quite possibly the most astonishing aspect of the Christine Collins story is the way the authorities, aided and abetted by doctors and psychologists, insisted that the boy Arthur Hutchens was actually Christine's son, Walter. Even when she categorically refuted this they maintained that position until, faced with her continued abject refusal to accept Arthur as her boy, they declared her mentally unstable and committed her (without warrant) to a mental institution. And she was not the first woman to fall foul of this abominable method of disposing of troublesome individuals.
Changeling contains a number of anachronisms, some of which are, surprisingly, quite obvious. The story is set in 1928 (until about 1935), so it is rather sloppy writing for it to include expressions such as 'don't go there' (popularized in the 1980s), 'put out an APB', ('all points bulletins' originated in the 1960s), 'a sandwich in the fridge', (refrigerators were new east coast inventions in 1928. Besides, Californians used the word 'icebox'), and the term 'serial killer', used by Detective Ybarra here, was not coined until FBI Special Agent Robert K. Ressler did so in the 1970s.
Also, the electro-shock therapy we see operating in 1928 would not be used on humans until Italian doctor Ugo Cerletti took a crack at it in 1937. We are given a glimpse into Christine's refrigerator and it contains an obviously pre-sliced sandwich in a clear plastic bag, neither of which was available in March 1928. Inexcusably, police officer Jeffrey Donovan's left ear is clearly pierced, something that would have been completely impermissible for a policeman anywhere on the planet at that time. And the scene in which It Happened One Night is announced as the Academy Award winning picture in 1935 could not have happened. The Oscars were not the phenomenon in 1935 that they are today. There was no direct broadcast of the ceremony back then because nobody outside the industry was much interested.
Christine meets Northcott in San Quentin
There were several understandable liberties taken with the facts in Changeling. Plus a couple that are quite puzzling. The film is based on the notorious Wineville Chicken Coop Murders of the mid-twenties, but the focus is very squarely on Christine, the mother of one of the boys kidnapped by the perpetrator of these horrendous crimes, Gordon Northcott. For dramatic purposes she is shown attending Northcott's execution in the movie but, in reality, she spent the morning of his hanging in the home of the warden of San Quentin Prison, comforting the mother of the Winslow brothers, two of the condemned man's known victims.
Sarah Louise Northcott
For some reason (probably because the length of the feature began to be a concern), Eastwood chose not to mention Northcott's mother at all. Sarah Louise Northcott was directly involved in the killings and confessed to committing at least one of them herself. Both she and her son made confessions which they later retracted. Northcott was hanged in 1930 (he was 23), and his mother served 12 years in prison, convicted of killing Christine's boy Walter. In 1930 the residents of Wineville chose to change the name of their town, such was the notoriety connected to the case. Today it is called Mira Loma.
Sanford Clark 1928                        LAPD's Captain J J Jones 
The young 13 year-old nephew of the killer, a lad named Sanford Clark, confessed to helping his uncle in exchange for himself being spared, and was sentenced to five years in prison for doing so. A sympathetic Los Angeles District Attorney, Loyal Kelly, managed to get the boy's sentence reduced to 23 months. Sanford returned to Canada, fought for his country during World War Two and worked as a mailman for the next 28 years after the war ended. He married, adopted and raised two children, and spent the remainder of his life serving local community causes. He passed away in 1991.
Chief of Police James 'Two-gun' Davis
One final word on the outcome of the Chicken Coop Murders and the abominable treatment of Christine Collins by the LAPD's Captain J.J. Jones and Chief of Police, James E. Davis. Jones was ordered to pay Christine $10,800 in damages – a lot of money in 1929 – but he never did. A city council welfare hearing recommended that both men be removed from their posts in the LAPD. The disgraced officers were reinstated later, once the furore had subsided, by the equally corrupt Mayor of Los Angeles, Frank Shaw. In truth, the LAPD would continue its corrupt practices for several decades more (see L.A. Confidential). The only thing that changed for the good was the introduction of new Californian State legislation that forbade police officers to arbitrarily commit someone to a mental institution without first obtaining a warrant.
The conduct of Chief of Police Davis and the officers under his command is something that is difficult to imagine today. 'Two-gun' Davis, as he was known, not only licensed his men to kill anyone caught in the act of committing a crime, but he encouraged them to shoot first and ask questions later – or not at all. Every criminal they gunned down in the streets was one less competitor to deal with, for the biggest and most successful gang in Los Angeles was the LAPD itself. Many of its detectives and officers were, in effect, hitmen with badges. In fact, they even hired themselves out to criminals as 'protectors' on occasion.
Angelina Jolie as Christine Collins
Changeling is one of those 'true stories' that give us pause to think. I had never heard of the Chicken Coop Murders, although I was aware of the widespread corruption existent in the LAPD for many decades. Even so, I was appalled to think that any police officer could simply lock a perfectly sane person away in a mental institution, without certification, if it suited his situation. I am surprised that the producers of Changeling stuck with the title, however. For years I dismissed the film as a re-make of the George C. Scott classic supernatural thriller The Changeling of 1980, a genre I am not overly fond of. My wife convinced me to watch this 2008 drama and I am very glad she did.