Here are a few unrelated 'snippets' from the good old days of the 'Silent Era'. Some of them you may already know about; others you may not. But each one contributes to our knowledge and understanding of that long ago age when the movies were still a thing of wonder and the stars of those movies were whatever and whomever the studios told us they were. Of course, the reality was a far cry from the glossy picture painted by the studio publicity machines. And the coming of 'sound' did not alter that one iota.
      Dorothy Granger               
The movies have always relied heavily on the professional services of countless extras and bit players, character actors in roles of all sizes, without whom all the efforts of the stars would be wasted. Many of these performers cut their teeth in vaudeville and burlesque, on stages all over the USA and Great Britain; even as far away as Australia. Consequently, they came to the movies already steeped in experience, specializing in whatever niche of the entertainment industry that had kept them working for most of their lives. One such player was an American comedienne named Dorothy Granger.
Dorothy & Charley Chase
Dorothy worked with many of the great silent comedians in dozens of two-reel shorts and the occasional feature film. She was experienced with stage work from the age of three, honing her craft across the nation, until vaudeville and burlesque had run their course and were replaced by the 'flickers'. She began appearing in 'shorts' starring the likes of WC Fields, Harry Langdon, Andy Clyde and Laurel & Hardy. Charley Chase was especially fond of her as was Leon Errol. These world-renowned funny men, to her surprise, were very different away from the screen. 'They were generally very serious', she recalled. 'And not like these comics today who are always 'on'. They regarded comedy as their profession, that's all.'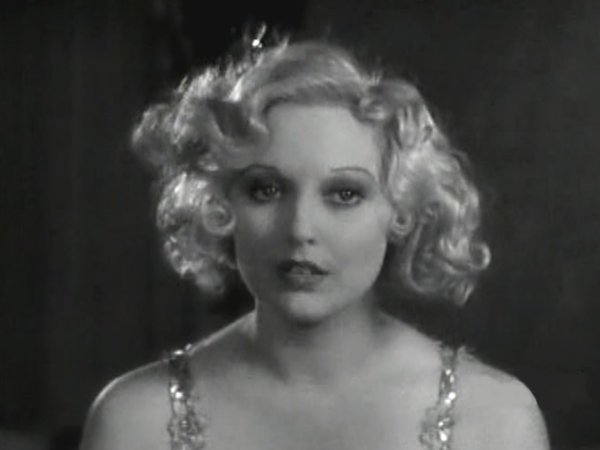 the irrepressible Thelma Todd
She worked alongside many of the top actresses of her day as well. 'Thelma Todd had a terrific sense of humour; she was always laughing, always breaking up', she said. 'I was doing a picture with Charley Chase called Looser than Loose, with Dell Henderson, Thelma and myself. Something tickled Thelma and me; we started laughing and we couldn't stop. She and ZaSu [Pitts] used to just look at each other and start to laugh. They'd have to do fifteen/twenty takes.' Thelma would die young, presumably by accidental monoxide poisoning in her parked car inside her garage, although rumours still persist that she may have been murdered.
                                                                          ******
Garbo in the 20s
David Niven once wrote that the first naked woman his sons ever saw was Greta Garbo as she happily swam about in their pool. Discarding her clothes was nothing new or of much concern to the Swedish legend. When informed that a servant was picking up a sly buck or two charging complete strangers to observe her naked aquatics from a nearby window she merely laughed it off. At home she would often garden in the nude within sight of the street and passers-by.
Dietrich
Upon her arrival in Hollywood the publicity machine at MGM was ready for her. Fellow European Marlene Dietrich was already in the movie capital flaunting her bisexuality and causing headaches at the front office. The last thing Louis B Mayor needed was for the two women to get together, their lesbian proclivities being common knowledge to those in the know. It was rigidly enforced that they were never to be at the same place at the same time, so the two stars (who may have been former lovers in Europe anyway) never officially met in Tinsel Town
                                                                              *****
Marion Davies                                  Hearst in his younger days                                 
While Marion Davies was with MGM in 1924, her lover William Randolph Hearst had built for her the most elaborate and opulent dressing-room in Hollywood history. It contained no fewer than 14 bedrooms, a dining room, a sitting-room, a study complete with walk-in fireplace, a master kitchen and pantry, plus four bathrooms. When Jack Warner lured her to Warner Bros in 1934 she arrived with her bungalow as well. At extraordinary cost it was trucked across town in four separate pieces. This meant streets had to be blocked off, traffic re-routed and phone and electricity wires raised. Three short years later she left Warners.
*****
Gorgeous Clara Bow
Clara Bow's parents were indeed the parents from Hell – a drunken, no-good father and a mentally unbalanced mother, who attempted to kill the girl with a butcher's knife at least once. Sarah Bow considered actresses to be no better than prostitutes and felt compelled to 'save' her daughter from a life of sin by dispatching her as she slept. Fortunately for Clara, her mother fainted before she could go through with it.
Clara & her father
When Clara hit it big in Hollywood she was quickly joined by her good for nothing father. Possessed of a kind and forgiving nature, she took him in and stood by as he squandered most of her hard-earned money. He also played on his being the father of Clara Bow, using that to accumulate young women as bed-mates. Whether or not he continued to sexually prey upon his now famous daughter remains a subject for debate among historians even today.
with Artie Jacobson 1923     and with Gilbert Roland    and a young Gary Cooper
The first of many romances for Clara was with cameraman Arthur Jacobson, a man who helped the 17 year-old Clara get a firm foothold in Hollywood after she had won a 'Fame and Fortune' beauty contest in New York City. They met on the set of Grit (1923), a film that has, unfortunately, not survived. One of her earliest co-stars was Mexican up-and-coming actor Gilbert Roland. The former bullfighter and the future 'It Girl' were instantly smitten when they met on the set of The Plastic Age (1925). There would be many more lovers for Clara, among them Gary Cooper.
                                                                                *****
Joe Schenck                                     Norma Talmadge                    Norma & Gilbert Roland
Joseph Schenck was not a handsome man, but he was the New York head of MGM and he was loaded. So actress Norma Talmadge married him. He gave her a movie career, a Rolls Royce and a 10 carat diamond ring. She repaid his generosity by sleeping with all her leading men and having a 2-year affair with the afore-mentioned Mr. Roland.
*****
Ruby Keeler
Ruby Keeler was born to Canadian-Irish parents in Nova Scotia in 1909 or 1910, depending on which sources you believe. When she was three (or four) the family moved to New York City where her father expected to find better job opportunities. He had medical issues, however and, at 13, Ruby dropped out of school and lied about her age in order to work two or three clubs a night as a singer and dancer to support the family. Her first job was in George M Cohan's The Rise of Rosie O'Reilly in 1923 and earned her $45 a week.
Harlem in the 1920s
Like most entertainers in the Roaring Twenties she worked in clubs run by the Mob. In her case she was soon being looked after by a gangster named Johnny Irish. He worked for Owney Madden who owned the Cotton Club in Harlem. And Owney was an ally of the psychopathic Dutch Schultz! Irish was much older than Ruby and a married man. It would seem his only interest in the girl was as her protector and mentor (he ran Schultz's night-spots for him). Ruby always said she was aware that mobsters were around at the clubs where she worked, but she never knew who was who. By all accounts she was pretty naïve.
The El Fey club on West 48th street                 Texas Guinan
By 1926, sixteen year-old Ruby was performing at Texas Guinan's El Fey Club, a speakeasy in New York City, and catching the eye of performers and producers alike. Al Jolson met her in Los Angeles (not at the El Fey, as he liked to say), was smitten and proposed marriage at once. His mother claimed that his proposal came with a million-dollar dowry! He was also savvy enough to advise Johnny Irish of his intentions beforehand. The mobster gave his blessing, along with a reminder that Al would pay with his life if he ever mistreated the girl. In the meantime Ruby must have impressed producer Flo Ziegfeld, who sent her a note that read simply: 'May I make you a star?'
Jolson & Ruby honeymooning 1928
                                                                                            *****
William Desmond Taylor    Mary Miles Minter          Charlotte Shelby
While silent movie director William Desmond Taylor's murdered body lay on his living room floor in 1922 and police scuttled around it, supposedly looking for clues to the identity of his killer, several individuals were busy burning papers in his fireplace! District Attorney Thomas Woolwine even removed physical evidence from the scene, took it home with him – and then misplaced it. Perhaps, the fact that prime suspect Charlotte Shelby was a personal 'friend' of his may have had something to do with this bizarre behaviour. She was heard to comment in 1923, when told he had lost his job in, that his replacement 'would require a lot more money than Woolwine.'
Mabel Normand
Neither Charlotte nor her daughter, popular actress Mary Miles Minter, was ever questioned by police, even though both were known to have been lovers of the deceased. So were a lot of other actresses, for that matter. Comedienne Mabel Normand (another of his lovers) dined with him the evening of his death and was probably the last person to see him alive (other than his killer, of course). Shortly after Mabel left, a neighbour heard what she thought was a car back-firing, looked out her window, and saw a covered figure scurrying away with what she described as an 'effeminate walk'.
Paramount Studio executives were called before any calls went out to police, and they quickly removed all of the dead man's correspondence (except for a few letters hidden in his boots), got rid of all his bootleg liquor (Prohibition was in force), and even cleaned up the murder scene, blood and all! It has since been theorized that Taylor's position as Chairman of the Board of a commission against drug distribution on film sets may have led to him being murdered by a hitman. Mabel's own cocaine and heroin addiction alone was costing her $2,000 a month! In the 1920s that was a lot of money. The business was huge in Hollywood so the theory has some weight. Mabel died of tuberculosis eight years after Taylor, by the way. Her last words were said to have been: 'I wonder who killed poor Bill Taylor?'
Carl Stockdale – Charlotte's alibi
Mary Miles Minter was apparently obsessed with the deceased man and made no secret of it. In fact, she was involved with several men before she was 20, a problem that drove her mother, Charlotte Shelby, into fits of rage. Various writers have argued that a) Mary accidentally shot Taylor during an embrace, or b) that Charlotte shot him because public awareness of a romance would ruin Mary's budding career. Taylor, on the other hand, complained to friends that Mary was making unwelcome advances, and that he was old enough to be her father. Actor Carl Stockdale swore that Charlotte was with him during the hours that the murder took place, thus providing her with an iron-clad alibi. It is now known, however, that she paid him $200.00 a month for life from then onwards! No-one has since been able to ascertain why she would do so.
In 1964 an old lady named Pat Lewis suffered a heart attack and asked for a priest to take her confession. None was nearby, so she confessed her sins to the person attending her, a neighbour named Ray Long. She told him she had murdered a man named William Desmond Taylor over forty years earlier in Hollywood when she was an actress named Margret Gibson. Long had never heard of Taylor or the murder. An actress named Margret Gibson had once co-starred with Taylor in a movie called The Kiss in 1914. She and Pat Lewis were indeed one and the same person, but did she kill Taylor all those years ago? There are several theories but nothing definitive about who did it. His death remains a mystery.