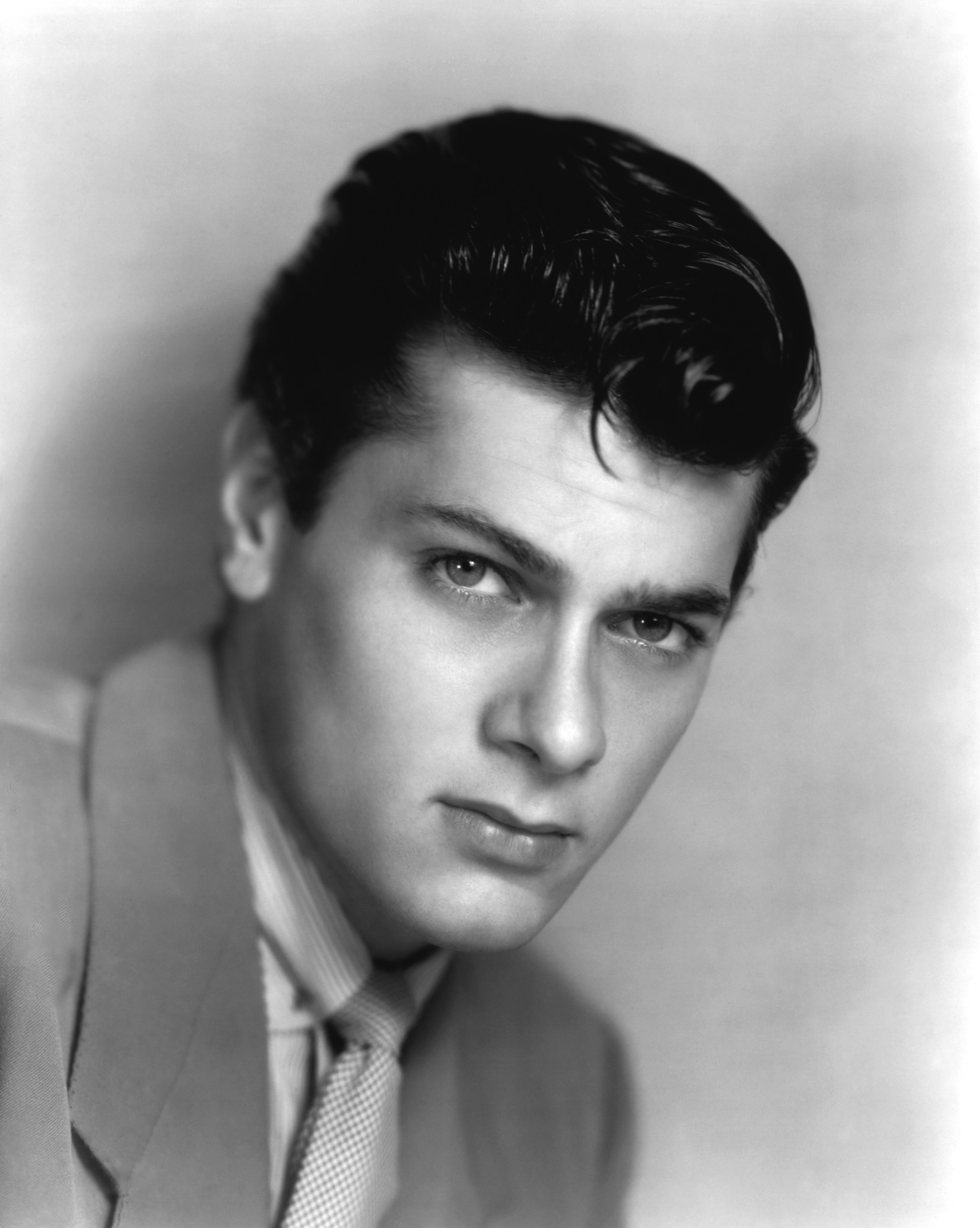 Tony Curtis circa 1948
'I was 22 when I arrived in Hollywood in 1948', Tony Curtis stated in a 2002 interview with gay magazine, attitude. 'I had more action than Mount Vesuvius – men, women, animals! I loved it too. I participated where I wanted to and didn't where I didn't. I've always been open about it'. Although that rather 'tongue in cheek' response hinted at bisexuality, his final autobiography American Prince made it very clear he steered clear of any homosexual situations. As for the 'animals', well, that is just Curtis being a little outrageous. When asked the secret to a long and happy life the old star replied: 'Young women's saliva'. In 1998 he wed wife number six. She was 27 and he was 73! Ah- true love. You can't beat it with a stick. Curtis died in 2010 at the age of 85.
2004 – Tony & wife # 6
Jill Vandenburg
Young Norma Jean, soon to
be known as Marilyn Monroe
To say that he had a lot of girlfriends in his life would be the understatement of the century. Blessed with astonishing good looks and enormous charm, he cut a swathe through Hollywood's beauties that rivalled the town's most accomplished womanisers. Among his numerous conquests was a young, pony-tailed redhead teenager who would later change her name to Marilyn Monroe and star opposite him in the 1959 smash hit comedy Some Like It Hot. He would bring her back to his Malibu beach house. 'Her bosoms weren't what they were later and her legs were a little scrawny, but she was putting it all together', he condescended. 'She was an exquisite woman. But there was a bit of tragedy with her. She just didn't have enough safeguards, she was always falling into places that caused her trouble…She was fragile, and that had a dire effect.'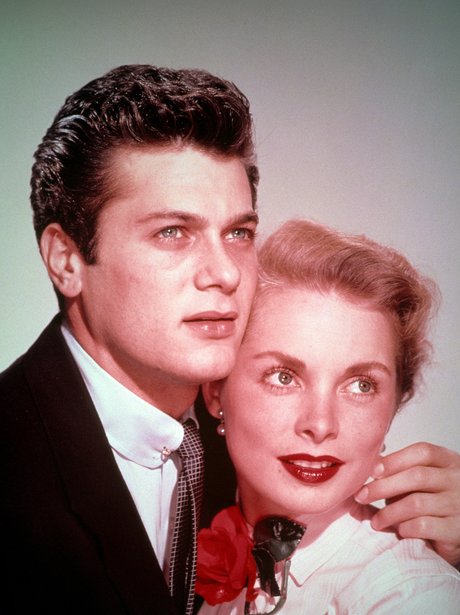 Newlyweds – Tony & Janet
In his later years he loved to tell a story about his early acting school days at the President's Theater in New York City. He didn't learn much there or gain the respect of his peers, certainly not as much as his class-mates Walter Matthau and Jack Klugman did, but his extraordinary looks gained him a small movie role long before either had gained a toehold in the business. The studio gave Tony the use of a limousine and driver in New York, so he asked to be driven over to his old acting school. Outside the building, standing in the heavy rain and looking quite miserable, was his former class-mate Matthau. 'See that guy standing over there', Curtis said to his driver, 'pull over so I can talk to him.' Before Matthau could even open his mouth, Tony rolled down the window and yelled at the top of his voice, 'I fucked Yvonne de Carlo!' Then he ordered his driver to drive off. That Curtis could happily recount this story even in his eighties tells us a lot about him.
An early conquest – Yvonne de Carlo
His memories of the starlet system in the Hollywood of the 50s: 'These girls of 18 or 20 were fodder. All the guys at the studios, including myself, would feast on them, taking their sweetness. There were a lot of them. I don't remember their names. Then they would go home and get married. Poor darlings. They came and went.' In his own words, 'There was a lot of pussy – always a lot. I don't mean to be disrespectful, but that was my aim in life – the girls. And I took a personal pleasure in it, obviously, because it had nothing to do with me, I was just a nice-looking guy. Listen that was one of the best gifts I had. What am I gonna do, put it down? Say it's nothing? I knew I was handsome and I played the part.' It is difficult to determine if he was more vain than the other male stars in Tinsel Town, or whether he was the only one who openly bragged about his looks.
He admitted that he married the beautiful and established actress Janet Leigh 'partly for the publicity', saying that she often found him to be an embarrassment to her. That led, said Tony, to him finding comfort in the arms of less critical women conceding, however, that he was a victim of an unstoppable erotic drive; 'I was erupting every 20 minutes!' he recalled. Really? 'I shouldn't have gotten married', he mused, 'but Janet had entrée to everybody in the movies, so to me it was very valuable, but I had a good life with her, and two kids.'
Wedding day 1963 to Christine Kaufman
He became estranged from his family who sided with Janet, especially after he married 17 year-old Christine Kaufman, an actress he met on the set of Taras Bulba in 1962. While making Lepke in 1975 he was introduced to cocaine and remained in its grip for a decade. His career went down the toilet, his life was endangered, and only a stint in rehab saved him in the end. His final years saw his daughters having contact with him, particularly after Janet passed away in 2004. Six years later he joined her in death.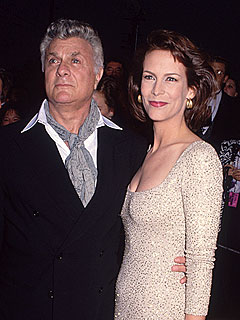 Reconciled (kind of) – Tony
and daughter Jamie Lee
Brooke Shields publicity shot,
aged 12, for Pretty Baby (1978)
Brooke Shields began her career as an Ivory Snow baby and was posing nude for photographers by the age of nine. In 1983 she unsuccessfully sued a photographer for marketing naked pictures of her taken in those early years. One of these photographs, showing a buck naked 10 year-old Brooke in heavy makeup, sold at Christie's years later for nearly $1 million. The presiding judge called her 'a hapless child victim of a contract to which two grasping adults bound her'. And then he ruled against her.
Mr & Mrs Andre Agassi 1997
Despite being rather flat-chested as she grew into womanhood Brooke was swamped with diamonds and gifts from several Arab princes wanting to wed and bed her. For a time it appeared likely she would marry one of them sooner or later. To the surprise of many, however, she chose tennis ace Andre Agassi instead. Their marriage was annulled after two years to enable Brooke to marry her second husband in a Catholic church.
In The Blue Lagoon (1980)
A body double is used for her nude sequences in her 1980 film The Blue Lagoon, and she spent much of the shoot in a trench when walking or standing alongside her co-star Christopher Atkins. At fourteen she was already 5'10" tall while eighteen year-old Chris was just 5'6" at the time. Producers were also concerned about the boy's appearance so they permed his hair to make him appear 'more savage'. It didn't work. Throughout the entire film he looks about as savage as a chrysanthemum. After the collapse of her first marriage Brooke eventually found happiness with writer/producer Chris Henchy in 2001. They have two children.