When British actor Benedict Cumberbatch used the term 'coloured people' on American television in January 2015, he inadvertently opened up a can of racist worms. It almost defies belief that this young man was attacked for using the term whilst in the middle of personally condemning the inequality that exists in his profession with regard to opportunity for black actors. The fact that he was standing in support of equality for black actors meant little to the nitpickers who slammed him for incorporating those two words in his statement. The anti-racism charity 'Show Racism the Red Card' magnanimously applauded his overall sentiment but condemned his use of the 'coloured people' term. Mr. Cumberbatch might be better off keeping his mouth shut in future and letting them fight their own battles.
Oops!
His precise words on the PBS talk show Tavis Smiley were as follows: 'I think as far as coloured actors go, it gets really different in the UK, and a lot of my friends have had more opportunities here[in the US] than in the UK, and that's something that needs to change. Something's gone wrong, we're not representative enough in our culture of different races and that really does need to step up a pace.'
The following Monday he issued a public apology: 'I'm devastated to have caused offence by using this outmoded terminology. I offer my sincere apologies. I make no excuse for my being an idiot and know the damage is done…I feel the complete fool I am and while I am sorry to have offended people and to learn from my mistakes in such a public manner please be assured I have.' There was quite a lot more of the same, but the gist is evident enough. I only have one question – what ghastly crime did he commit to warrant such groveling? Evidently, his mistake was being born in the wrong era.
Just for the record, the word 'coloured' was adopted by emancipated slaves in the United States following the Civil War. They were proud to use the word as a replacement for 'negro' which sounded too much like 'nigger' for their liking. Furthermore, that iconic body the NAACP (the National Association for the Advancement of Coloured People), founded in 1909, clearly had no problem with the word either. In the 1960s, however, African-Americans (I hope that term is still acceptable) proudly and defiantly called themselves 'blacks' which, in my humble opinion, made a lot of sense. Apparently, today however, the term 'people of colour' is the only acceptable terminology and 'coloured people' is definitely out, as the unfortunate Mr. Cumberbatch discovered. One wonders just what will be acceptable next year.
One final note on this 'storm in a teacup'. Benedict was deservedly nominated for an Oscar that year. In fact he was in the USA preparing to journey to the Academy Awards. Voting for the winners was still in progress when he made his 'faux pas'. Did the prospect of losing the African-American vote hasten his abject apology? Who knows? But I imagine his dilemma gave a welcome boost to the voting numbers for his fellow nominees – Eddie Redmayne, Michael Keaton, Bradley Cooper and Steve Carell. Whether or not his slip made the difference between winning and losing we will probably never know. Mr. Redmayne won the Oscar.
MISTER ED (1961-66)                                
The trivia question to beat all trivia questions – 'What was the name of the Golden Palomino that played Mister Ed?' The answer? 'Bamboo Harvester'. His voice belonged to former cowboy idol Allan 'Rocky' Lane who wanted billing, but CBS producers refused him. They did not wish to upset the millions of children who believed Mister Ed could really talk. Lane made a truckload of B westerns throughout the 20s, 30s, 40s and 50s. Little kids knew and loved him as Red Ryder in several Saturday morning matinees. He retired altogether when Mister Ed folded in 1966.
Allan 'Rocky' Lane – cowboy star
The very catchy theme song is sung by Jay Livingstone, one half of the song-writing team of Jay Livingstone and Ray Evans. Jay actually sang it as a 'demo', intending to hire a professional singer to record it for the show, but the producers liked his version and chose to use it instead. Livingstone and Evans wrote some enormous hit tunes (and themes), among them – 'Mona Lisa' from the film Captain Carey, USA (1950), 'Buttons and Bows' from The Paleface (1948), and 'Que Sera Sera' from The Man Who Knew Too Much (1956). They even wrote the theme tune for the series Bonanza.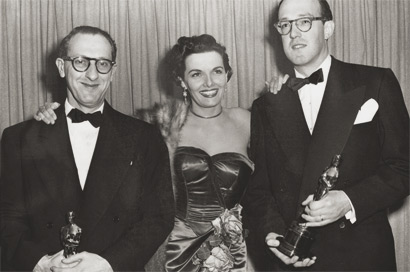 Ray Evans, Jane Russell & Jay Livingstone
with the Oscars for 'Buttons & Bows'
Alan Young and Larry Keating
Alan Young played Wilbur Post. His hair was naturally blonde, but on screen it tended to blend into the colour of Mister Ed's coat, so he was compelled to dye it black for the show. Eight years later, after the series ended, he reverted to his original colour. Young flatly refused to have the show named after himself or even his character. He did not wish to shoulder the blame if it flopped. If you ever wondered why Roger Addison's character disappeared after the third season, it is because Larry Keating, the actor playing him, passed away in 1963. As for 'Bamboo Harvester', well, he turned up his horseshoes in either 1968, 1973, 1974 or 1979, depending on which source you care to credit.
John Huston
Huston, Peter Lorre, Astor & Bogart
The Maltese Falcon (1941)
John Huston was a serial philanderer, but one who made little effort to conceal his dalliances from his long-suffering wife. His affair with Mary Astor during the making of his first film The Maltese Falcon in 1941 was scarcely over when he became embroiled with his next leading lady Olivia de Havilland. Friends at the 1942 Oscars evening observed him seated alongside his wife, yet blowing kisses to Olivia across the empty dance floor. And the 'butter wouldn't melt in her mouth' Miss de Havilland was returning them with similar disregard for the presence of Mrs Huston. It was clear to all that John and Lesley Huston's five-year marriage was about to end. As his assistant-director and friend Vincent Sherman noted: 'The poor guy is having troubles. His wife comes in one door as Olivia de Havilland is walking out the other…' Huston's home movies at the time brazenly show the lovebirds romantically clowning in his pool; Olivia throwing her arms around him and climbing on his back.
Huston and de Havilland cavorting in his family pool
Olivia & Errol – lovers?
At a party thrown at the home of David. O. Selznick just before VE Day, Olivia became the focus of a violent argument between Huston and Errol Flynn who had been pursuing her for some time. Opinions differ on just how successful that pursuit had become. 'I remember that the language on both our parts…was about as vile as it could get,' recalled Huston later. 'Errol started it, but I went right along with it.' Both men ended up in hospital, Flynn with broken ribs, Huston with a broken nose.