Patrick Swayze was born in Houston, Texas in 1952 to a devout Roman Catholic mother who was a dancer, instructor and choreographer. He acted in school plays as a teenager and played high school football. A serious knee injury put paid to his promising football career, but he was one of those gifted souls who could do just about anything he tried his hand at. He was also a very determined young man who worked relentlessly to perfect whatever activity he pursued. Later in his life, his co-stars in The Outsiders were in awe of his accomplishments when they heard he was joining the cast. 'He was an expert dancer, he wrote hit songs, he starred in hit movies, he was an amazing horseman', recalled Rob Lowe, one of the youngsters who made up the cast. Indeed, all the players, with the exception of Patrick (31) and Tom Cruise (21) were teenagers who would go on to big careers – future hot-shots such as Lowe, Matt Dillon, Diane Lane, Ralph Macchio, Emilio Estevez and C Thomas Howell. 'He is as cool as you want', went on Lowe, 'wearing tight jeans and a tattered, sleeveless Harley-Davidson T-shirt revealing his massive, ripped arms.' Rob (and the others) were clearly impressed by Patrick's accomplishments. He was a gymnast, a martial arts exponent, singer, dancer (ballet and modern), horseman, choreographer and actor. He even ice-skated brilliantly!
in The Outsiders (1983)
Patrick Swayze became a star through his determination and a lot of hard work. He studied gymnastics at San Jacinto College for two years. In 1972, at the age of 20, he moved to New York and enrolled at two ballet schools, intent on completing his formal dance training. His professional life kicked off when he landed the part of Prince Charming in the Cinderella segment of Disney on Parade. He toured with the company, performing on ice; and one of his early Cinderellas was the then unknown Michelle Pfeiffer. Before long he was playing Danny Zuko in the Broadway production of Grease. His first movie appearance was in the ordinary Skatetown, USA (1979), before a couple of TV engagements (M.A.S.H and The Renegades episodes) led to The Outsiders in 1983.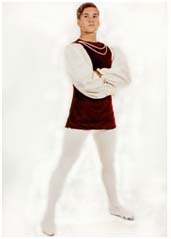 Patrick as Prince Charming
His breakthrough role came in 1985 with the highly popular TV mini-series North and South. He played Orry Main, a young man from South Carolina who enrolls at West Point Military Academy, and befriends a northerner named George Hazard (played by James Read), just in time for the American Civil War to erupt which, of course, places them on opposing sides throughout the conflict. Despite a number of very beautiful women in the cast, Swayze's name was never connected with any of them. In fact, throughout his career he was never (to my knowledge) involved with any women other than his wife of 35 years, Lisa. In Hollywood and the movie industry in general that made him something of a rarity.
as Orry Main in North and South
Patrick met Lisa in 1970 when she attended his mother's ballet school. He was 18 years old; Lisa was only 14. They began dating a year later and were married in June, 1975. They moved to New York to pursue their dancing careers, then later to Los Angeles in the late 70s. Born Lisa Anne Haapaniemi, she changed her name to Lisa Niemi for acting purposes, but became known as Niemi Swayze for the next three and a half decades. She and Patrick started a construction company, raised horses and bought two ranches after he became a big star, one near the Angeles National Forest, the other in New Mexico. A licensed pilot, Niemi often flew her husband around, particularly in his final years when he needed to see specialists. Fans of the 1990-1 TV series Super Force would recall her playing Carla Frost in 23 of its episodes. In 2014, five years after Patrick's death, she married a jeweler.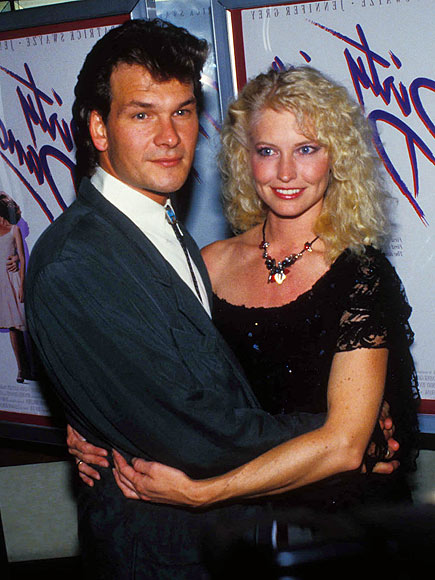 Patrick and Niemi
Although he made about 40 movies and a couple of TV series, Patrick will be remembered for two iconic performances in two extraordinarily popular movies – Dirty Dancing (1987) and Ghost (1990). Personally, I still find it unfathomable how the first one (Dirty Dancing) became such a monster hit – but it most surely did. In fact, it became the very first movie in history to sell a million videos. It has also raked in a staggering $214 million worldwide, although it was a low budget enterprise (just $6 million) by a new studio, Great American Films Limited Partnership. The only actor of any real renown to sign for it was Jerry Orbach, a distinguished Broadway player who portrayed 'Baby's' father. Jennifer Grey starred opposite Swayze as his romantic interest, (the annoyingly named 'Baby'), and she caused a few problems on the set. 'She'd slip into silly moods, forcing us to do scenes over and over', he said later. 'We did have a few moments of friction…she seemed particularly emotional, sometimes bursting into tears if someone criticized her.' Ironically, it was Swayze who had to literally talk her into making the picture in the first place, because she had disliked him intensely when they made Red Dawn together back in 1984. Patrick was 35 and Jennifer 27 when they made Dirty Dancing, incidentally. Such was the enormous success of this monstrosity that Patrick was offered the then huge sum of $6 million to make Dirty Dancing II, but he was not a fan of sequels and turned it down. (Thank you, God).
Jennifer Grey (Baby) and Patrick in Dirty Dancing
Dirty Dancing spawned two hit singles – 'I've Had the Time of My Life' and 'She's Like the Wind. Swayze not only co-wrote the latter, but he also sang it in the film, and he sang it very well too. It became a top 10 hit. Similarly, Ghost (1990) revived the Righteous Brothers hit of 1955, 'Unchained Melody', and turned it into a hit all over again when it played during the famous clay pottery-making scene between Patrick and Demi Moore. Once again, Swayze had starred in a film with a relatively low budget ($22 million) that grossed through the roof – $505 million! Indeed, it proved to be the highest grossing film of 1990.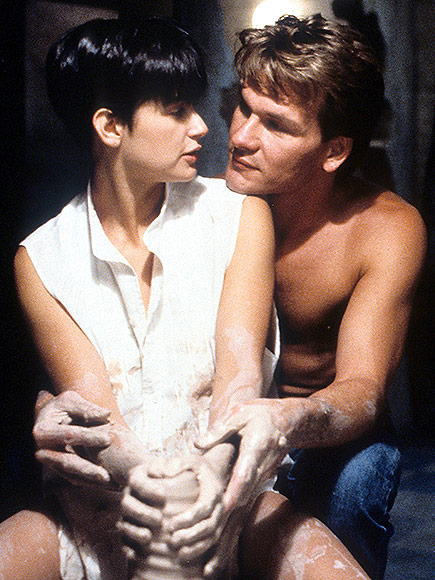 the Unchained Melody scene in Ghost (1990)
In January 2008, Patrick was diagnosed with Stage IV pancreatic cancer and given just six weeks to live by a specialist. He had been a 60 cigarettes a day smoker for much of his life. Six months later he was asked by a reporter in Los Angeles about his health. 'I'm cooking. I'm a miracle dude. I don't know why', he replied. He passed away on 14 September 2009, twenty months after being diagnosed. When questioned some months earlier about having terminal cancer, he replied: 'I've had more lifetimes than any ten people put together, and it's been an amazing ride…So this (dying) is OK.' Patrick Swayze was a class act – right to the end.