Over 14 seasons (1959-73), none of the sons in Bonanza ever had a steady girlfriend, and little wonder, for they never changed their clothes! It was agreed early in the series to keep each actor in the same clothes so that stock footage could be drawn upon in later episodes and save on filming costs. Any love interest for any of the boys ended in one of three ways: the girl either died from some illness, was killed, or ran off with someone else. Even Little Joe's brief marriage ended in tragedy very quickly when his new bride died in one of the last episodes. Lorne Greene (Ben) was not the star of the show, by the way. All four Cartwrights shared equal billing, hence the opening credits would alternate the order of names each week. Only Michael Landon did not sport a hairpiece. Even Blocker wore one towards the end once his hair began falling out in his forties. Roberts was almost bald and Greene wore a modest frontal piece.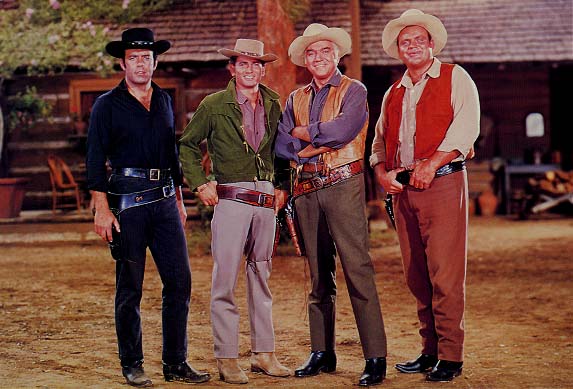 The same clothes every week for 14 seasons!
Bing Russell as Deputy Clem Foster
Ray Teal as Sheriff Coffee
I suppose aficionados of the series would know this, but for casual observers it might be interesting to learn that Ben Cartwright's three sons were the offspring of three separate marriages, each one to a woman of differing ethnicity. Adam's mother was an English girl named Elizabeth; Hoss's mother was Inger, a Swede, and Little Joe's mum was a lady of French-Creole origins named Marie (played by Jack Lemmon's wife Felicia Farr). Sheriff Roy Coffee in nearby Virginia City was played by Ray Teal, and his deputy, Clem Foster, by Bing Russell, the real life father of actor Kurt Russell. Initially slotted into Saturday night, the series fared poorly and looked like folding altogether until it was shifted to 9pm on Sunday nights. Within two years it had rocketed to the #1 show on American television.
Ben & Elizabeth                           Their son Adam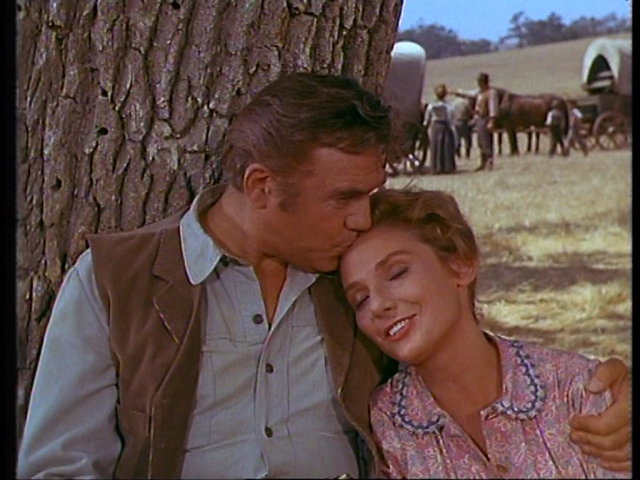 Ben & Inger                                     Their son Hoss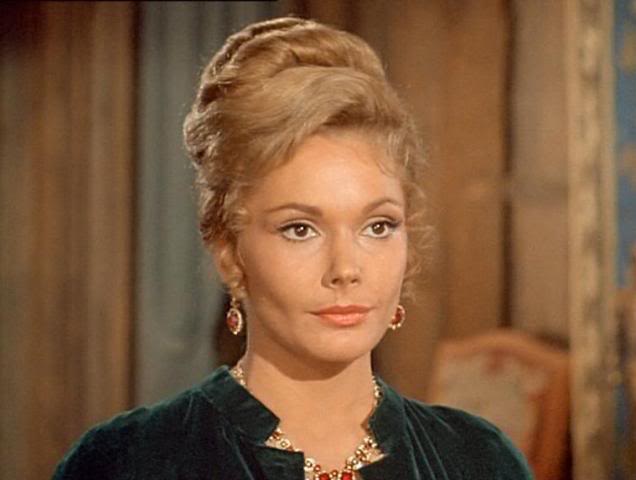 Felicia Farr as Marie, mother of Little Joe
When the series began in 1959 Lorne Greene (Ben) was 44 years old. Two of the actors playing his sons; Pernell Roberts (Adam) and Dan Blocker (Hoss) were both 31! Adam (Pernell Roberts) left the series in the 6th season. He became bored with it. He also hated his over 30 years old character having to get 'Pa's' permission whenever he wanted to do anything or go anywhere. But there was more to it than that. He felt the scripts were 'demeaning to women' and tended to glorify wealth in an age of poverty. He unsuccessfully pushed the producers to allow his character Adam to marry a Native American played by a black actress. Needless to say, the chances of the network taking such a risk with a top of the ratings series were less than zero, and he knew it. After 202 episodes he pulled the pin and returned to stage work. The show's writers had him 'going away to sea' and later 'immigrating to Australia'. Curiously, Guy Williams had been the first choice to play Adam anyway, but he opted for the lead in Disney's Zorro instead. It ran for 82 episodes (1957-61), but its success scarcely compared to that of Bonanza.
Pernell Roberts minus his hairpiece
Lorne Greene too
Michael Landon later said that Roberts' departure simply meant that the remaining stars of Bonanza got to split the money three ways instead of four. All three actors became very rich, while Roberts' career took a nosedive for a decade or so. Oddly enough, in the first season the guest stars were paid considerably more than the four stars of the show because Greene, Roberts, Blocker and Landon were not very well known. Of course, once they were a hit all four men were quick to negotiate major increases in pay that continued to rise for over a decade or more.
In case you ever wondered what Hoss's real Christian name was. Well, he was christened Eric Haas, the 'Hoss' emanating from his middle name. Dan Blocker was, according to the producers, the least troublesome of the four stars, probably because he never really thought of himself as an actor. The crew all said he was 'the least actor-ish as well as the most likeable'. Sadly, in May 1972, he unexpectedly died from a pulmonary embolism following an operation to remove his gall bladder. The writers waited until the release of the tele-movie Bonanza: The Next Generation to explain to viewers that Hoss had drowned while trying to save a woman's life. Blocker's popularity was such that the series could not survive without him. By 1973 it was no more. At the height of the series' popularity Blocker owned a string of 'Bonanza' steakhouses. The new owners later changed the name of them to 'Ponderosa'.
Michael Landon's character Little Joe appeared in 402 of the series' 416 episodes. Producer David Dortort said Landon became more and more 'difficult' as the series wore on, especially in the final five seasons. 'Nearly every line, every scene, every set-up…everything would halt for endless story conferences on the set', he said. 'It got increasingly bitter toward the end.' In the last of the three Bonanza tele-movies it was revealed that Little Joe had been killed in the Spanish-American war while serving with Teddy Roosevelt's Rough Riders. Actually, Dortort favoured signing either Robert Blake or Robert Fuller for the part of Little Joe, but his wife was so impressed by a publicity still of Landon that she talked him into hiring him instead. Landon became a monumentally popular pin-up among juvenile females. They were (of course) unaware that he had undergone plastic surgery to correct his ears which used to stick out rather prominently.
When Bonanza premiered in 1959 most fathers in American sitcoms were depicted as weak individuals dictated to by their wives. Dortort intended to produce a series that would show the father in a more positive, inspirational light, but he needed hour-long episodes to work on this. And he wanted them to be in color as well. The construction of the Ben Cartwright character into a wise, understanding and sympathetic matriarch was so successful that the studio was inundated with thousands of letters from teenage boys who wished that he was their father! Lorne Greene was a Canadian who achieved recognition in his homeland during World War Two because of his work on the radio. During the Battle of Britain he was known as 'the voice of doom' when announcing developments for the Canadian Broadcasting Corporation.
Ponderosa Ranch, Incline Village, Nevada
In 1967 a couple of entrepreneurs named Bill and Joyce Anderson noticed that a great many tourists visited the eastern side of Lake Tahoe in search of the Ponderosa, would you believe? The couple decided to make money off the Bonanza phenomenon by building a theme park at Incline Village, Nevada, complete with a full recreation of the Cartwright's ranch house. Portions of the show were even filmed there It remained in operation until 2004.