Few character actors can boast a resume like that of the late Peter Ustinov, probably because few possessed the extraordinary qualities he possessed. Not only was he an outstanding actor in both movies and stage plays, but he was also a successful writer, director, producer, journalist and raconteur. He spoke fluent French, Russian, Italian, German, as well as his native English. He appeared in over 100 film and television productions, won two Best Supporting Actor Academy Awards, one for Spartacus (1960) and the other for Topkapi (1964), and was twice more nominated, once for his acting and once for his writing. He was also a Goodwill ambassador for UNICEF for 36 years until his death in 2004, and was knighted by Queen Elizabeth in 1990. Peter became Chancellor of Durham University in 1992 and remained so until his death. He once described himself thus: 'I am an international citizen, conceived in Russia, born in England, working in Hollywood, living in Switzerland, and touring the world.'
a young Ustinov
His father was a German pilot in the First World War and met Peter's mother, Nadia, when she worked for a ballet and opera company in St. Petersburg in 1920. They married and emigrated to London in 1921 (to escape the Russian Revolution) when Peter was 7 months old. In 1942 Peter enlisted as a private in Britain's Royal Sussex Regiment, serving throughout the war as batman to Lieutenant Colonel David Niven. The men became lifelong friends.
Lt. Colonel David Niven in WW2
Ustinov first came to the notice of the movie-going public with his sensational portrayal of Emperor Nero in Quo Vadis (1951), winning a Golden Globe and being nominated for a Supporting Actor Oscar. As so often happens with the Academy Awards he was torpedoed for the Oscar primarily because his fellow actor Leo Genn was also nominated in the same category for the same movie. Nominees from the same production rarely taste success at Oscar time. Nevertheless, Peter's performance clearly outshone everyone else's in Quo Vadis and began his rise to international stardom. He once remarked on director Mervyn LeRoy's advice on how to play Nero. 'I see Nero as a guy who plays with himself nights.' It would be fair to say that Ustinov gave his portrayal a little more than that. For the record, Quo Vadis was so successful at the box-office it was said to have saved MGM from bankruptcy. The term 'Quo Vadis?' (it is a question, in fact) is Latin for 'Where are you going?'
Ustinov's Nero in Quo Vadis?
In 1954 he played the Prince of Wales in the Stewart Granger/Elizabeth Taylor biopic Beau Brummell. Once again the picture was only so-so, and once again Ustinov was the best thing in it. Even so, it was chosen for a Royal Command screening in London, the cast being presented to the Queen and Prince Phillip at its conclusion. A year later Ustinov joined Humphrey Bogart and Aldo Ray in the delightful We're No Angels.
with Stewart Granger in Beau Brummell
Bogart, Aldo Ray and Peter in We're No Angels
In 1960 he made two fine films – The Sundowners with Robert Mitchum and Deborah Kerr, and Spartacus with an all-star cast that included Kirk Douglas, Jean Simmons, Laurence Olivier, Charles Laughton and Tony Curtis. Ustinov's brilliant portrayal of Lentulus Batiatus, the owner of the Gladiator School from which Spartacus initiated his Slave Rebellion, scored the first of his Supporting Oscars. It is a performance that gets better each time we watch it. The picture seemed to take forever to shoot. When Peter's daughter was asked what her father did for a living, she replied, 'Spartacus'. Incidentally, his Oscar is the only statuette ever won by an actor in a Stanley Kubrick production – ever!
as Lentulus Batiatus in Spartacus
In 1962 he starred in and directed the poignant British Navy drama, Billy Budd, the picture that introduced Terence Stamp to movie-goers. After turning his hand to poetry for 30 years or so, novelist Herman Melville (Moby Dick) went back to writing another book in 1888, Billy Budd. Unfortunately, he died in 1891 before he could finish it. His biographer stumbled upon it in 1919, Melville's widow helped complete it, and it appeared in print in 1924. Ustinov purchased the screen rights in 1962 and wrote the final shooting script before directing and starring in it.

in the much under-rated Billy Budd
Topkapi (1964) was a caper film about the theft of a priceless jeweled dagger from an Istanbul museum. I found it rather slow and tedious, yet TV series creator Bruce Geller said it inspired him to come up with the idea for the smash hit TV series Mission Impossible (1966), so what do I know? It would also secure Ustinov's second Best Supporting Actor Oscar.
Akim Tamiroff and Ustinov in Topkapi
Death on the Nile (1978) would see Ustinov play Hercule Poirot for the first of six times in movies and telemovies. Albert Finney had made the first in the series (Murder on the Orient Express) in 1974, but he did not wish to undergo the uncomfortable ordeal of heavy make-up and 100 degrees temperatures expected on the Nile, so he declined to reprise his role. Peter's former real-life sister in law, Angela Lansbury, plays Mrs. Salome Otterbourne in this film.
in Death on the Nile
On October 31, 1984, Peter Ustinov traveled to India to conduct an interview with the Prime Minister of India, Indira Gandhi, for an Irish television documentary. Asked to wait in the garden, he was anticipating their meeting at any moment when she was suddenly assassinated by her Sikh bodyguards, Beant Singh and Satwant Singh. In fact, Mrs. Gandhi was walking towards their meeting when the attack took place.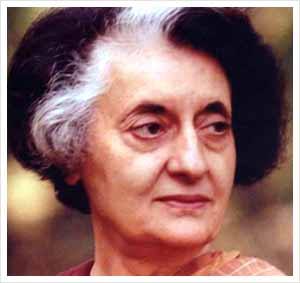 Indira Gandhi
'Path of Martyrdom'
I do not know if Ustinov was an atheist or not, but he certainly had an interesting viewpoint on religion. 'The habit of religion is oppressive,' he said, 'an easy way out of thought.' Regarding the Jewish race, he observed: 'Not only have they supplied the world with two leaders of the stature of Jesus Christ and Karl Marx, but they have even indulged in the luxury of following neither one nor the other.'
When asked about the plight of the poor in the world, he answered: 'Life is unfair. But remember, it is unfair in your favor.'