French-born Claudine Longet was the lead dancer of the Folies Bergere revue at the Tropicana Casino in Las Vegas. A year later she became Mrs. Andy Williams and was suddenly in the spotlight. Her beauty, combined with her French accent, saw her in demand as a 'guest star' on most of the high profile TV series of the sixties, culminating in a movie lead in the Peter Sellers comedy The Party (1968). Her marriage to Andy Williams produced three children and enabled her to befriend many famous people, among them Senator Bobby Kennedy. A few months after she and Andy divorced, however, Claudine Longet found herself charged with the murder of her boyfriend, Olympic skier Spider Sabich. Her trial revealed that Sabich had ordered her to move out because she and her three children were 'cramping his lifestyle'. He was then shot dead. Longet's defense attorney (whom she later married) argued that Sabich was showing her how the gun worked when it accidentally discharged. She was eventually convicted of 'criminal negligence' and sentenced to 30 days in jail, which she served after going on vacation with her attorney. In 1978 the Sabich family dropped a $1.3 million civil suit after private negotiations with Longet and her husband.
Curtis singing in The Searchers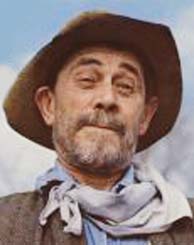 and as Festus in TV's Gunsmoke
Ken Curtis was one of those actors whose face was instantly recognized, but whose name often escaped us. There is no doubt that most people recall him playing Festus Hagen in the long-running fifties and sixties TV western series Gunsmoke. Many fans may not be aware that Curtis began his show business career as a singer in the big-band era, and was a lead vocalist for the legendary Tommy Dorsey orchestra and the Sons of the Pioneers. In fact, in 1941, he briefly replaced Frank Sinatra in Dorsey's band. It was Curtis who introduced Tumbling Tumbleweeds to movie audiences. His marriage to director John Ford's daughter Barbara lasted 12 years and saw him appear in a couple of John Wayne westerns as a comedic relief who occasionally sang a little. When his marriage collapsed in 1964, Ken's chauffeur had to break into Barbara's apartment to rescue her from an alcoholic coma. Curtis's best friend was Gunsmoke star James Arness.
David Strathairn is one of those wonderful character actors who seem to get better every time we see them. In fact, today, he can scarcely be classed as just a character actor, having played the lead quite brilliantly in Good Night, and Good Luck (2005), garnering all kinds of awards along the way, plus an Oscar nomination. Like many top-line actors his beginnings may come as somewhat of a surprise. Who would expect such a strait-laced, no-nonsense, serious player to have cut his teeth at the Ringling Brothers Clown College? In fact, this led him to working as a clown for six months in a travelling circus when he was a young man. At 66 years of age he has some impressive credits behind him already, although almost always in supporting roles. These include playing Lincoln's Secretary of State Henry Seward in Lincoln (2012), Noah Vosen in a couple of 'Bourne' thrillers, Pierce Patchett in L. A. Confidential (1997), and Ira Lowenstein in A League of Their Own (1992). Whatever he tackles he inevitably adds something of value to the production. 'I'm perceived as someone who can show up and do the job as a character actor,' he says, 'not the leading man.' A pity, because he is much better than that.
In Mary Poppins
At the height of her considerable beauty.
The delightful Glynis Johns was born in Pretoria, South Africa in 1923 on October 5, which means she celebrated her 92nd birthday three days ago. She is the daughter of British actor Mervyn Johns and was born while her parents were holidaying in South Africa. Probably best remembered as the suffragette mother in Mary Poppins (1964), and for the bouncy landlady in The Sundowners (1960), Glynis married four husbands, the first of whom, Anthony Forward (1942-48), would later become the lifelong partner of Sir Dirk Bogarde until Forward's death in 1988. It is not commonly known, but Stephen Sondheim wrote 'Send in the Clowns' specifically for Miss Johns. Today (2015), she resides in a retirement complex in Los Angeles, no doubt as vivacious and captivating as ever.
As Louie DePalma in Taxi.
Danny and his wife Rhea
It is quite possible that Danny DeVito may never have amounted to anything in the movie business if not for the surprising success of an ABC sitcom called Taxi that aired from 1978 until 1983 and made him a household name. Three years prior to that he had been fortunate enough to land a significant role in One Flew Over the Cuckoo's Nest, thanks to his long-time friendship with Michael Douglas who produced the picture, yet the exposure had done nothing to advance his movie career. As Louie DePalma in Taxi, however, he quickly became the most reviled character on TV, picking up critical acclaim and an Emmy along the way. Suddenly, he was in demand as a character actor of dubious scruples in hits such as Romancing the Stone (1984), Ruthless People (1986), The War of the Roses (1989) and Hoffa (1992). His marriage to comedienne Rhea Perlman has enjoyed 33 years and is still going strong as of October 2015. Fans of TV"s famous sitcom Cheers will no doubt recognize her. Rhea played Carla Tortelli in all 273 episodes of the show. Because of TV commitments Danny had to pass on the role of Sallah in Raiders of the Lost Ark in 1981, the part going to John Rhys-Davies instead. In 1988 he and Arnold Schwarzenegger shared one of the funniest taglines in motion picture history when they made Twins together. 'Only their mother can tell them apart.' One of his closest Hollywood friends is actress Lucy Liu.
Carrie in that costume
in Return of the Jedi
Her famous parents, Eddie Fisher
& Debbie Reynolds
Carrie Fisher was always going to be tied up in some way or another with the movie business. After all her parents were none other than fifties singing icon Eddie Fisher and the female star of Singin' in the Rain, Debbie Reynolds. Carrie made her screen debut at 16 in Warren Beatty's Shampoo (1973), but it was her selection to play Princess Leia in the first Star Wars movie that made her famous. She hated the costumes Princess Leia was compelled to wear, especially the framed metal bikini in Return of the Jedi. 'When I laid down the metal bikini stayed up,' she recalled. 'So Boba Fett could see all the way to Florida.' (Boba Fett was the bounty hunter played by Jeremy Bulloch who captured Han Solo for Jabba the Hutt). Three years prior to Return of the Jedi, Carrie appeared in The Blues Brothers. During shooting she almost died in a restaurant when she choked on a Brussels sprout. Dan Aykroyd performed the Heimlich maneuver on her and saved the actress's life. The couple became briefly engaged to be married soon afterwards. 'We had rings, we got blood tests, the whole shot', she said. 'But then I got back together with Paul Simon.' Her marriage to one half of the singing duo of Simon & Garfunkel lasted just eleven months. Shortly afterwards she had a child with casting agent Bryan Lourd, but he left her for another man! Her next close relationship was with singer James Blunt in 2003, but she claims the relationship was never physical. 'I became James's therapist. So it would have been unethical to sleep with my patient.' In February, 2005, a lobbyist named R. Gregory Stevens was found dead in Carrie's California home, evidently due to an overdose of OxyContin compounded by constructive sleep apnea. She has since publicly discussed her cocaine addiction and bipolar disorder.