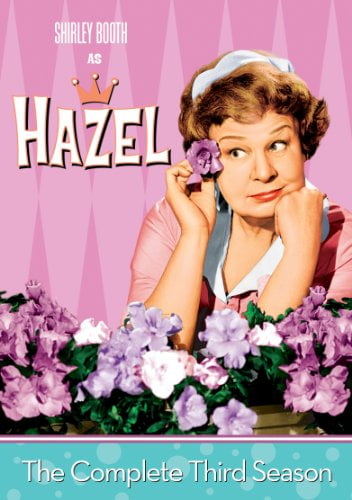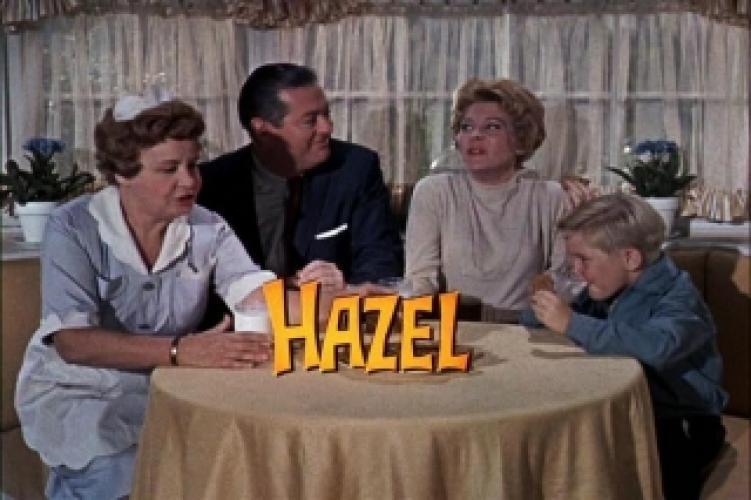 L to R : Shirley Booth, Don Defore, Whitney Blake & Bobby Buntrock
HAZEL (1961-66) 154 EPISODES            
'Hazel' was the first situation comedy to be broadcast in color. The first season (1961 to 1962) was filmed in black and white (except for one episode), but the remaining four seasons were all produced in color. In France the maid, Hazel, was named 'Adele', as was the series. Shirley Booth portrayed Hazel; Bobby Buntrock portrayed the lone child in the series (little Harold Baxter). After the series ended he appeared in two episodes of The Virginian in 1967. Seven years later he died in an auto accident in South Dakota at the age of twenty-one.
Whitney Blake played Dorothy Baxter in Hazel. She was actually married to a man named Baxter in real life, and had
three children with him. One of their children was Meredith Baxter who went on to star as the mother of Michael J. Fox's
character, Alex Keaton, in the popular eighties sitcom Family Ties.
Burt Lancaster advised Shirley against doing Hazel. 'Don't do television,' he warned her. 'It'll ruin you!' 'Burt is a doll
and a heck of an actor,' recalled Shirley. 'But I'm glad I didn't follow his advice. Everybody under forty knows me better
from Hazel, not from my movies!'
Don Defore co-starred as George Baxter in Hazel for the first four seasons, until both he and Whitney were replaced after
CBS took over from NBC. The series only survived one more season. From 1957 until 1961 Don was the only individual
allowed to open a restaurant at Disneyland. He and his brother Verne operated 'The Silver Banjo' in Frontierland. Their
father, a railroad engineer, had brought home a beautiful silver banjo from Louisiana – the restaurant's inspiration.              
Alan Young as Wilbur Post with Mister Ed
MISTER ED (1961-66) 145 EPISODES                 
Any television viewer in the sixties could probably tell you that 'Mister Ed' was a 'talking' horse, owned by a chap named Wilbur Post (played by Alan Young); a horse that will talk only to him! And that creates all kinds of problems for Wilbur. The provider of the 'voice' of 'Mister Ed' was kept secret for a long time. Eventually, it was revealed that his vocals were provided by actor and former cowboy star Allan Lane. The entire premise for the show sounds quite lame, yet it somehow worked and the series was a hit! Young refused to have the series named after himself, fearful it might bomb and he would have to shoulder the blame. Even so, he reportedly owned a piece of the show; syndication and network re-runs made him a very wealthy man. Also, Alan had naturally blonde hair, but it blended with the horse's golden palomino hue, so it became necessary to die Young's hair black.
Lester Hilton was 'Mister Ed's' trainer. He would use a soft nylon thread placed under the horse's lip, with the end going down the bridle. Lester needed only to give it a slight tug and the horse would endeavour to get rid of it. That was the animal's cue to move his lips. By the second season, however, Ed already knew what was expected of him. He would move his lips whenever Alan stopped talking. The horse that portrayed Ed, (Bamboo Harvester), passed away in 1979 – aged either thirty, thirty-three or thirty-four – depending on which source we choose to believe. Alan Young certainly thought he lived until 1979, but there exists a strong case for Bamboo Harvester dying in 1970; that the horse Young visited regularly for the next nine years, was actually his stunt double (Punkin)!
Allan 'Rocky' Lane – the voice of Mister Ed
Allan Lane was ten years younger than Alan young, yet Young outlived him by forty-three years. Lane passed away in 1973, aged sixty-four. Young left us in 2016, aged ninety-six. His TV wife, played by Connie Hines, died in 2009, aged seventy eight. Larry Keating played next-door neighbour Roger Addison. He died during the third season (1963) and was replaced by Leon Ames. One final word: Long after the show had ceased production, but was still being seen in syndicated re-runs, one of those fundamentalist religious groups that abound in the United States, claimed that the show's famous theme song was 'Satanic'! Uh-huh.
L to R: Marty Ingels & John Astin
I'M DICKENS, HE'S FENSTER (1962-3) 32 EPISODES           
Harry Dickens (John Astin) and Arch Fenster (Marty Ingels) are two blue-collar carpenters who are best friends. Harry is married and Arch is a bachelor with a very active 'black book'. The two are in constant conflict with their boss Mr. Bannister. The program followed The Flintstones and preceded 77 Sunset Strip on Friday evenings, but ran opposite Sing Along with Mitch (Mitch Miller) and Route 66, yet was unable to attract much of an audience. It was also filmed in front of a live audience, but not featuring a well-known star (like Lucille Ball or Danny Thomas) proved to be one hurdle too many for it to overcome. Even being filmed at Desilu Studios did not save it. By the time it had accumulated an audience, ABC had cancelled the show. By 1964, Astin was playing Gomez Addams in the successful series The Addams Family, but Ingels found success more elusive. John is now in his nineties and still on deck.
Marty & his wife, Shirley Jones
In 1977, Ingels married singer/actress Shirley Jones and became step-father to David and Shaun Cassidy, her sons to Jack Cassidy. Marty and Shirley remained husband and wife until his death in 2015. He had few nice things to say about many of his fellow comedians. For example: (Buddy Hackett) – …a prick. A real prick! But he was funny. He did his dirty stuff, he wasn't a good actor and he was a prick. He wasn't nice to the people who helped him in the old days and wasn't easy to get along with.'
[On Don Adams (Maxwell Smart)]: 'Ah, he was such a putz, Don Adams. He was such a cold-hearted guy. A real cold-hearted guy.'
[On Red Buttons]: 'Red Buttons was a nice guy, but don't ever get him on-stage when you're supposed to be equals. He'll cut both your legs off and jump on you.'
[On Jerry Lewis]: 'He is still suffering the pangs of the self-esteem problems of a comic. Jerry never evolved as a person. He just got old. Jerry is still brilliant, but…he has never evolved as a person. That's why nobody likes him.'
[On Jackie Mason]: 'He's a cold guy. Hard. Not loving. He's not the kind of guy who puts his arm around you. Not giving. He's a very, very cold businessman.'