REACH FOR THE SKY (1956)
The title of this World War Two biography about Douglas Bader, a 'Battle of Britain' pilot who lost both legs in a flying accident in his pre-war days, suggested to many young movie fans that it was a western. A quick look at the ad for the picture would quickly solve that issue, but not every young boy saw the ad and some were quite disappointed (initially, anyway) to discover it was not a 'cowboys and Indians' film at all. Kenneth More, (who was to portray Bader), flew to the USA to promote the picture, but American movie-goers were not overly interested in the Bader story. Back in Britain, however, it was a far different story, the picture proving to be a huge success. It was, in fact, the highest-grossing UK film of 1956 and the most successful since Gone with the Wind (1939). It also made More an established screen star despite him being middle-aged. At the time of his crash in 1931, Bader was twenty-one years of age. Kenneth More, on the other hand, was born just four years after him, so was forty-two when the picture was shot in 1956. He certainly did not look twenty-one in the scene in which he fought for his life after the accident or, for that matter, at any time during the movie. Indeed, he was not even the first choice to portray Bader. Richard Burton was first choice but opted for the far greater salary offered for him to play Alexander the Great in the picture of the same name.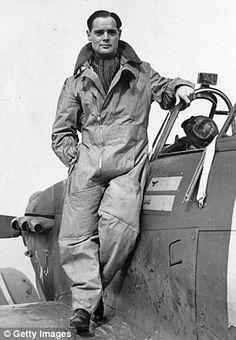 Douglas Bader during the Battle of Britain
More's portrayal of the legless flier depicted him as a popular, jovial 'good fellow', yet evidence suggests the legless hero was anything but that. He proved to be difficult and controversial, not only as a pilot during the war, but also when asked for his cooperation with aspects regarding the making of this movie. After the Battle of Britain it was Bader who called for the replacement of Air Officer Commanding RAF Fighter Command Hugh Dowding, as well as Air Vice-Marshal Keith Parks. Bader was against their policies for prosecuting the air war. He was also a major supporter of the apartheid regime in South Africa and favored white minority rule in Rhodesia. He was even accused of having pro-Nazi sympathies, probably due to his friendship with Hans-Ulrich Rudel, a lifelong Nazi. Evidently, Bader was strongly disliked by several of the pilots under his command. In fact, it was widely believed that he was probably shot down by a British pilot in August 1941. The claim was never officially investigated, however, so remains nothing more than an unsubstantiated rumor. He was not, however, a very good pilot and was said to have caused the deaths of several of his pilots. This, too, has never been proved.
In reality, the man held extremely right-wing views and was disliked by many who knew him. When leaders of African Commonwealth nations made public statements criticizing white colonial rule during the Suez Crisis of the mid-fifties, Bader's much-publicized response was that 'they should bloody well climb back up their trees'. The comment, not surprisingly, labeled him as an outspoken racist. He was expected by the producers to 'double' for Kenneth More in long shots for Reach for the Sky, but he refused to participate after being told that many of his wartime colleagues were not to be included in the picture because of length issues. His was a petulant response yet he stuck to it and did not appear in the film at all.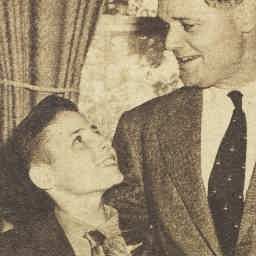 Bader meets one of the Clontarf boys 1956
There was, however, another side to Douglas Bader. In late 1956, in his capacity as an executive in an oil company, he (and his wife) diverted their trip to Perth, Western Australia, after learning of a horrendous bus crash involving youngsters from the Clontarf Boys Home. The accident saw four boys lose legs, (two of them being double amputees like Bader), six years earlier in October 1950. To his great credit, Bader visited the home and encouraged the stricken boys to accept their situations and move on with their lives. 'Look, there are only two legs between the lot of us', he said, making light of the situation. Later, he held private talks with the boys ('No Press, thanks'), in which he strongly suggested they use the opportunity to lead 'normal' lives and refuse to accept being handicapped at all. In short, he won the hearts and minds of the boys, their mates, the Press, and Western Australians in general. Like most people, Douglas Bader had much good in him and some bad. He was an enigma.
BABES IN TOYLAND (1961)
This diabolical pile of tripe was the first live-action musical produced at Disney Studios. It starred Annette Funicello (billed simply as 'Annette'), and Tommy Sands portraying the lovers, Mary Quite Contrary and Tom Piper, with Ray Bolger (who had seen far better days as the Scarecrow in 1939's The Wizard of Oz), as the so-called 'heavy' Barnaby Barnicle. The picture was heavily promoted, but was an abject failure at the box-office, which must surely have not surprised anyone connected with it. In fact, it was one of the few Disney films not to receive a second run in theatres in the neighbourhood. Nor was it even re-released, first appearing on television eight years after its original release. Disney would not invest a similarly elaborate amount on another musical until Mary Poppins in 1964. Ironically, that 1964 musical would provide Walt Disney with his most successful film during his lifetime.
Although Babes in Toyland was the only Disney production based on a hit Broadway stage musical, it became the first Disney musical to not use songs specifically written for the film. However, the songs were not very faithful to the original 1903 stage version. In truth, those used in the movie were tuneless, childish rubbish performed by two of the least charismatic leads (Annette and Tommy) in the history of Hollywood film. I positively adored Annette when she was in The Mickey Mouse Club three years earlier, so it was especially sad to see her on-screen as the lead in this monstrosity. Sadly, it has been reported that she considered this to be her personal favorite of the films she made! Tommy Sands was, if it was at all possible, even less impressive than his leading lady. Thankfully, it is a rarity to come across a movie that has no redeeming factors at all. Tuneless, trite, songs, bland performances by everyone, spud ordinary choreography, and a screenplay that does not contain a single shred of wit or humor – these are the nicest things I can bring myself to say about Babes in Toyland. What a horrible, horrible production!