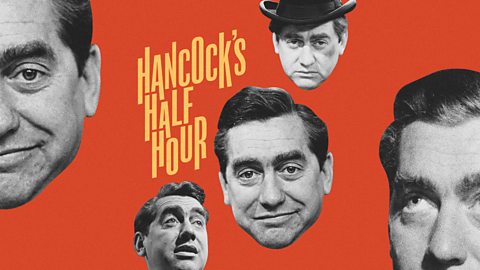 HANCOCK'S HALF HOUR (1954-60)       57 EPISODES                      
Hancock's Half Hour began life as a BBC radio show, broadcast between 1954 and 1961, with the TV series alternating from 1954 until 1959. When its star, Tony Hancock, became disillusioned with the public's perception of the TV show as a comedy double act (featuring him and Sidney James), the series switched to one featuring Hancock alone for the final season – the title also changing simply to Hancock.
In its radio lifetime there were numerous guest stars to help out Hancock and James – actors such as Hattie Jacques as Griselda Pugh, Tony's secretary and Sid's occasional girlfriend. Australian actor Bill Kerr also featured, as did Kenneth Williams and Moira Lister. Others who popped in from time to time in the radio program included Hugh Lloyd, Dick Emery, John Le Mesurier, Warren Mitchell, Richard Wattis and Rolf Harris. Williams and Jacques were prominent early in the TV series but it soon became a two-man show until Hancock turned it into a one-man show in Season 7, in 1961.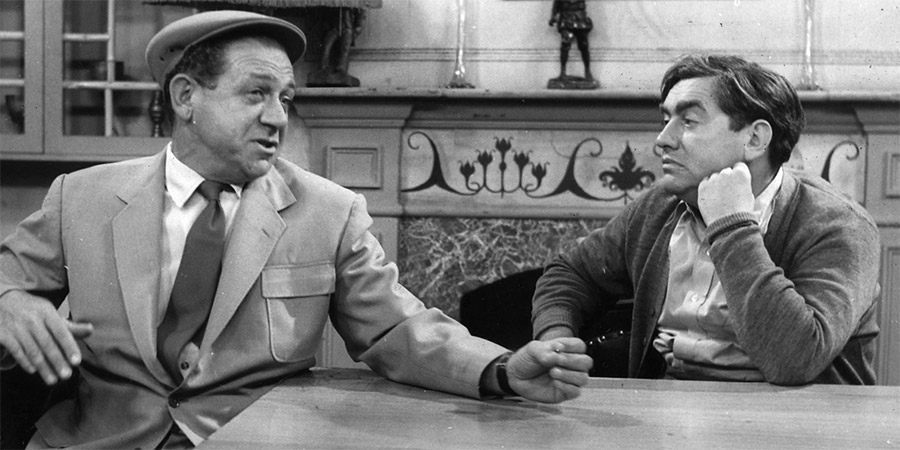 Sid James & Tony Hancock
Sadly, many of the early episodes of the series (including all of Season One) no longer exist and are presumed lost. Birmingham-born Anthony John Hancock was a psychological mess most of his short life. He was enormously self-critical and plagued by alcohol, drug and marital problems. Just seven years after the final episode of Hancock aired he was dead at forty-four. In a hotel room in Melbourne, Australia, he committed suicide, leaving a brief note that merely said, 'Things seemed to go wrong too many times.' The man's lack of self-confidence had been further enhanced when he suffered a head injury, in a 1961 car accident. It seriously compromised his memory from then until his death. He also had permanent brain damage at the time of his death, brought on by his constant 'drying out' sessions.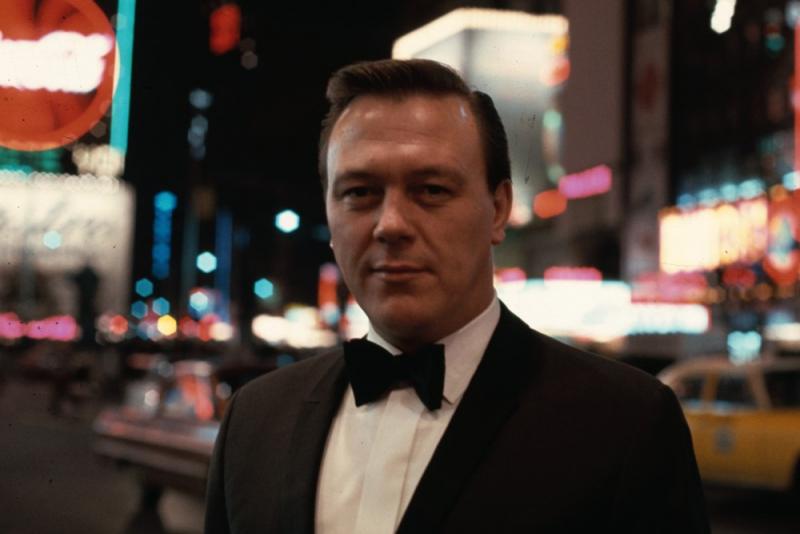 Singer Matt Monro
Although his father had died from lung cancer at 47, Hancock was a chronic chain smoker all his life. Sid James confirmed that Tony also had sex with men, saying it got to the point that he would try literally anything. On one occasion he attempted to seduce singer Matt Mono on a train. The man who scored huge hits with 'Born Free' and 'From Russia with Love', was outraged and knocked him unconscious!
At the height of this series' popularity in the United Kingdom there were only two television channels in the entire country. Places such as pubs and fish and chip shops would almost empty as an estimated twenty-three percent of the population of the British Isles either to listen to the radio show or watch Hancock's Half Hour at home on their TV sets. It has been suggested that the radio series may well have been the first ever sitcom because, from the start, the emphasis was placed on character and situations, rather than on the established format of variety.
THE HONEYMOONERS (1955-6)  39 EPISODES                      
The Honeymooners is quite possibly the most disappointing series in television history! Why? Because only thirty-nine episodes were made. There should have been thirty-nine thousand made! It was, in this writer's opinion, the funniest TV series ever made, despite it being screened nearly seventy years ago. Jackie Gleason was a hoot as bus driver Ralph Kramden, ably supported by his feisty wife Alice, who was brilliantly portrayed by Audrey Meadows. Ralph's neighbor, sewer-worker Ed Norton (Art Carney), and his wife Trixie (played by Joyce Randolph) were the perfect foils for the Kramdens. Between the four principals, scarcely a moment elapsed that did not produce hilarity. The series was that good! When the hit animated series The Flintstones came along in 1960, the four principals became the prototypes for Fred Flintstone, his wife Wilma, Barney and Betty Rubble.
Gleason briefly considered suing Hanna-Barbera after The Flintstones debuted on US television. His position was that the creators of the cartoon series had stolen his creative property. The similarities were clear for all to see. He wanted compensation or, failing that, the series to be removed from the air. Jackie's attorney talked him out of taking legal action, telling him: 'Do you really want to be remembered in history as the man who killed Fred Flintstone?'
L to R: Jackie Gleason, Art Carney, Audrey Meadows, Joyce Randolph
The Honeymooners was filmed in front of a 'live' audience, edited, and then shown later. If you ever notice Gleason patting himself on the stomach, it was a sign that he had forgotten his line. Audrey Meadows had working for her a shrewd manager, who told her to stipulate in her contract that, if the show were to air in future time slots, she should be paid royalties. This was television in its early stages, long before residuals were being paid. Consequently, she became the only member of the cast to be paid them for her entire life.
The original Alice, Pert Kelton, was blacklisted, so Audrey was asked who she might suggest to play the role. After rattling off several names, all of them unsuitable, she lastly suggested herself. Gleason rejected her on the grounds that she was both 'too young and too pretty'. Determined to land the role, she had a photographer come to her home at 7am and take pictures of her that were anything but glamorous. Gleason viewed the shots and exclaimed, 'That's Alice! Any dame with a sense of humor like that deserves the job. Hire her!'
The Flintstones- Betty, Barney, Fred & Wilma
Every time that Ralph said 'Bang! Zoom!' it was an ad-lib. The expression was never scripted. Gleason rarely rehearsed. He felt it killed the spontaneity of his performance. Consequently, Carney, Meadows and Randolph would take turns speaking his lines at rehearsals. It was Gleason who ended the series after just one season. He doubted the writers could emulate the quality of the first season scripts.
The Ralph Kramden statue at the NYC Bus Terminal
Whenever Carney entered a room in the show he would do so in an exaggerated, comical style, either by using long strides, sliding motions or by bobbing up and down as he moved. This was to disguise the limp he had developed, after being severely wounded in the right thigh by a German mortar during his stint in the US Army during the closing stages of World War Two. He also wore specially-made shoes occasionally, to compensate for the loss of height on his right side.
Cary Grant was a huge fan of The Honeymooners. In her 1994 autobiography titled Love, Alice, Audrey Meadows wrote about her encounter with the suave superstar on the Paramount Studios lot one day. He asked her if she might discuss with Gleason the possibility of casting him (Grant) in an upcoming episode. The debonair leading man even suggested that he could play a co-worker of Norton's from the sewer! Obviously, it was not to be, but what a pity. Cary as a sewer worker – what a delicious prospect.