ABIGAIL ADAMS (1922-55)                       
The movie business is no stranger to sad stories about young hopefuls and their endeavours to make it to the top. Each week hundreds of youngsters would arrive in Tinsel Town with dreams of fame and fortune. For every success story there are a hundred failures, probably more. Abigail Tommye Adams was one of those who had a small taste of what might have been before falling by the wayside. Her story is by no means unique and it would be fair to say that she was probably part responsible for what befell her.
She was born Margaret Thomas Adams in Greenville, South Carolina in January 1922. During her freshman year at the University of North Carolina she was selected as the 'Typical American Girl' by Harry Conover, head of the Conover Modelling Agency, one of the most successful agencies in America; after which she headed for New York City to become a Conover model. Before long she had won first place in a singing models contest, the prize being a two-week engagement at New York's Stork Club. The future was looking even rosier when she was chosen to understudy Ella Logan in Sons o' Fun on Broadway.
Lyle Talbot
Towards the end of 1941 she began acting under the name Tommye Adams before switching to Abigail Adams. Then she met actor Lyle Talbot and fell in love. Six weeks after Pearl Harbor brought the US into World War Two, the twenty year-old singer/actress wed forty-one year-old Talbot in Omaha, Nebraska. It was January 1942. By the fall the marriage had been annulled and Abigail had begun dating singer Tony Martin who also proposed marriage to her, in January 1943. He was in the US Army by then and Abigail was intimately involved with two other lovers at the time – actor Mickey Rooney and concert pianist Jose Iturbi.
Tony Martin
Iturbi was twenty-six years her senior when she accepted his proposal of marriage. Rumours persisted that she had also been briefly engaged to Rooney! By early 1945 the flighty Abigail, still the fiancée of Iturbi, met 20th Century Fox producer/actor George Jessel and entered into a fiery on and off relationship that would sputter along for a decade or so. Jessel, too, was a much older man (twenty-three years older, in fact). Abigail and Jessel broke up in March '45, hooked up again in October and parted again in December when she was expected to marry actor/amateur tennis player Frank Shields, as soon as his divorce became final!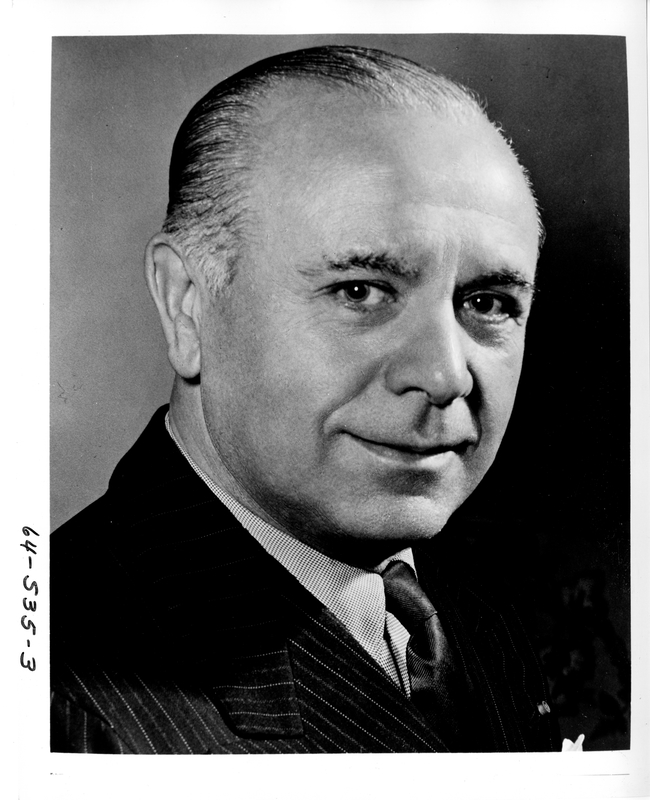 Jose Iturbi
By January 1947, Abigail and Frank were history and she was back with Jessel. In May '47 she was spotted wearing his engagement ring, although no date had been set for the wedding. It never would be. 'We are going to go steady for a while', the thrice-married and divorced Jessel told a bemused interviewer, 'and see what happens.' It would be accurate to say that Abigail's private life had proved far more entertaining than her sporadic movie career. Indeed, she had only ever been window-dressing in a few features. Her film career was a non-event and her excessive drinking had started to have an adverse effect on her looks. Then, in December '47, she was extremely fortunate to survive a fire in her Beverly Hills home. Her pet dog Albert had awakened her with his barking, and she found her entire bedroom ablaze, including the bed-covers. She had fallen asleep whilst smoking a cigarette.
George Jessel
By April 1948, all Hollywood was convinced that the Adams/Jessel saga was at last over. They were wrong. Even though the ever-vigorous George was found to be involved with both Greer Garson and Abigail in May, he managed to smooth things over with his former fiancée, and in November she even appeared on his TV show Holiday Star Revue. The following February, while visiting her mother in Charlotte, North Carolina, she was proudly wearing Jessel's engagement ring again, a heart-shaped diamond, on her left hand. 'See, I have it now', Abigail beamed to her mother. 'I don't know when we'll be married. We haven't set the date yet.' A few days later Jessel commented: 'Just say we have no immediate plans – maybe sometime in the future – if, in the meanwhile, she doesn't meet somebody younger, better-looking and gayer.' Nothing, it seemed, had changed as far as George was concerned.
Back in Los Angeles, Abigail and George were photographed at Ciro's in late February 1949. A month later they took a vacation from each other following a string of tiffs. By June they had rekindled the flickering flame and were observed at several night-spots throughout the remainder of the year. In January 1950, Abigail slashed her wrists but survived! Was this a portent of things to come? In April the press again had a field day when she farewelled George at an airport by whacking him over the head! By Christmas the couple were exchanging presents and kisses again and everything went quiet for more than a year. When Abigail opened at Ciro's as a singer in March 1952, George was present and openly wept with pride! He moved out of Los Angeles in August, and Abigail began dating architectural designer Lance Hay. In December 1954, she was arrested, along with actors Broderick Crawford and Myron McCormick, in West Los Angeles. The trio had attended an all-night party and their rented car had hit a fence early in the morning. When arrested, the barefoot Abigail gave the arresting officer a false name and was found out. When confronted with this, the police later claimed she 'turned the air blue' with her language. Jailed on drunken-ness charges, the trio were later released on $20 bond each. Abigail told the press: 'George and I are through. The wedding was called off. I'm no playgirl. I was cold sober when I was arrested.'
On February 11, 1955, George took her to the Santa Anita races. On the 12th she went night-clubbing with drugstore owner Max Marks. The following morning she did not answer his phone calls, so he went to her Beverly Hills apartment in the afternoon to check on her. He found her body in bed, clad in a blue night gown. The coroner ruled she had died from an accidental overdose of barbiturates, so there was no inquest. Jessel gave an interview: 'She had a rather frustrated life', he said. 'But of course you don't know why people do those things. She used to take a lot of pills for insomnia.' The press pointedly noted that Abigail had waited for him for eleven years. No wonder she 'had a rather frustrated life.' At the time of her death Abigail Adams was just thirty-three years old. Whether she killed herself deliberately or fell to an accidental overdose is debatable, but the wrist-slashing episode probably tips the scales slightly towards the former option.