THE CENTURIONS
Since the movies and television began there have been a total of thirteen notable actors and actresses who have had the good fortune (or bad luck, depending on your point of view), to attain the age of one hundred years or more. Seven of these are of the so-called 'weaker' sex; six are from the 'stronger' gender. I have listed them here in two separate categories, beginning with the ladies. There were a few others who made it to a hundred, but I have focused only on the more notable players.
THE LADIES
104 years…                            MARSHA HUNT (1917 – )
Marsha hails from Chicago, Illinois and is the only centurion still living as of this writing. This petite beauty was a versatile and gifted performer at her peak and would almost certainly attained greater heights in her chosen profession had she not run afoul of the House Un-American Activities Committee (HUAC) in the early fifties, the result of which saw her black-listed as a subversive at the age of thirty-two. Her name and that of her screenwriter husband were smeared as suspected 'Reds' and their careers subsequently stalled. I recall her playing Greer Garson's piano-playing sister, Mary Bennet, in the 1940 version of Pride and Prejudice. When David O Selznick was having difficulty with Warner Bros in obtaining the services of Olivia De Havilland to play Melanie in Gone with the Wind (1939), it looked like Marsha was about to be cast in the role. A day later, however, the issue was resolved and Olivia became Melanie. In 1998, Marsha was the recipient of the Eleanor Roosevelt Humanitarian Award for her selfless efforts with UNICEF and the Red Cross. Marsha will turn 105 on October 17, 2022.
104 years & 352 days            LUISE RAINER (1910-2014) 
Born in Dusseldorf, Germany, pre-World War One, Luise learned her craft mostly in Vienna, Austria. The rise of Nazism made it politically 'convenient' for MGM to promote her as 'The Viennese Teardrop', implying she was an Austrian by birth. LB Mayer at MGM did not appreciate her talent and the two often feuded. Only Irving Thalberg championed her, but his death in 1936 proved to be the seed planted for her virtual early retirement from the screen after only a handful of pictures. Not before she became the first star to win back to back Oscars, however, (for The Great Ziegfeld (1936) and The Good Earth a year later). Her fragile beauty, soulful eyes and emotional intensity were never more evident than in her portrayal of O-Lan in The Good Earth.
104 years & 25 days              OLIVIA DE HAVILLAND (1916-2020)
Olivia and her real life sister, actress Joan Fontaine, were both born in Tokyo, Japan to British parents, with Joan being the younger of the sisters by a year. Olivia became an actress first, achieving fame first and managing to cling to the family surname. Joan was compelled to change hers. Their mutual dislike developed into an open feud in 1941 when both were nominated for Academy Awards. Joan won for Suspicion that time, but Olivia picked up two Oscars in her career (for The Heiress and To Each His Own), although she will most likely be best remembered for her portrayal of Melanie in 1939's Gone with the Wind. Historians might justifiably argue that her court victory against Warner Brothers in the mid-forties, which prevented the studio from adding suspension periods to actors' contracts, was of far more importance. Olivia lived her final decades in France and was the last iconic star of the studio system to pass.
101 years & 316 days            MARGE CHAMPION (1919-2020)
Marge was born Marjorie Celeste Belcher in Los Angeles, California. Presumably, she changed her unfortunate surname name for the screen, but I have been unable to find any evidence that she did so prior to marrying Gower Champion and becoming Marge Champion. One of the great dancers and choreographers in both movies and stage, Marge worked with Gower as a highly successful dancing team during the MGM musical years. They were especially memorable in Showboat (1951). The couple met when they were twelve-year-olds in the ninth grade at Bancroft Junior High. They would wed in 1947, the union eventually ending in divorce 26 years later.
101 years & 147 days            ESTELLE WINWOOD (1883-1984)
She was born Estelle Ruth Goodwin in the village of Lee, in Kent, England, making her Broadway debut in 1916 in her early thirties. Although she appeared in minor movie roles in the UK, Estelle held out from making movies until into her fifties. Her real screen debut was in Quality Street (1937). It would not be until 1955 that she would return to the screen, portraying Leslie Caron's 'fairy godmother' in The Glass Slipper. Eighty-four year old Estelle was a delight in The Producers (1967), and in the murder spoof Murder by Death (1976).
100 years & 169 days            DANIELLE DARRIEUX (1917 – 2017)
A native of Bordeaux, France, and daughter to a French mother and a German father. Decades before Brigitte Bardot was known as 'BB', Danielle was generally referred to as 'DD'; such was her fame in her native France. Her second of three husbands was the notorious playboy and womaniser, Porfirio Rubirosa. The union lasted about four and a half years until May 1947. Danielle was a great beauty and an under-rated actress. She was exquisite as the Countess Staviska in the 1952 spy thriller 5 Fingers, opposite James Mason, and responsible for one of my most favourite responses when asked why she had left Warsaw. 'Bombs were falling', she laconically replied. 'I felt I was in the way.' 'DD' was one of the film world's lesser known stunners.
100 years & 84 days              GLORIA STUART (1910 – 2010)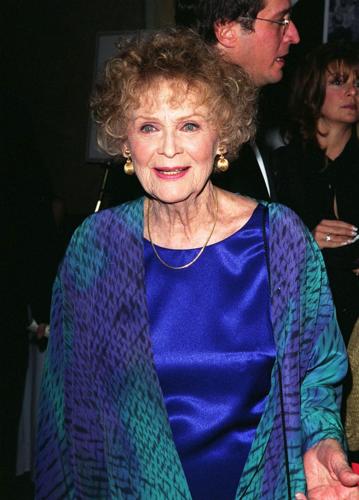 A native of Santa Monica, California, Gloria's fame occurred late in life when she portrayed the 'old' Rose in James Cameron's epic presentation of Titanic (1997), at the age of eighty-seven, and was Oscar-nominated. She was the oldest ever nominee until Christopher Plummer (88) surpassed her for his performance in All the Money in the World (2017). Gloria was approaching her second birthday when the real SS Titanic went to its watery grave in April 1912. As far back as 1933, however, the nineteen year-old Gloria played the lead female role of Princess Sylvia in Eddie Cantor's Roman Scandals. Among the picture's debutantes were several Goldwyn Girls, including a young Lucille Ball as a slave girl. Gloria met her husband to be during filming. As a point of interest, she resided directly opposite the house in Brentwood, California where O J Simpson's wife Nicole and Ron Goldman were murdered in 1994.