HOPE LANGE (1933 – 2003)                          
Hope was one of four children of an actress mother. Her father died in 1942 when Hope was just nine. She worked as a waitress in the family's Greenwich Village restaurant ('Minette's of Washington Square'), where she made the acquaintance of America's First Lady, Eleanor Roosevelt, whose dog she often walked. A newspaper photograph of fifteen year-old Hope doing just that led to her appearing on the cover of a magazine. She later enrolled in colleges in Oregon and New York, then got her first job in television prior to being signed by 20th Century Fox.
Hope & husband Don Murray
She made her motion picture debut in Marilyn Monroe's Bus Stop (1956), where she met actor Don Murray (also on debut). They fell in love and married later that year. Marilyn was unhappy about having a younger blonde actress in the picture. Consequently, she fired off several memos to the producers and to the director, suggesting Hope should have her hair dyed brown! Despite her enormous fame, Marilyn was one very insecure individual.
Hope & Glenn Ford
Hope and Don divorced in 1961. For two years she lived in a sparsely furnished home, with crates for coffee tables and a box spring and mattress for her bed. 'She put all her money into the refugee project', recalled Murray, 'because that is the kind of a person she was.' Her marriage to Murray, despite them parenting two children, ended when she commenced a four-year relationship with actor Glenn Ford in 1961. Ford used his considerable clout to land her a major role in Pocketful of Miracles that year. The part had already been assigned to Shirley Jones but director Frank Capra reluctantly bowed to Ford's insistence that his lover be given the job. Lange and Ford never married.
Mr. & Mrs. Alan J. Pakula
Producer/director Alan J. Pakula was known for All the President's Men (1976), Sophie's Choice (1982) and The Pelican Brief (1993). He and Hope were husband and wife from 1963 until 1971. He had the monumental bad luck to be killed, in 1998, when a car struck a metal pipe lying in the road, a glancing blow sending it through the windshield of Alan's car and striking him in the head. Following her divorce from Pakula in 1971, Hope dated Frank Sinatra for a while, before becoming involved for a year or so with married novelist John Cheever (he wrote The Swimmer). It was also rumoured she became one of the many notches on the belt of singer Eddie Fisher, and is also said to have had a brief fling with actor Stephen Boyd of Ben-Hur (1959) fame. In 1986, she wed theatrical producer Charles Hollerith, Jr. and remained with him until her death at seventy in 2003.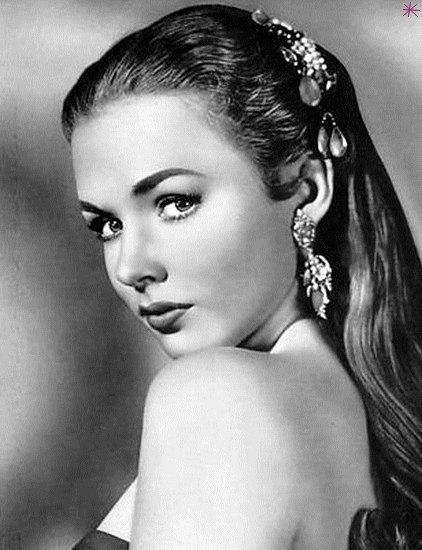 PIPER LAURIE (1932 – )                           
Piper was born Rosetta Jacobs in Detroit, Michigan in 1932. Her grandparents were Polish and Russian Jewish immigrants. She was seventeen when she signed a contract with Universal in 1949 and changed her screen name to Piper Laurie.  Some genius at Universal decided to enhance her image by telling the fan magazines that she bathed in milk and ate flower petals to protect her luminous skin. It is doubtful if anyone believed such baloney. She was seventeen when she started meeting with thirty-nine year-old Ronald Reagan regularly in 1949.
Piper & Ronald Reagan
In Piper's 2011 autobiography titled Learning to Live out Loud: A Memoir, she wrote about losing her virginity to Reagan during the time they were filming Louisa (1950). In the movie Reagan played her father and had only recently been divorced from Jane Wyman. 'He made sure I was aware of the length of time he had been 'ardent', Piper wrote. 'It was forty minutes. He even told me how much the condom had cost!' When Reagan first asked her out, she was expecting a glamorous evening at some fancy restaurant. Instead, he took her home – for hamburgers.
In December '51, Piper entered into a relationship with producer Frank Rosenberg but it was short-lived, and by April the following year she was seen wearing the ring of Universal-International executive Charlie Simonelli. That did not last either. A steady stream of beaus followed. They included actors Scott Brady, Jackie Cooper and Howard Duff and producer Leonard Goldstein. Conrad 'Nicky' Hilton, the spoilt brat hotel heir, dated her in 1953.
Piper became deeply involved with G. David Schine, scion of a wealthy New York family and aide to anti-Communist Senator Joseph McCarthy, in 1955, and there was even talk the couple had secretly married. By December 1955, Schine, however, was managing the Los Angeles Ambassador Hotel and Piper was still fending off questions about their possible marriage. He was also secretly involved with Rhonda Fleming for a while, and would ultimately marry a former Miss Universe.
Dancer Gene Nelson
April 1956 saw Piper regularly dating dancer Gene Nelson. Fans of the film version of Oklahoma! (1955), will no doubt recall him singing and dancing 'Everything's up to Date in Kansas City'. For a while they were Hollywood's steadiest romance, but Nelson told friends he could not afford to marry her and the story got back to Piper. She promptly re-located to New York City to study acting.
Throughout 1957-8 she saw a lot of director John Frankenheimer before moving on to writer Joseph L. Mankiewicz at the end of the year. There was a lengthy involvement with Canadian actor Christopher Plummer of The Sound of Music (1965) fame in the late fifties. In 1961 she underwent an abortion after relocating to New York City. The identity of the father of the foetus remains unknown.
Piper with a young Mel Gibson in Tim (1979)
Piper married New York Herald Tribune entertainment writer (and Pulitzer Prize winner) Joe Morgenstern in January 1962. The couple met when Joe interviewed her after the release of The Hustler (1961), for which she was Oscar-nominated. They had one child, a daughter named Anne, born when Piper was thirty-eight. After twenty years together they called it a day in November 1982. While Piper was forty-seven and still married to Morgenstern, she had a one-night stand with her co-star, twenty-three year-old Mel Gibson, in the movie Tim (1979). After her divorce she re-located to Los Angeles where she has lived since then.