AMOS 'N' ANDY SHOW, THE (1951-3) 78 EPISODES             
Alvin Childress as Amos
These thirty-minute episodes usually centred on 'The Kingfish's' 'get rich' schemes that often involved duping his brothers in the 'Mystic Knights of the Sea Lodge'. Andy was the most gullible and Amos did most of the narration. The principle players were Alvin Childress (Amos), Spencer Williams (Andy) and Tim Moore (Kingfish). The original radio series had been one of NBC's biggest hits, yet for more than two decades its main characters and most of the bit players were voiced by white actors! Rival network CBS took the reins for the televised version, cast black actors with similar voices to their white radio predecessors, and encountered problems immediately.
Spencer Williams as Andy
Despite enjoying solid ratings, CBS pulled the show when the National Association for the Advancement of Coloured People (NAACP) complained of how they perceived that African-Americans were being depicted on the show. In 1966, the syndicated re-runs were removed from circulation following similar protests from the NAACP. In a 1983 documentary titled Amos 'n' Andy: Anatomy of a Controversy, Alvin Childress aired his views on the issue. He felt their show was the only one on TV at the time that showed black people as businessmen, policemen, judges and doctors, rather than as maids or janitors.
Tim 'Kingfish' Moore
After cancelling the show with sixty-five episodes completed, CBS planned to syndicate the re-runs but felt they needed more episodes. The cast was brought back to shoot an additional thirteen shows to premiere in syndication. Initially titled 'The Adventures of Kingfish', they were premiered instead with the Amos 'n' Andy re-run package. Changes made to this revised version of the show included making the characters more 'middle-class'. The Fresh Air Taxi Company was up-dated and Amos's uniform and office were presented as more professional, but the NAACP were relentless in their opposition. Consequently, no episode of Amos 'n' Andy has been aired on television since 1966.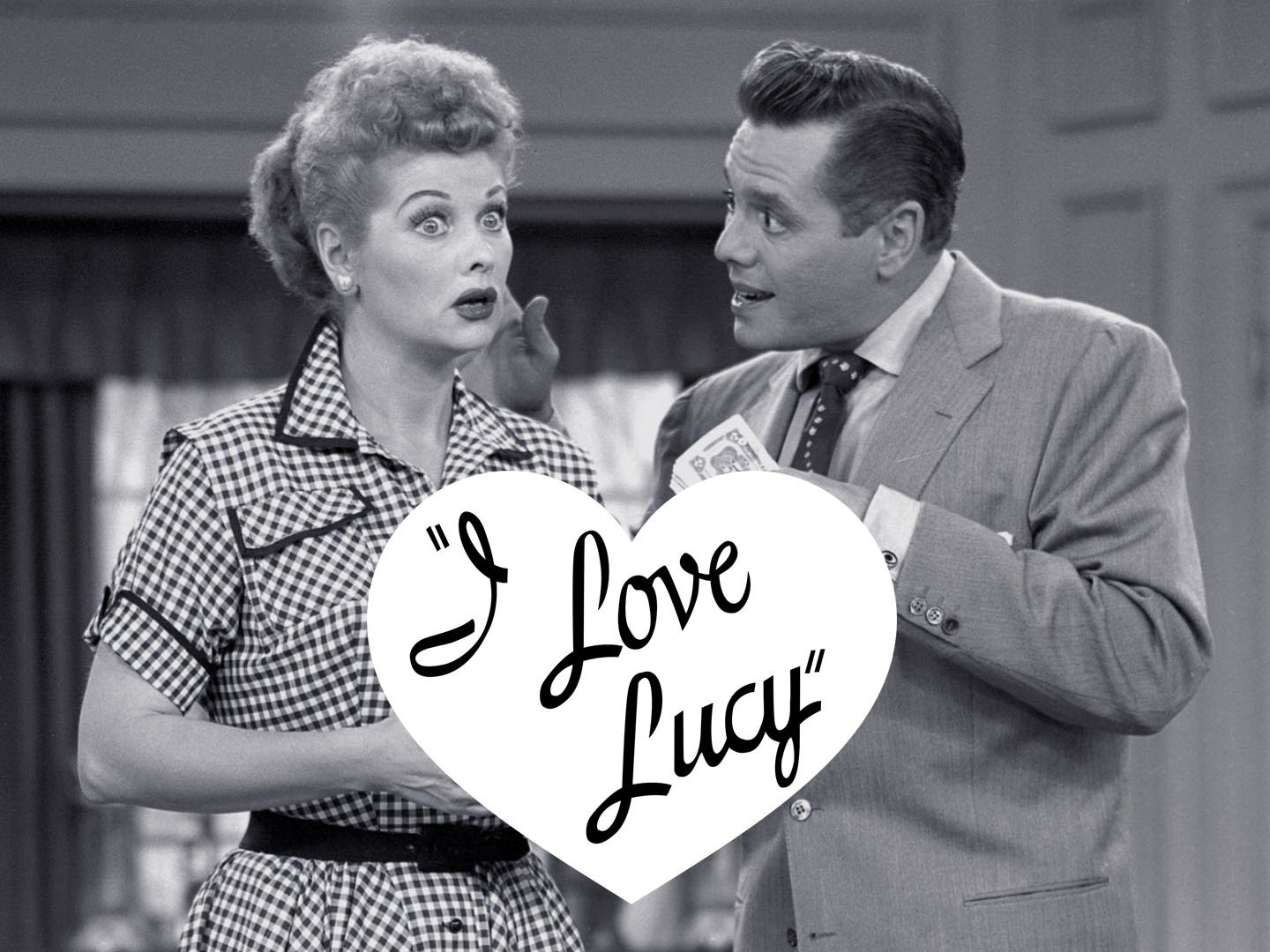 I LOVE LUCY (1951-7) 181 EPISODES               
It may or may not be just Hollywood hokum, but Lucille Ball has vowed that she decided to go ahead with the idea of leaving radio and venturing into the risky world of television with her I Love Lucy series, after the late Carole Lombard had come to her in a dream. Carole had been a close friend until she was tragically killed in a plane crash during the Second World War. Whatever its origins, the series has proven to be an iconic success that has placed Lucille Ball at the forefront of female comedians. The series went on to win eight Primetime Emmy Awards and receive twenty-five nominations!
Vivian Vance & William Frawley
The series featured Lucille as Lucy Ricardo, Desi Arnaz (her real life husband) as her TV husband Ricky, Vivian Vance as her neighbour Ethel Mertz and William Frawley as Ethel's husband Fred. Later, at least three children would portray 'Little Ricky', the Ricardo's son. Lucy gave birth to her actual son, Desi Arnaz Jr, on the show. For the entire length of her pregnancy, however, CBS censors insisted that nobody was to mention the word 'pregnancy. Lucy had to always say she was 'expecting.' Even the actual episode title itself was partially labelled in French: 'Lucy is Enceinte'. As that episode neared, CBC brought a catholic priest, a rabbi and a reverend onto the set to ensure nothing offensive to anyone was spoken! Incidentally, none of the three had any problem with the word 'pregnancy' being uttered, yet the network over-ruled them. CBS also insisted that Lucy and her husband sleep in separate single beds to diminish the impact of their suggested sexual history! Even today, many fans still think that 'Little Ricky' (played by Richard Thibodeaux initially until he became Richard Keith in the final season of the series), was Lucy and Desi's real son. He wasn't. Arnaz was genuinely fond of the boy (and there was a strong physical resemblance). The illusion was enhanced when Richard learned to play the drums as a three year-old.
Richard Thibodeaux/Richard Keith (Little Ricky)
William Frawley (Fred Mertz) had a well-known, long term issue with alcoholism and was advised at the start of the series that he had to remain sober or his contract would be terminated. In a great many of his scenes it is quite noticeable that he has both his hands deep in his pockets. This was the only way he could hide their trembling as he suffered from withdrawal symptoms. Gale Gordon was the first choice to play Fred but he was unavailable. Besides, Arnaz wanted Frawley anyway. The two men had similar personalities. Both were womanizers, gamblers, and had a weakness for booze. In fairness to Frawley, he never once arrived on the set 'under the weather', and (being an old vaudevillian) he learned his lines faster than any of the show's regulars. He and Arnaz remained firm friends after the series folded. Frawley and Vance, on the other hand, thoroughly detested one another throughout the series, and any show of affection between the couple in any episode was forced. When plans were suggested for a spin-off series for the Mertzes, Frawley was all for it, but Vivian rejected the idea outright. She literally could not stand the man. Her refusal only heightened the animosity between them.
Jerry Hausner
Jerry Hausner played the recurring character, Jerry the Agent, on I Love Lucy. He had few fond memories of the show. 'Lucy was always wrapped up in whatever she was doing, and as many times as I was on the show, if anybody had asked her my name, she wouldn't have known it', he said years later. 'A lot of stars are like that. But I have great respect for her talent. She was hard-working and tireless. She worked sixteen, eighteen hours a day. Even when she was pregnant, she was like a locomotive'. Hausner had fewer kind words for Arnaz, however, remembering him as a boozer with an abusive temper. 'One night…he screamed at me and called me names in front of the audience', he recalled. 'He was drunk a lot of the time, and he could be…ornery…I went to one of the producers and said, 'Write me out of this thing.'