Nineteen year-old Gene Tierney had made her screen debut in the 1940 western The Return of Frank James. Already a star on Broadway, she was nevertheless appalled by the high pitch of her voice when she first saw the rushes. Determined to lower the tone of her delivery, whatever the price, she took up cigarette-smoking solely for that purpose. Fifty years later, at the age of seventy, she succumbed to emphysema caused by her smoking.
Virtually the sole supporter of her family in their early days in Hollywood, Gene gave every penny she earned to her father for safe-keeping. He sunk the lot into his failed business in an attempt to prop it back up, only to see it fail yet again. By the time she learned this he had already run off with a woman who was most definitely not her mother. It seems there was never a shortage of scumbag parents in the Hollywood of studio days.
Oleg Cassini
In 1941 Gene married playboy designer Oleg Cassini. The man sure got around. He would later become engaged to Grace Kelly. His philandering drove Gene into the arms of several lovers, among them the bi-sexual Tyrone Power (during the shooting of The Razor's Edge), the young John F Kennedy, also in 1946, and Prince Aly Khan in the early 1950s. Khan was another guy with more notches on his belt than Billy the Kid. Other lovers included Kirk Douglas, Desi Arnaz, Victor Mature and (of course) Howard Hughes.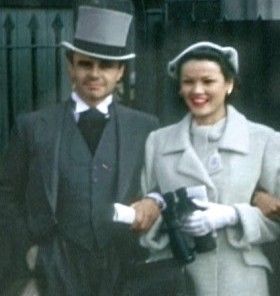 Prince Aly Khan & Gene
She spent a week in Palm Springs with Kennedy, hoping to gain a divorce from Oleg and then marry the dashing young politician, but it was never to be. Kennedy made it clear that his Catholicism and his burning political ambition made marriage to a divorced woman completely out of the question. She and Cassini divorced in 1952. In 1954 she became engaged to Aly Khan, but that too fizzled out when he insisted she give up her family as part of the marriage deal.
Gene & Daria
Tragedy struck her life in 1943 when her first child, Daria, was born deaf and hopelessly retarded due to Gene's exposure to German measles during her pregnancy. A star-struck young fan suffering from German measles had climbed from her sickbed to attend the Hollywood Canteen and came in contact with the pregnant actress. 'Everyone told me I shouldn't go', the woman herself told Tierney when she again approached her at a tennis match years later, 'but I just had to. You were my favourite.' Incidentally, this was the only time Gene ever attended the famous canteen. To his credit, former lover Howard Hughes paid all medical expenses for Daria. It has been argued that her daughter's condition may have led to Gene's later mental instability.
Whatever the reason, mental illness dogged her throughout the fifties, resulting in Gene undergoing a total of twenty electric shock treatments that seriously damaged her memory. On Christmas Day 1957 in Topeka, Kansas, police narrowly managed to talk her down from the ledge of a high-rise building. Later, as part of her therapy, she worked as a salesgirl in Topeka. Then in 1960 she wed W. Howard Lee, the former husband of actress Hedy Lamarr, and they remained together until his death in 1981.
Although she was beautiful in her films, they couldn't quite capture all of her', said Spencer Tracy. 'Fortunately, I did, even if it was late in my life', he added. Daryl Zanuck simply described her as, 'undeniably, the most beautiful woman in movie history'; quite a wrap for a girl who had the most prominent overbite in Hollywood. At times she looked as if she could eat an apple through a tennis racquet (very evident in her 1941 film The Shanghai Gesture.)
'Laura'
Gene Tierney was extraordinarily beautiful. She could act, too. Although Oscar-nominated for Leave her to Heaven in 1945, she will best be remembered for her performance as the murder victim in Otto Preminger's 1944 classic Laura. The decision to have her play Belle Starr in the film of that name in 1941 has to be the worst bit of casting in movie history from a purely realism viewpoint. Belle was an ugly old crone whose horse was better looking than her.