Johnny Depp's screen debut was in A Nightmare on Elm Street in 1984 when he played a guy that gets swallowed by his bed! Well, it happens. He only got the part because director Wes Craven's teenage daughter and her friends were present for the readings and they all flipped over him, convincing Wes that the unknown young man had sex appeal. Most members of the female gender on planet Earth appear to be of the same opinion. Depp has a gentle side to his nature that, sadly, does not interest the media enough to warrant proper attention. As a member of the Make-A-Wish Foundation he hosted a terminally ill little girl for an entire day on the set of Ed Wood. By all accounts he treated the girl like a princess; answering all her questions and making her feel she was one of his best friends.
In 1993 he bought a club on Sunset Boulevard called the Viper Room. Back in the forties it was known as the Central, a dive owned by mobster Charles 'Lucky' Luciano and frequented by Benjamin 'Bugsy' Siegel and various other denizens of organised crime. Depp's ideas for the club involved playing old blues music by the masters and providing a venue where he and his muso mates could jam. Halloween 1993 put the lid on all that.
the Viper Room on Sunset Blvd.
As stated previously in my piece on River Phoenix, the young actor passed away on the sidewalk outside the club that night. His brother Leaf (now Joaquin) procrastinated about whether or not to call an ambulance and thus gain unwanted publicity. While he pondered this River lay convulsing on the ground, but in all fairness to his distraught brother, it was already far too late to save the stricken actor. The media mercilessly pounded Depp and his club over the tragedy, claiming the Viper Room was a 'druggies' hangout where deals were done on a daily basis. None of this was true. After all, a high profile celebrity would be highly unlikely to open a club for drug-users on Sunset Boulevard and seriously not expect to get busted. Today, lines of patrons extend down the street, hoping to rub shoulders with the celebrities who frequent the place.
Johnny Depp's first marriage took place when he was nineteen in 1983. It lasted about three years. Forced to hawk ballpoint pens for a living, he had an accidental meeting with Nicolas Cage who convinced him to try acting instead. And the rest is history as they say. Today, he is arguably the most versatile male movie star in the world. In his private life Johnny has a tendency (some say a compulsion) to become engaged to be married at the proverbial drop of a hat. Over the years he was been betrothed to some very pretty women. First cab off the rank, the first one he looked like marrying anyway, was actress Sherilyn Fenn. They met in 1985, but parted after three and a half years, placing her in the history books as his first broken engagement.
Sherilyn Fenn
Enter Winona Ryder, (better known these days as 'light-fingered Louie'). In 1989 she and Johnny were the hottest duo on Earth. So hot, in fact, that he dashed out and got her an engagement ring and himself a now famous tattoo, 'Winona Forever', on his arm. 'I love Winona', he said. 'I'm going to love her forever. Believe me, this is not something I took lightly.' Johnny really needs to do one of two things – either desist in speaking in 'absolutes', or read up on the definition of the word 'forever'. As just about everyone knows, 'Winona Forever' became 'Wino Forever' when they, too, went their separate ways in 1993.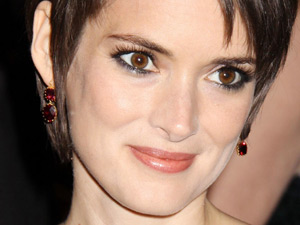 Winona Ryder
His relationship with supermodel Kate Moss lasted for four years as well, from 1994 to 1998. It was love at first sight (again), they both said. They, too, became engaged. 'No-one will ever love Johnny as I love him', Kate gushed to the press. The couple really were inseparable, but they were also into drugs and booze and careering about in the fast lane. It couldn't last. Just a few months after they split for good he told an interviewer: 'I love her on a very deep, profound level'. But evidently not deep or profound enough to stay with her it seems.
Kate Moss
Enter French singer/actress Vanessa Paradis in 1998. At 14 she had a big hit song with 'Joe le Taxi'. At 25 she met Johnny and their lengthy relationship produced two children over the next 14 years. When asked if they ever intended to wed, she replied: 'When you have it so perfect…I mean, I'm more married than anyone can be…we have two kids…' In 2012, after 14 years together, this relationship ended as well. At least (as far as we know) there was no returning of engagement rings this time.
Vanessa Paradis
In 2011 Johnny began filming The Rum Diary. In it was an attractive 25 year-old Texan named Amber Heard. About her lesbian relationship with photographer Tasya van Ree, she was candid: 'In the past I've had successful relationships with men, and now I'm in this successful relationship with a woman. When it comes to love I am totally open'. Johnny fell for her hook, line and sinker (and probably the boat as well). They got engaged in 2013 and married in 2015. Given his track record, will it last? Who knows?
Amber Heard